Slasher Summer: Freddy's Top 10 Best Nightmares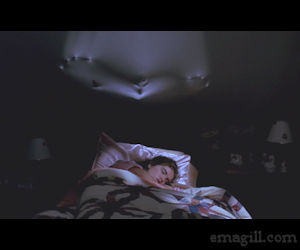 Freddy is over your head




While most slasher icons are known primarily for their kills, Freddy is known for his nightmares. While the two usually go hand-in-hand--let's face it, your odds of surviving a Freddy nightmare are pretty low--the imaginativeness of these set pieces can outshine even the most awesome traditional slasher kill. What you might notice in this list is that some of the most effective dreams are actually the most simple: a memorable image and a deceptively uncomplicated special effect can go a long way.

For example, there's one moment that appears both in the original film and in the 2010 remake. According to Wes Craven's audio commentary, it was an improvised idea from one of the effects technicians, who used nothing more than a stretched out sheet of nylon to create the appearance of Freddy trying to push his way out of a wall above the heroine's bed. It's an easy, cheap magic trick, but it works at creating a frightening impression that perfectly encapsulates the feeling of vulnerability and otherworldliness at the heart of A Nightmare on Elm Street. In the remake, they tried to recreate the same moment using far more expensive computer graphics, and it doesn't work at all.

In order to make this list, the nightmare has to be memorable, effective, and imaginative. Some of these are long nightmares that advance the plot, and some of these are relatively short snippets that could have just checked a box on the "when to kill a teenager" checklist but still manage to stand out. As with other best kill lists, I'll give bonus points for victims who die--or maybe just terrified--in a fitting or ironic way.


---
#10.
DID KAFKA EVEN LIFT?
A Nightmare on Elm Street 4: The Dream Master
#10.
DID KAFKA EVEN LIFT?
A Nightmare on Elm Street 4: The Dream Master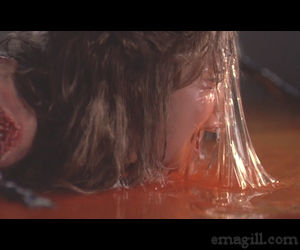 Debbie has exactly two character traits: she likes to work out, and she hates insects. Therefore, it's no surprise that, when Freddy comes for her, the nightmare involves some especially poor spotting and a disturbing transformation into a giant cockroach. The effects are pretty good as Debbie completes her horrific metamorphosis, and the nightmare ends with her stuck to the inside of a roach motel as Freddy squishes it. It's a memorable death for one of the least memorable characters in the entire series, and it's one of Freddy's only forays into body horror.


---
#9.
THE WATERTIGHT SHOWER
A Nightmare on Elm Street 5: The Dream Child
#9.
THE WATERTIGHT SHOWER
A Nightmare on Elm Street 5: The Dream Child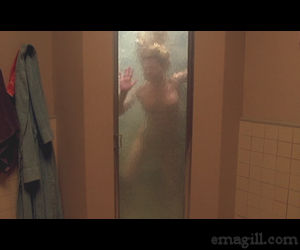 At the start of The Dream Child, our heroine, Alice, is taking a shower in one of those standing showers with a translucent door. While the audience perves on her, the plumbing starts acting up, and before long, the entire shower fills with dirty water with the door firmly shut, nearly drowning Alice. She survives this part of the nightmare only to find herself thrust naked into a grimy hallway. As she tries to find her way out, she transforms into a nun (specifically, Freddy's own mother) and gets locked inside a gothic, decrepit asylum with a hundred maniacs with lust in their eyes. Both phases of this nightmare are pretty great, and it's the highlight of one of the weaker entries in the franchise.


---
#8.
THE WET DREAM
A Nightmare on Elm Street 4: The Dream Master
#8.
THE WET DREAM
A Nightmare on Elm Street 4: The Dream Master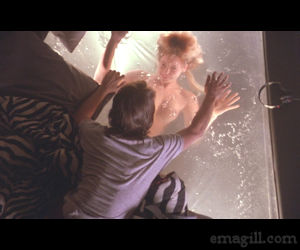 Joey, the horny teenage survivor of The Dream Warriors who only recently found his voice, is infatuated with MTV, his waterbed, the rocking sounds of Billy Idol, and a sexy poster of pin-up model Hope Marie Carlton. His nightmare starts out like a wonderful dream as he peels the sheets from his matress only to discover that his bed has become a lit pool with a topless Hope Marie beckoning Joey to join her on the other side of the plastic for a good time. Unfortunately, this fantasy is cut short when Freddy leaps out of the water, delivers one of his best one-liners ("How's this for a wet dream?"), and pulls Joey under for the kill. After the nightmare is over, Joey's mother finds him, dead, encased within the waterbed. It's short and sweet, but it probably contributed to the drop in popularity for waterbeds among creeped out teens.


---
#7.
OFF-ROAD BUSSING
A Nightmare on Elm Street 2: Freddy's Revenge
#7.
OFF-ROAD BUSSING
A Nightmare on Elm Street 2: Freddy's Revenge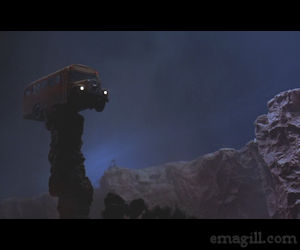 Freddy's second film opens with a bus dropping kids off after school. The protagonist of the movie, Jesse, is eventually left alone on the bus with two girls who giggle and laugh (presumably at him) before they realize the vehicle has missed their stop and is now careening off the road, into a desert. After a brief and harrowingly fast trip through uneven terrain, the schoolbus comes to a stop and the ground gives way to reveal it now teetering atop a hell-soaked chasm of fiery doom. The bus driver then stands up, revealing himself to be Freddy Kreuger, and slowly walks towards the teenage passengers, threatening to ruin the delicate balance of the precarious bus. Luckily, Jesse awakens just in time, but the imagery of the dream stays with him (and the audience) throughout the entire movie.


---
#6.
YOU KNOW HIS NAME
Freddy vs. Jason
#6.
YOU KNOW HIS NAME
Freddy vs. Jason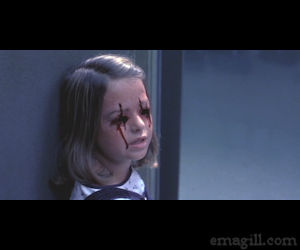 Lori falls asleep in a police station trying to remember the name inadvertantly spoken by a cop: Freddy Kreuger. She then finds herself alone with the lights flickering and a trail of disappearing bloody footprints that lead to a little girl with her eyes ripped out who tells her about the forgotten evil that stalks Elm Street. The tone and imagery borrow heavily from Eastern horror--which was spiking in popularity around the time this film came out--to deliver something unique and interesting for the series. While Jason's nightmare later in the film, in which he and Freddy engage in a Sisyphean battle that can never end, is longer and arguably more memorable, it contains the single weirdest plot element of the film--Jason's sudden and incongruous fear of water--and is thus not as pitch perfect as Lori's dream in the police station.







-e. magill 6/15/2017



THE UNAPOLOGETIC GEEK'S
SLASHER SUMMER: