Slasher Summer: Freddy's Top 10 Best Nightmares - Page 2
---
#5.
TUGGING AT THE HEART-STRINGS
A Nightmare on Elm Street 3: The Dream Warriors
#5.
TUGGING AT THE HEART-STRINGS
A Nightmare on Elm Street 3: The Dream Warriors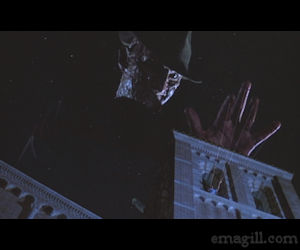 Philip, a known sleepwalker, is tormented by Freddy, who goes from being a stop-motion puppet to a gigantic puppeteer in the sky. He rips the veins from Philip's arms and legs and uses them to force Philip to walk out of his room and to the top of a tower, from which the young man falls to his death. It's a startlingly gory and visceral image, and makes for one of the simplest and yet most creative nightmares in the entire series.


---
#4.
THE BODY BAG
A Nightmare on Elm Street (1984)
#4.
THE BODY BAG
A Nightmare on Elm Street (1984)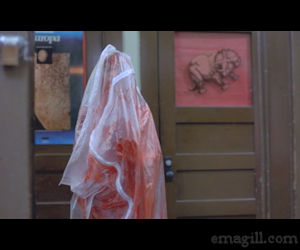 Falling asleep in class is never fun, but for Nancy in the original A Nightmare on Elm Street, it's downright harrowing. With her classmate quoting Shakespeare, she sees her dead friend, Tina, standing nearby in a translucent, blood-soaked body bag. The undead Tina beckons Nancy out into the hallway, where she is inexplicably dragged by invisible forces down to the boiler room. There, Nancy encounters Freddy for the first time, and discovers she can not only wake herself by burning her arm on the pipes, but that the injury will follow her into the real world. This is a great dream for multiple reasons: the imagery is disturbing; the setting is relatable for a teen audience; the plot is moved forward; etc.


---
#3.
EXPLORING THE OLD HOUSE
A Nightmare on Elm Street 3: The Dream Warriors
#3.
EXPLORING THE OLD HOUSE
A Nightmare on Elm Street 3: The Dream Warriors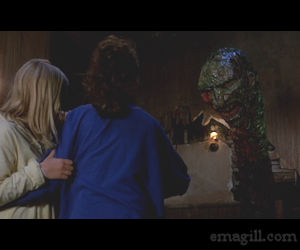 This nightmare is as impressively filmed as it is narratively critical. It starts with our heroine, Kristen, nodding off in her new room in a mental hospital. The door opens, and a red tricycle rolls in on its own, trailing blood as it goes, before coming to a stop and melting to the sounds of distant children screaming. Kristen runs away, only to find herself in a decrepit version of Nancy's old house (from the first film), where she encounters a rotting pig that jumps at her, carpets that move of their own accord, and a giant snake with Freddy's face that attempts to swallow her whole. At this point, she draws Nancy into her dream to help her escape. Nancy, in her office, stands up, looks at the model of her house that Kristen built, and then falls backwards, through her reclined chair, and into the dream. There's a lot to chew on here (pun intended), but it's all technically impressive and visually unique, offering a wild take on dream logic and introducing the admittedly-silly-but-plot-necessary idea of shared dreaming.


---
#2.
A KID ON A FREEWAY
Wes Craven's New Nightmare
#2.
A KID ON A FREEWAY
Wes Craven's New Nightmare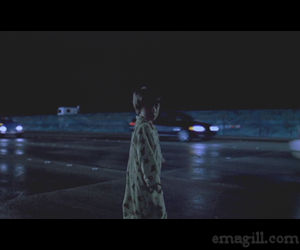 It's almost cheating to include this nightmare, since it takes up about a quarter of the movie's runtime. However, it has so much going for it and is so memorable that it needs to be on this list. It starts when Dylan falls asleep in the hospital after a long battle to stay awake, which leads to Freddy's re-emergence and the brutal death of his babysitter that recalls Tina's death-by-gimble from the first film. Then there's arguably the most frightening part, a harrowing chase across a freeway with this young child walking nonchalantly through heavy traffic, guided by a hallucinagenic Freddy in the clouds. Then there's Heather's gradual melding with the dream world, when she discovers her friend John Saxon has morphed into his character from the films and is now referring to her as "Nancy," which leads into the climax where Heather and her son, Dylan, must battle Freddy in an ancient, hellish, and surprisingly literary underground lair. There's nothing bad about any of this, and any individual part of the whole nightmare could earn an entry here.


---
#1.
GOOD, CLEAN FUN
A Nightmare on Elm Street (1984)
#1.
GOOD, CLEAN FUN
A Nightmare on Elm Street (1984)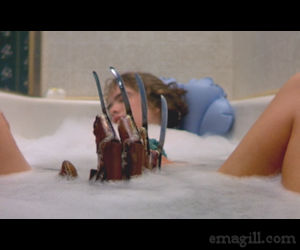 Probably the most iconic nightmare in the whole franchise is one of the shortest. Nancy is taking a bath, idly singing the Freddy nursery rhyme ("One, two, Freddy's coming for you..."), and starting to slip into sleep. From underneath the surface of the water and between Nancy's spread legs comes Freddy's knife-tipped glove. Just as it's about to strike, Nancy's mother knocks on the door and warns Nancy not to fall asleep. Despite this setback, Nancy drifts off again and Freddy is able to drag her down, into the depths. Maybe it's overstating the case, but if Psycho turns you off to showers, it's distinctly possible that A Nightmare on Elm Street will turn you off to baths as well.


---

I put a lot of emphasis on imagery for this list, and for good reason. The visual flair of the Freddy movies are unmatched by all the other slasher flicks I'll be covering this summer (with the possible exception of the Hellraiser series), and it demonstrates why the Elm Street nightmares deserve a respectable place in the historical archives of American film.







-e. magill 6/15/2017



THE UNAPOLOGETIC GEEK'S
SLASHER SUMMER: