Slasher Summer: The Nightmare on Elm Street Reviews
Growing up in the eighties, the slasher franchise that resonated most with me was A Nightmare on Elm Street. I wasn't allowed to actually watch these movies, of course, but I knew the basic premise: the ghost of a sadistic child murderer comes to you in your dreams and kills you in horrible ways. As a kid, this was far more frightening than the relatively straightforward stylings of Michael Myers and Jason Vorhees, because while Myers can be easily outrun and Vorhees can be avoided by not going to Crystal Lake, nothing can stop you from dreaming.

As an adult, I don't find Kreuger all that scary, and these movies swing more toward fantasy for me than horror. I respect them for their imaginativeness--especially the Wes Craven entries--and though I don't find them as deep or interesting as I do the Halloween films, I have no problem enjoying a good Fred Kreuger marathon now and then. They can be a lot of fun, driven almost entirely by the personality of Robert Englund's performance and the inspiration of Craven's original ideas.


---
| | |
| --- | --- |
| A NIGHTMARE ON ELM STREET (1984) | |
A NIGHTMARE ON ELM STREET (1984)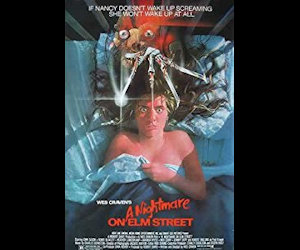 The Premise: Teens in Springwood, Ohio, find themselves tormented by horrifying dreams that all center around a sadistic serial killer named Fred Kreuger. As the dreams become more and more real and kids start dying, Nancy Thompson and her friends are in a race to explain what's happening and figure out how to stop it.

The Verdict: Despite some pretty bad acting (no disrespect to young Johnny Depp) and a dull and repetitive soundtrack, this is an imaginative take on the slasher genre that is a little more surreal and psychologically frightening. The visual effects are incredible--especially considering the low budget--and hold up better than many of the film's successors. There is also a lot of very memorable imagery and scenes that cement A Nightmare on Elm Street in its place as a slasher film legacy. The confusing conclusion is just the right amount of unsettling.



---
| | |
| --- | --- |
| A NIGHTMARE ON ELM STREET 2: FREDDY'S REVENGE (1985) | |
A NIGHTMARE ON ELM STREET 2: FREDDY'S REVENGE (1985)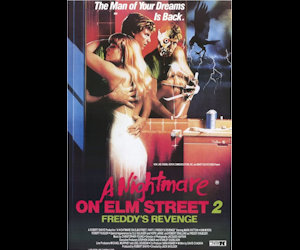 The Premise: Jesse Walsh, a new kid in Springwood, moves into the former home of Nancy Thompson and her family, only to find himself possessed by Fred Kreuger, who uses Jesse's body to continue his murderous vengeance.

The Verdict: The acting and music are improved this time around, but the film editing and continuity are lazy. There aren't as many memorable moments, aside from a ridiculous exploding bird scene that is memorable for all the wrong reasons. It boldly tries to take the series in a new direction by not following the same rules, and though a lot of fans dislike the film for that very reason, it's important to remember that this is only the second film (not to mention the fact that the rules of Freddy's universe are never consistent and clear). It's not a great film--it has its flaws and it doesn't really feel like a Nightmare on Elm Street film--but it's far better than its reputation. And yes, as this is the Internet and I have to address it, Freddy's Revenge has deliberate overtones of sexual confusion, which might make some viewers uncomfortable and probably has something to do with its negative reputation.



---
| | |
| --- | --- |
| A NIGHTMARE ON ELM STREET 3: THE DREAM WARRIORS (1987) | |
A NIGHTMARE ON ELM STREET 3: THE DREAM WARRIORS (1987)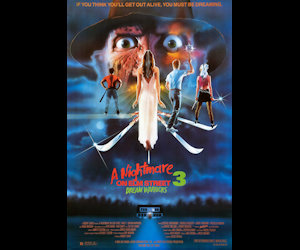 The Premise: Nancy Thomson returns to Springwood to help children in a sleep disorder clinic who can't seem to convince their doctors that Freddy is real and coming for them in their dreams.

The Verdict: It's always nice to have a recurring actress, but honestly, Heather Langenkamp doesn't seem capable of acting, and the inclusion of her character takes away from the tension and teen empowerment themes. Setting that aside, this is a good ride that essentially ignores Freddy's Revenge and tries to build on the original in a more conventional way, thanks in no small part to the writing help of Wes Craven and a young Frank Darabont. A couple of the teen stereotypes are unfortunate, but I like how this film set the standard for unique teenage characters facing nightmares themed around their personalities. As a whole, it's more entertaining than the previous sequel, though it takes a painfully long time to get moving. It has some great and imaginative visuals, but some of the effects are weak. For example, the Harryhausen-style skeleton scene is as visually horrendous as it is narratively inconsistent. It goes in a more fantasy-esque direction than other entries in the franchise, and holds up relatively well.



---
| | |
| --- | --- |
| A NIGHTMARE ON ELM STREET 4: THE DREAM MASTER (1988) | |
A NIGHTMARE ON ELM STREET 4: THE DREAM MASTER (1988)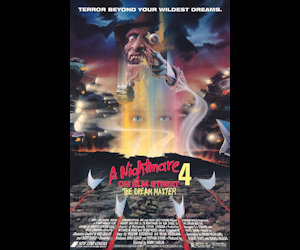 The Premise: Freddy is revived from his burial in the previous film and seeks to not only finish his plan to murder the kids of every parent in Springwood who wronged him, but also to practice his murderous skills on a new generation of teenagers.

The Verdict: The new protagonist, Alice, is wonderful, as she has a very distinct, relatable arc and is acted superbly by Lisa Wilcox. It's a provocative idea having her be indirectly responsible for putting her friends in danger, and her transformation into a fighting amalgamation of her friends is believable and strong. Unfortunately, a lot of this movie feels like a rehash of previous films, delving into fully exhausted plot threads like characters who need to be convinced Freddy is real. It has a few memorable death scenes, but with Freddy devolving into a more cheesy than intimidating antagonist and with the plot ultimately failing to go anyplace new, The Dream Master is the least interesting film in the series thus far.



---
| | |
| --- | --- |
| A NIGHTMARE ON ELM STREET 5: THE DREAM CHILD (1989) | |
A NIGHTMARE ON ELM STREET 5: THE DREAM CHILD (1989)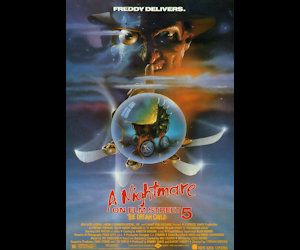 The Premise: After having defeated Freddy once, Alice now sees him returning to threaten her new friends, even when she is wide awake. She eventually discovers she is pregnant, and that Freddy is using her unborn child to bring himself back from the dead.

The Verdict: The acting in this one is truly terrible. Seriously, I've seen middle school plays with more thespian talent in them. On top of that, Freddy's cheese is turned up to 11; the music has a lot of out-of-character comedic bits; some of the effects are notably bad; the rules of the universe are wildly inconsistent and unexplained; and the plot is stupidly convoluted. There are a few good things about The Dream Child--such as Lisa Wilcox's return, the gothic set designs, and the Escher stairs during the climax--but it's neither inspiring nor entertaining.









-e. magill 6/8/2017



THE UNAPOLOGETIC GEEK'S
SLASHER SUMMER: