Slasher Summer: The Nightmare on Elm Street Reviews - Page 2
---
| | |
| --- | --- |
| FREDDY'S DEAD: THE FINAL NIGHTMARE (1991) | |
FREDDY'S DEAD: THE FINAL NIGHTMARE (1991)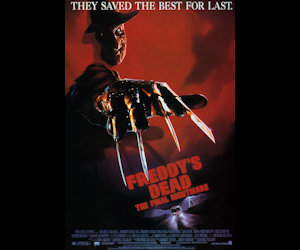 The Premise: The sole teenage survivor of Springwood--now a dystopian wasteland where the children are all dead and the adults have become psychotic--seeks help from a neighboring youth center, only to unwittingly help Freddy break out into a new town after reuniting with his long-lost daughter.

The Verdict: Wow, this movie is bad! The premise is beyond ridiculous, raising more logistical questions than interesting ideas. While arguably better than the characters in The Dream Child, the characters in Freddy's Dead are woefully undercooked and driven by the plot (not to mention the narrative reliance on amnesia and characters deprived of crucial information). The music and effects, however, are even worse, hitting the series' ultimate low point. The tone is severely off and uneven, too, and there are several moments where the film seems to be a full-blown satire of itself, bordering on a screwball comedy (for evidence, I present the video game sequence). The problem is it isn't even funny. The Freddy backstory scenes in the final act are this film's only promising bits, but they are ruined by the gimmicky 3D stuff that has aged about as well as warm milk. Freddy's Dead is worse than many direct-to-video movie sequels.



---
| | |
| --- | --- |
| WES CRAVEN'S NEW NIGHTMARE (1994) | |
WES CRAVEN'S NEW NIGHTMARE (1994)

The Premise: With the Freddy series wrapped up, actress Heather Langenkamp, who played the distressed Nancy in the original, is asked by Wes Craven to return to the role that made her famous for one more stab at the series. However, she finds herself haunted by the very idea of Fred Kreuger, as he seems to be using her young son to break out of the world of fiction and into reality.

The Verdict: Films this meta are usually more self-important than clever, but Wes Craven manages to pull it off with amazing effectiveness, delivering a film that is more mature and full of depth than any of the previous Elm Street films (including his own original). There is a little bit of masturbatory self-congratulation in here--Wes does paint himself as a guardian against an ancient force of evil, after all--but it's also a meditation on the nature of archetype and the necessity of storytelling, all while offering up an honest commentary on Craven's own legacy and that of his original film. On top of that, this movie achieves something no film since the original has quite accomplished: it's actually pretty scary. By blurring the lines of Heather's sanity and taking the appropriate amount of time to create a grounded, realistic setting that interbreeds fact and fiction, this story is full of unease, dread, and paranoia. And for the first time, Heather Langenkamp does some pretty good acting, not to mention that creepy-ass kid. It might be an unpopular opinion among Elm Street fans, but I believe this is the best film in the entire franchise by a significant margin, and it more than makes up for the series' more embarassing entries.



---
| | |
| --- | --- |
| FREDDY VS. JASON (2003) | |
FREDDY VS. JASON (2003)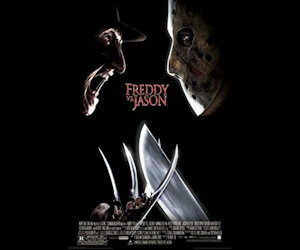 The Premise: Freddy Kreuger, annoyed that the kids of Elm Street have forgotten about him, recruits Jason Voorhees from beyond the grave to terrify some teenagers and resurrect his legacy.

The Verdict: While the premise glosses over a lot of questions and is pretty illogical if you think about it too much, this was a fantastic send-off for both franchises before they would be rebooted. It's not really horror anymore--though there are some horror aspects to it--as it becomes more of a dark comedic teen psychodrama that turns into a full blown action movie in the final act. That said, the makers of this film weren't lazy in delivering what would have been a guaranteed money-maker, proving that, with a little effort, even a cheesy popcorn flick can be done well. The writing is surprisingly good, with characters you actually care about and a plot that is tweaked just enough to suspend disbelief, and the acting is also pretty damn impressive for such young actors. Robert Englund clearly has fun hamming up Freddy one last time (though his repetitive expositioning is insultingly unnecessary) and the title bout delivers everything one could hope for without sacrificing any of the traits that define the slasher icons. The kills are also pretty great, and there is just enough humor to keep it fun without going over-the-top. The practical effects also deserve a ton of credit for being some of the best in either series, but some of the CG is lacking. All in all, while certainly not perfect, this is a film that does exactly what it sets out to do, and makes for a most entertaining spectacle.



---
| | |
| --- | --- |
| A NIGHTMARE ON ELM STREET (2010) | |
A NIGHTMARE ON ELM STREET (2010)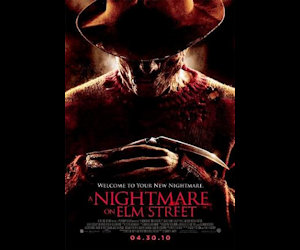 The Premise: Teens confront vivid nightmares involving a sadistic madman named Freddy who kills people in their dreams, only to discover that there's a secret connection between them.

The Verdict: As remakes go, this one initially does a lot of things right: the characters are believable and have well-written motivation; the original film is honored and respectfully elaborated on; the plot is carefully fleshed out; the acting is above average; and more. However, in its struggle to remix a beloved horror tale with more realistic ingredients, 2010's A Nightmare on Elm Street fails to follow a crucial step in the slasher genre recipe: it's never fun. A good teen slasher flick always takes twisted relish in its imaginative murders, but this movie spends more time making viewers uncomfortable than it does entertaining them (not to mention its ridiculous overreliance on jump scares), mostly by making it a little too clear that Fred Kreuger was a child molester and not spending a lot of time crafting ridiculous death scenarios. Indeed, the nightmares are this film's biggest weakness. Most of them are half-hearted copies of scenes from previous movies, and the few that are original are brief and uninspired. There are some good ideas thrown into the mix--like the idea of insomniatic micronaps and teens uncovering a shared forgotten trauma--but they are never properly capitalized on. Jackie Earl Haley's turn as Freddy is perfectly emblematic of the films' problems, because he's a far more believable and frightening character than Englund's version, but he's nowhere near as fun or iconic. In the end, the remake falls into the greatest trap a remake can fall in: it's pointless.



---

Slasher flicks work best when they know their audience, and in that regard, the Nightmare on Elm Street movies excell. While not as stereotypical as Friday the 13th or as straightforward as Halloween, A Nightmare on Elm Street sets its sights on delighting teenagers with equal parts supernatural horror and subversive humor (plus a good helping of gratuitous nudity). Me and my more adult, film-school-snotty sensibilities may like the more serious entries, but let's face it: Freddy Kreuger is iconic because he's so outrageous.

As for the future of the franchise, it's all up in the air. There's been talk of another reboot, but current franchise owner Platinum Dunes has been pretty mum on the subject. I doubt Freddy can be kept quiet forever, so it's only a matter of time before he comes back. When he does, I think any new iteration of the series needs to tap into the fantasy to be successful, and it needs a charismatic Freddy (like maybe Kevin Bacon). I'm not averse to the idea of another entry, but a new reboot would be much more difficult to pull off for A Nightmare on Elm Street than for any of the other slasher franchises we'll be looking at this summer.







-e. magill 6/8/2017



THE UNAPOLOGETIC GEEK'S
SLASHER SUMMER: