Slasher Summer: Chucky's Top 10 Best Kills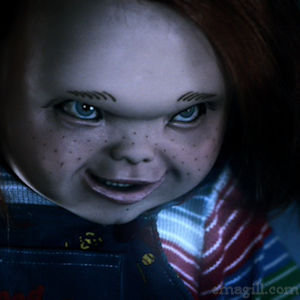 That is one creepy little doll




Each of these slasher icons has a certain disbelievability to them, but nobody who witnesses one of Chucky's crimes is ever treated with credibility. Even Freddie eventually racks up enough kills to go from legendary dead serial killer to believable supernatural threat, but no matter how many people Chucky slaughters or how brazenly he does it, few ever accept the reality of the killer doll until they see it with their own eyes, usually mere moments before dying. As such, Chucky has plenty of time to plan and prepare, and he always enjoys the element of surprise. Given that he was a sadistic psychopath even before his transformation, Chucky's kills are among the most creative and merciless of his contemporaries, while also being disturbingly entertaining.

As always, we will be rewarding kills on this list for their iconicity, their memorableness, their inventiveness, and how deserving the victims are. Chucky, like Freddy before him, might get a bonus point or two for a good one-liner.


---
#10.
JILL TAYLOR
Curse of Chucky
#10.
JILL TAYLOR
Curse of Chucky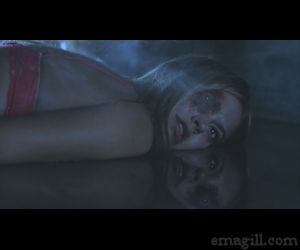 Speaking of which, this kill ends with one of Chucky's best when he says, "Women: can't live with 'em... period." Jill is a sexy young nanny and lesbian homewrecker who is in the middle of a naughty chat session with the eminently dislikable Barb when Chucky appears, standing ominously nearby and grinning. Before Jill can truly process what's happening, Chucky takes advantage of the old house's flaws--a leaky roof and shoddy floor wiring--by kicking over a drip bucket and coating the floor in water, where electricity and Jill's bare feet conspire to short out both her computer and her body. It's a creative and morbidly fun death, and Chucky does nothing more than kick a bucket to pull it off.


---
#9.
COLONEL COCHRANE
Child's Play 3
#9.
COLONEL COCHRANE
Child's Play 3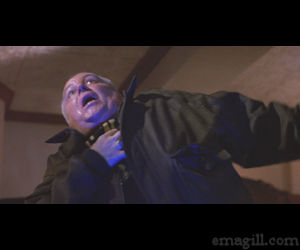 As you watch Child's Play 3, you know that Colonel Cochrane, one of the leaders of Kent Academy where Chucky catches up with the consistently unfortunate Andy, is sure to meet a brutal end at the killer doll's hands. He's cocky, annoying, and manhandles the toy before he realizes what's living inside it. One night, Chucky waits in the shadows of the colonel's office when he arrives, alone. Chucky jumps out from his hiding spot, knife in hand, and gets ready to deliver his sick vengeance. Unfortunately, before Chucky can do anything else, the colonel is so surprised he suffers a massive coronary and drops dead. It's a great way for the movie to subvert your expectations, and Chucky's exasperation after the fact is pretty damn funny.


---
#8.
DR. ARDMORE
Child's Play
#8.
DR. ARDMORE
Child's Play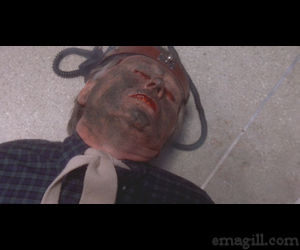 While many of the deaths on this list are more entertaining than horrifying, Dr. Ardmore's death in the original Child's Play is singularly disturbing. What might have been the amusing murder of a dislikable character--the arrogant psychiatrist who Chucky kills by slicing his Achilles' tendon, strapping an electro-shock band to his head, and then turning it to full power--is made ghastly because young Andy is in the room when it happens, witnessing everything. It's the first death that Andy sees first-hand (the next one on this list isn't as direct, even though it precedes this), and it really ratchets up the inherent tension of a film about the systematic psychological torture of a cherubic six-year-old boy.


---
#7.
EDDIE CAPUTO
Child's Play
#7.
EDDIE CAPUTO
Child's Play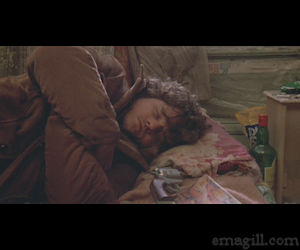 That same tension is established earlier in the film, when Chucky gets his revenge on his former accomplice in crime, Eddie Caputo. Chucky convinces young Andy to skip school and go to a seedy part of town. When Andy puts Chucky down so he can go pee, Chucky runs off towards the abandoned building where Eddie is hiding out. Inside, he breaks a gas line and prepares to blow the building up, but outside, Andy panicks when he can't find his doll, so he starts looking around, getting way too close to the building. It's classic suspense, and it's shot matter-of-factly to create a very Hitchcockian scenario.


---
#6.
FATHER FRANK
Curse of Chucky
#6.
FATHER FRANK
Curse of Chucky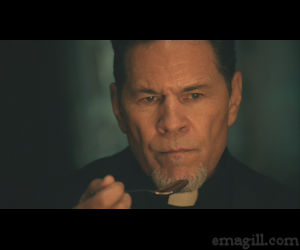 Eddie's death scene isn't the only example of the filmmakers' love of Hitchcock, which has popped up from the first movie to the last. In Curse of Chucky, everybody gathers for dinner at a round table. There are six people, and moments before the meal is to begin, we witness Chucky sprinkle rat poison into one of the six bowls of vegetarian chili. After the bowls are served and the guests take their seats, the camera slowly spins from an overhead perspective, the subtle visual echo of a revolver spinning its chambers. This version of Russian Roulette plays out over the course of an otherwise mundane scene--in which people talk about how good the chili is, how amazing it is that it doesn't have meat in it, et cetera--all while Chucky watches, dead-eyed in a little girl's lap. At one point, the girl mentions her chili tasting funny, but of course, it's just a fake-out for the real victim, who is predictably the least important character in the room: Father Frank. He starts sweating and looking pale, so he excuses himself as politely as he can and leaves before we see the poison take full effect. It isn't until later that we see the man die after a gnarly car accident, when his body falls away from his head.







-e. magill 8/3/2017



THE UNAPOLOGETIC GEEK'S
SLASHER SUMMER: