Planet of the Apes (2001) - Movie Review
---
| | |
| --- | --- |
| | Are you addicted to streaming? I'm doing a podcast with a friend of mine called "The Streaming Heap," where we talk about movies and shows on various streaming services that have piqued our interest. It's available on Spotify, Apple Podcasts, and more. Check it out! |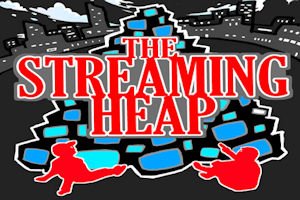 Are you addicted to streaming? I'm doing a podcast with a friend of mine called "The Streaming Heap," where we talk about movies and shows on various streaming services that have piqued our interest. It's available on Spotify, Apple Podcasts, and more. Check it out!
---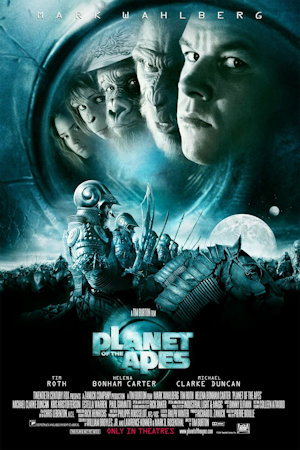 It's dripping early 2000's
Talk of a remake of Planet of the Apes had been circulating around Hollywood for years, changing hands between several big names like Oliver Stone, James Cameron, Peter Jackson, Roland Emmerich, and Chris Columbus, before the project was finally given to Tim Burton. An unlikely choice, to be sure, Burton was still a popular producer and director following the financial success of 1999's Sleepy Hollow, and he insisted that he was not, in fact, doing a "remake" but rather a "re-imagining" of the story. With heavy time and budget constraints, rewriting took place even while the sets were being constructed.
I note this context not to let Burton off the hook for what is, in my opinion, a bad movie, but to help make sense of how this film came into being. To be fair, as a standard early 2000's bit of sci-fi schlock, it's not irredeemable. It could even be considered fun on its own merits, with its unusual time travel logic and tale of an oppressed uprising akin to Stargate. However, as a standard-bearer for such a renowned property, it's a weak attempt at best to shake things up.
So before I allow myself to get elbow-deep into my criticisms of 2001's Planet of the Apes, let's discuss a few things I think it does well. For starters, the effects are pretty good, especially the ape make-up and the surprisingly low-key--relative to other big budget films of the time period--computer graphics. The sets are mostly good--though it is a little too easy to see the black walls in the background during night scenes--and I appreciate that the ape city incorporates more areas for vertical climbing, an idea from the novel that had never appeared in the franchise before. Danny Elfman also restrains himself admirably to deliver a score that falls somewhere between his own sensibilities and the original film's score by Jerry Goldsmith. There's also some good acting from many secondary players, including Cary-Hiroyuki Tagawa as the former military leader Krull and Michael Clarke Duncan as his protege, Colonel Attar.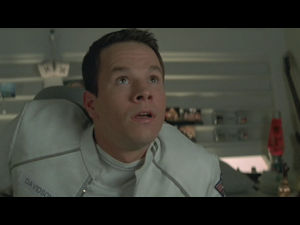 Ah, Mark Wahlberg
But then there's the main cast, headed up by Mark Wahlberg in one of his most vacuous performances this side of The Happening. I've never understood Mark Wahlberg as a leading man, as he is better suited for supporting roles in films like The Basketball Diaries and The Departed. In Planet of the Apes, he tries to be both stoic and earnest as Captain Leo Davidson, leading to a paradoxical on-screen persona that just comes across as empty-headed and aloof. The script desperately tries to give him an arc, but any dynamic aspects to Davidson are lost by the fact that he shows more emotion towards a regular chimpanzee than he does any of the intelligent characters of the film, especially the two involved in his stunted love triangle.
That brings me to Helena Bonham Carter as Ari, the Zira analogue, who rather than being a scientist is, in this version, a Senator's daughter with an off-putting infatuation with humans that is far too overtly sexual to be comfortable for the audience. She, too, lacks any sort of character arc, and she is used in the plot as an exposition machine and a plot contrivance, the kind of character who, when the hero needs to escape, pipes up with a heretofore unmentioned way to get out of the city walls that she used when she was a child. Despite her obvious and brutal distaste for him, she is also saddled with the film's antagonist, General Thade, as a suitor, which only makes sense because it's necessary for the plot to happen.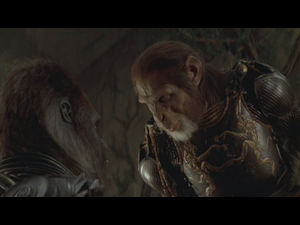 Tim Roth is great in a one-dimensional role
I will give Tim Roth a bit of credit in that role, however. He's obviously having fun being a cartoonish caricature of a villain, who is always sneering and spitting his lines as though the only direction given to him was to be as evil as possible. He does, however, get the ape-like mannerisms down better than any other actor in the film, in the way he moves his limbs and tilts his head. Granted, there are a lot of unnecessary gymnastics going on, as actors are hurled through the air by wires and trampolines, but Tim Roth almost makes such feats believable. He feels more like a precociously malevolent chimpanzee than a human being, and it might be one of my favorite Tim Roth performances of all time, even if his character is ridiculous and poorly written.
And speaking of poor writing, the film's climax revolves around General Thade leading the charge against an amassed group of humans and a handful of their ape compatriots. This is all well and good, but it ends in a Pericles ex machina with the arrival of Davidson's chimpanzee test subect, Pericles, which is timed perfectly to the split second before Thade is able to deliver the killing blow but is also heralded by the apes as the return of their messiah, for no readily apparent reason other than a vaguely defined prophecy.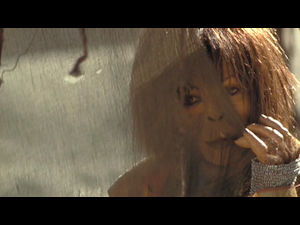 This is just weird
What follows is, of course, the infamous twist ending. Leading up to it, the story does a decent job remixing the twist of the original film by having it revealed that the apes and humans (who are still intelligent and talkative, despite being subservient) came to this alien planet thousands of years earlier in the space station that Davidson was serving on at the start of the film. While the final twist of Davidson going back to Earth only to discover apes have overrun it is usually derided as one of the worst things about the movie, I will actually defend it, because if you follow the time travel logic of the film, it makes sense that, if, some time after Davidson's departure, Thade somehow repaired Davidson's original spacecraft and used it to travel to Earth, he could arrive thousands of years earlier in order to inspire an ape uprising. Also, it sets the stage for a sequel that would finally deliver on the ideas of the novel: a modern world with apes in place of humans.
Unfortunately, there is nothing leading up to this twist that suggests the story has any aspirations for allegory or social commentary. Gone are the class struggles between different ape species. Gone is the anti-nuclear message of the original film. Gone is the suggestion that humans are just another type of ape. Instead, we are given a lame anti-slavery message that only serves to set the stage for the action, and this is perhaps why, when all is said and done, this is a poor entry in the franchise as a whole. All of the previous films were provocative and thematically deep, whereas 2001's Planet of the Apes is just a cynical cash grab put together by a director whose style never quite meshes with the source material.

-e. magill 12/9/2021


---
SPECIAL THANKS TO MY PATRONS:



BattyBatFirebrand
Chris Connell
David Murray
Diane Magill-Davis
John Burrill
Myk OConnor
Paul Kyriazi
Sylar Magician
Warren Davis


Become a Patron today!
patreon.com/emagill
SPECIAL THANKS TO MY PATRONS:

BattyBatFirebrand
Chris Connell
David Murray
Diane Magill-Davis
John Burrill
Myk OConnor
Paul Kyriazi
Sylar Magician
Warren Davis

Become a Patron today!
patreon.com/emagill
---
PLANET OF THE APES:
Planet of the Apes (2001)