Rise of the Planet of the Apes - Sci-Fi Classic Film Review
---
| | |
| --- | --- |
| | Are you addicted to streaming? I'm doing a podcast with a friend of mine called "The Streaming Heap," where we talk about movies and shows on various streaming services that have piqued our interest. It's available on Spotify, Apple Podcasts, and more. Check it out! |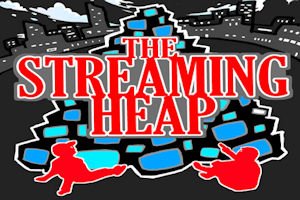 Are you addicted to streaming? I'm doing a podcast with a friend of mine called "The Streaming Heap," where we talk about movies and shows on various streaming services that have piqued our interest. It's available on Spotify, Apple Podcasts, and more. Check it out!
---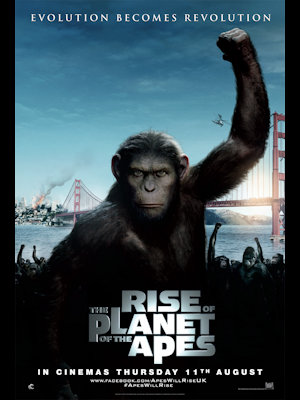 Apes. Together. Strong.
I'm doing something unprecedented for this blog in that I am re-reviewing a film. Back in 2011, I penned a review of Rise of the Planet of the Apes that I still stand by (for the most part), but I felt it necessary to go back to it with the benefit of a decade of hindsight and a fresh few months of reading the novel and reviewing all the previous entries in the franchise. If you're interested, you can still find that older review here, but sufficed to write, I felt that the movie was a remarkable re-invigoration of the franchise, an important step forward for visual effects, and an all-around good movie despite a few one-dimensional characters and an off-putting swap of main character halfway through the film.
As I said, I still hold mostly true to that analysis, but I feel compelled to amend my thoughts a little. For starters, I have no idea what I was thinking when I wrote that Rise of the Planet of the Apes has more in common with the original film than with Conquest of the Planet of the Apes. While this film does have a lot of callbacks to the original film, the structural similarities are no less apparent in Conquest, which is itself a twisted retelling of the original tale. Secondly, I don't think the swapping of main characters is as problematic as I found it a decade ago, no doubt because I now go into the film expecting it. Sure, James Franco's character doesn't have a lot to do for the second half of the film, but I'm not sure it's fair to conclude that he was ever the protagonist of the story.
All that said, I still hold that this is one of the best franchise reboots to date, right up there with Casino Royale, and that, despite a few more visible cracks ten years out, the visual effects are incredible, serving as a landmark in which the audience is asked, for the first time in a live action film, to follow a CGI main character through intense emotional conflict. After watching 2001's Planet of the Apes, I only feel stronger on these points, given how unsuccessful Tim Burton was in refreshing the property and in how less I connected to the characters in that film.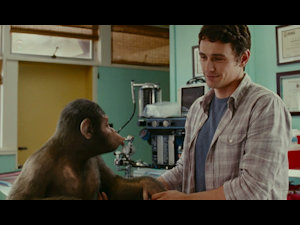 Franco's not terrible, but he's still an odd casting choice
And that's what I really want to focus on in this re-review: how Rise of the Planet of the Apes holds up against all the previous entries and the novel. It is unquestionably better than the 2001 film, but does it really hold true to the franchise as a whole? I may surprise you with my answer, because even though I want to give you an enthusiastic, fanboyish "yes" and leave it at that, I must admit it's not as clear-cut. To illustrate, let me go back to Conquest.
When you compare Rise to Conquest, it's easy to remark on the similarities in story, topped off with an arguably more satisfying narrative conclusion in Rise. However, the differences are no less important. In style, Rise is a tragedy masquerading as a sci-fi/action film--which is telegraphed early on by the reference to Shakespeare's Julius Caesar--but Conquest is dark social commentary in the guise of a family film. The original five films (and, of course, the novel) are all laser-focused on class politics, racism, and societal unrest, whereas any thematic morals about society in Rise can only be dug up from deep within the film's subtext.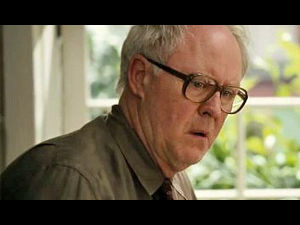 Lithgow's most heart-breaking performance
Instead, the major theme of Rise is a fairly trite one, as old as the genre of science-fiction: science without caution equals disaster. Don't get me wrong. I love Frankenstein and Jurassic Park as much as the next guy, but for a property as provocative as Planet of the Apes, it's a major intellectual downgrade. Rise also pulls its punches a lot more than I remembered, with surprisingly few casualties in all the chaos. Ironically, this makes Rise a better family film than Conquest, because it goes out of its way to not push the envelope, to not provoke too much discomfort.
It does conclude with the human race facing an apocalyptic pandemic (obligatory "just like the real world" reference here) and the titular rise of apekind, but Caesar never crosses the line into an irredeemable hero. He never asks for anything more than freedom, and though he must resort to violence, he only wants to go as far as necessary and no further. The only hint of ambiguity is when he lets Koba kill Jacobs, the lead scientist, but it's hard to feel any compassion for a character as cartoonishly evil as Jacobs. Additionally, there's at least the distance of a proxy between Caesar and murder, not to mention the fact that Jacobs had spent the previous fifteen minutes of the film doing his level best to kill him.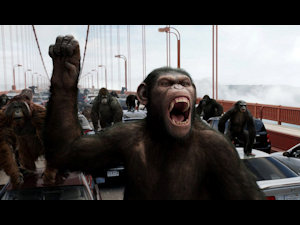 It's all coming together
Now, as I said, this does make for a better conclusion than either of Conquest's endings. Also, with the benefit of two additional films following Caesar's character arc, I am very glad this film doesn't turn him into a cold-blooded killer. Still, it doesn't bear as much thematic fruit as its predecessors. In a world where the previous films didn't exist, Rise of the Planet of the Apes would be a decent romp akin to I, Robot or something, but I doubt it would be memorable for anything outside of its visual effects. There are interesting ideas just below the surface--ideas about intelligence and slavery, for example--but those ideas are so much more thoroughly explored in the other works that you almost wouldn't know to look for them.
Regardless of that, I am still one hundred percent a fan of this film, and my attempts at objectivity here haven't done anything to diminish my love of it. While I admit it doesn't have the biting social commentary of the film it apes, it doesn't really need it. As entertainment, Rise of the Planet of the Apes is absolutely the superior film, and it gets bonus points for restarting the franchise on firm footing.

-e. magill 12/23/2021


---
SPECIAL THANKS TO MY PATRONS:



BattyBatFirebrand
Chris Connell
David Murray
Diane Magill-Davis
John Burrill
Myk OConnor
Paul Kyriazi
Sylar Magician
Warren Davis


Become a Patron today!
patreon.com/emagill
SPECIAL THANKS TO MY PATRONS:

BattyBatFirebrand
Chris Connell
David Murray
Diane Magill-Davis
John Burrill
Myk OConnor
Paul Kyriazi
Sylar Magician
Warren Davis

Become a Patron today!
patreon.com/emagill
---
PLANET OF THE APES:
Rise of the Planet of the Apes