Terminator: Dark Fate - Movie Review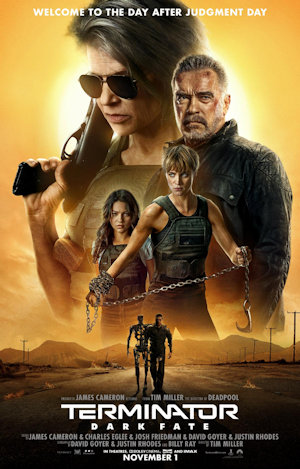 The more important the character, the smaller they are in the poster




James Cameron's The Terminator is undoubtedly a highly influential science-fiction/action classic that should be required viewing for any self-respecting fan of the genre, and its first sequel, Terminator 2: Judgment Day, left a permanent impression on big budget spectacle, pushing the boundaries of visual and special effects to new heights. Since that second film, however, the franchise has struggled to justify its continued existence with middling success. In the interests of full disclosure, I've found things to like about every subsequent entry--with a personal favorite being the underrated television show Terminator: The Sarah Connor Chronicles, which was created by Josh Friedman, one of the cowriters of Terminator: Dark Fate--but they've all felt relatively meaningless, bits of genre fluff that get their mileage out of treading over the same ground again and again, making sure to reference Cameron's more successful entries as much as possible.

As a result, the series has seen diminishing returns with each entry, with the last one, Terminator Genisys, earning a domestic gross of only $89.7 million on a budget of $155 million. It was therefore a surprise when yet another entry was announced, with James Cameron returning as a producer, Deadpool's Tim Miller directing, and the long-absent Linda Hamilton starring as Sarah Connor. Given the relative success of 2018's Halloween--a new entry in a long-running franchise that, like the Terminator films, had a hopelessly broken continuity--there is a certain logic to giving the franchise a soft reboot by ignoring every film since T2. Unfortunately, going by early box office receipts, Terminator: Dark Fate, despite so much promise, isn't going to match the financial success of Michael Myers' return to the silver screen.

The blame for this has to fall on franchise fatigue, which isn't helped by the very familiar plot beats of Terminator: Dark Fate. This is, in its general structure, a simple retread of the first Terminator, even moreso than any of the other T2 follow-ups: a robotic killing machine from the future that looks like a human has come back in time to kill an innocent young woman who will one day become important in regards to the future war between man and artificial intelligence, but at the same time, a human soldier has come back too, in order to protect the woman and secure the last hope for humanity. There are some tweaks, of course, and the whole thing is shoe-horned into the existing continuity of the first two films, but at its core, there isn't much there to convince exhausted audiences that there's more story to be told in this universe.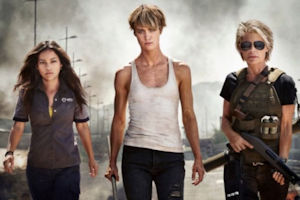 They're suitably badass




Another reason that so many Terminator films, including this one, have failed to engage audiences is that The Terminator told a very self-contained story that was wrapped up in a nice bow, and T2, though this writer will endlessly take issue with how it completely undoes the first film's entire premise, ensures that any loose plot threads from the first one are completely cut off. In other words, the story is over, and every attempt to restart the conflict necessarily renders the entire plot of the second film pointless. Rather than finding a clever way around this non-trivial problem, Terminator: Dark Fate decides to double down on it by (and here's a minor spoiler alert for something that happens before the film's title card) unceremoniously killing John Connor not long after the events of T2*. There are other things the story does later--which I won't list here so as not to spoil anything else--that contradict the established canon of the first two films. (But, as I already mentioned, T2 does that to The Terminator, so perhaps a disrespect for continuity is just a staple of the series.)

*Spoiler talk: I could actually forgive this if the story were built more around Sarah's development as a character and whether she's trying to find a surrogate John. The movie touches on this to a certain extent, but it feels more like an afterthought than a driving element of the plot. Hence, John's death serves no real purpose beyond shock value, oversimplification, and a violent need to announce a new direction (even though there isn't one). The movie wouldn't be affected at all negatively if John had lived and were simply absent from these events. In fact, I think Sarah Connor's search for purpose could be even more compelling than her dealing with a fridged child.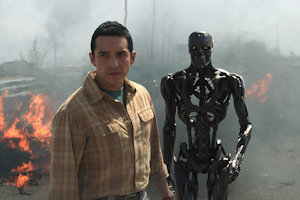 The new terminator is really cool, but sadly under-utilized




If the intention of the film is to erase the previous films in order to start fresh, then why bother bringing back Linda Hamilton and Arnold Schwarzenegger? Why not instead go the remake or full reboot route? The film's obvious desire to start fresh competes with its desire to keep fans of the original films (in a way that 2018's Halloween doesn't). Its efforts to reset the continuity, by doing things like changing the identity of mankind's future savior and renaming the artificial intelligence that starts the war, feel downright hostile towards its own fans, and I have a feeling that the few who bother watching this film will have a hard time forgiving that.

However, setting that aside, this is, on its own merits, a perfectly serviceable sci-fi action movie. The acting is wonderful all around, the characters are engaging, the effects are good (give or take a few bouncy CG people), the occasional humor lands and doesn't feel out of place, the music is good, and most of the action scenes are well-done. Indeed, were it not for the script, I would be singing this film's praises for being perfectly entertaining.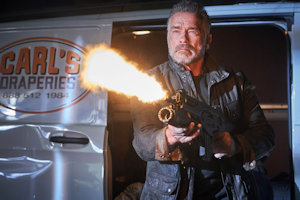 This might be my favorite Schwarzenegger performance in many years, even if the character doesn't make sense




I especially love the actors, with Linda Hamilton doing an excellent job inhabiting her old character and Arnold Schwarzenegger delivering his best performance as a terminator since T2. The newcomers are great, too: Mackenzie Davis as Grace, the surprisingly interesting augmented super-soldier sent back to save humanity, is amazing. Gabriel Luna as the new evil terminator, REV-9, is quite good, too, feeling more like the infiltration robot that the terminators are supposed to be than any of the other actors to take a stab at it, while also managing to be menacing when the script needs it. The new savior, Dani, played by Natalia Reyes, is a bit weaker--with her third act transition feeling unearned and unsatisfying--but she's by no means terrible. If you took all these actors, their characters, and Tim Miller's lovingly crafted action set-pieces, and you gave them a better story, you'd have a fantastic film that might be able to stand tall beside the first two Terminator films.

Alas, the script is a hot mess, filled with unexplained conveniences, questionable character decisions, and obvious failures of imagination. Even the new terminator's cool new abilities aren't utilized to their greatest potential, and why he never uses the simplest methods of killing Dani are never explained beyond the fact that it would end the film prematurely. (For example--and these are minor spoilers--he has the opportunity to steal a fighter jet with missiles in order to shoot down our heroes in a plane, but he instead chooses to steal a refueling plane to crash into them, giving them plenty of opportunities to fight and escape, and even though he comes into physical contact with a couple of our heroes, he never once changes his appearance to mimick them, which would have been brutally effective.) I don't think it's impossible for a new Terminator film to come out that finds a clever, new way to use the property to tell a compelling and entertaining story that honors the legacy. However, if Terminator: Dark Fate proves anything, it's that Hollywood still hasn't figured it out, not even with James Cameron producing.




-e. magill 11/7/2019


---
SPECIAL THANKS TO MY PATRONS:
Diane Magill-Davis
John Burrill
Warren Davis

Become a Patron today!
patreon.com/emagill
SPECIAL THANKS TO MY PATRONS:
Diane Magill-Davis
John Burrill
Warren Davis

Become a Patron today!
patreon.com/emagill
---