Conquest of the Planet of the Apes - Sci-Fi Classic Film Review
---
| | |
| --- | --- |
| | Are you addicted to streaming? I'm doing a podcast with a friend of mine called "The Streaming Heap," where we talk about movies and shows on various streaming services that have piqued our interest. It's available on Spotify, Apple Podcasts, and more. Check it out! |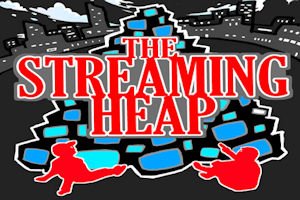 Are you addicted to streaming? I'm doing a podcast with a friend of mine called "The Streaming Heap," where we talk about movies and shows on various streaming services that have piqued our interest. It's available on Spotify, Apple Podcasts, and more. Check it out!
---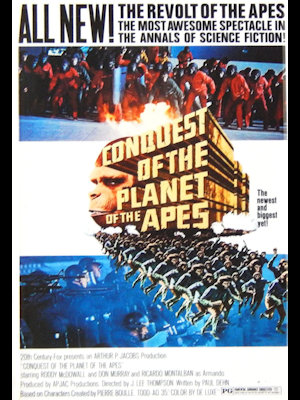 It's really more like "Conquest of the Planet of the Humans"
One of the more interesting aspects of the previous film, Escape from the Planet of the Apes, is the character arc for Cornelius. He starts Escape proud of his peaceful nature, arguing that an intelligent chimpanzee has never and would never resort to violence, and he seems to see himself as perhaps a little morally superior to humanity in that regard. However, by the end of the film, he has killed in anger and been killed as a result, a tragic victim of his own hubris and "human" nature. This is the legacy carried by his son, Caesar, in Conquest of the Planet of the Apes, my personal favorite of the original sequels.
Full disclosure: I am a Jeffersonian at heart (so much so that I named my son Thomas) and therefore fascinated by tales of upstart rebellions against a tyrranical system of government. That's what Conquest is, of course: a tale of revolution. However, what makes it work isn't the fact that Caesar is a relatable hero or that his cause against the iron grip of an overzealous humanity is just. Instead, it's the fact that the film is nuanced, that Caesar winds up embracing violence as a means to an end, with all the blood and terror that results. It's an obvious riff on the civil rights struggles of the time in which the film was made, but it's no less relevant as a reflection of other violent uprisings throughout history.
Sure, as a film, it has some flaws, primarily related to the budget. 20th Century Fox continued its trend of giving fewer dollars to each entry in the film franchise, and it is certainly apparent here. However, it still manages to look better than Beneath the Planet of the Apes, as it is more adeptly directed by J. Lee Thompson. It's also better written, even though it is penned once again by Paul Dehn, who ended the previous movie with a deliberate hook to be picked up here.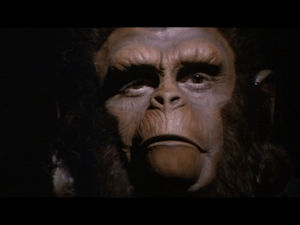 Caesar, the badass
Having said that, the continuity isn't perfect, unless you provide your own explanation that isn't given in the script. In Escape, Cornelius explains how apes rose up against mankind, and he says it took hundreds of years, that a plague would show up after a hundred years or so that would wipe out dogs and cats and that, a "few centuries" later, an ape named "Aldo" would rise up against his human slavemasters and lead the revolution that would lead to the planet of the apes. Don't get me wrong; I much prefer the name "Caesar," but this is not the story we see play out in Conquest. (My head canon tells me that the arrival of Cornelius and Zira must have changed the timeline, but Dehn was clearly aiming for a perfectly circular continuity.)
We are four entries into the film series, and yet, some ideas from Pierre Boulle's novel are still being incorporated into the story. Boulle talked about an alien humanity that became complacent after enslaving the apes, becoming so dependant upon its slaves that it was simply forced to roll over and accept its own slavery when the tables were turned. That's not quite what we see in Conquest, but there are hints of it here and there, showing that, even though we are pretty far removed from Boulle, Dehn is still trying to respect his work.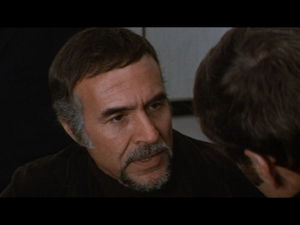 "You're asking me if I've ever heard of the superstar talking ape from the future that was a worldwide sensation twelve years ago? Of course not!"
I do have some more nitpicks, however. For starters, in the very beginning of the movie, Armando (Ricardo Mantalbán) calls Caesar by his name, "Caesar," even though we are lead to believe later in the film that Caesar picks his name out of an encylopedia. Sure, it's not a stretch to suggest that Caesar deliberately picked the name his father figure had given him, but (1) he sure is lucky that Breck just happened to grab the "C" encyclopedia; and (2) that would be a stupid thing to do if he was trying to lay low and anybody knew his name. Also on the subject of names, when Armando is being interrogated, they make a big deal out of whether or not he had ever heard the name "Cornelius," which seems really dumb to me. Cornelius and Zira were worldwide celebrities, and everybody should have known their names.
Nitpicks aside, the writing is still very clever in how it uses Caesar's personal journey to propel a story with a known ending. Without the audience being able to witness the cruelty of humanity through his eyes, his turn would never feel justified, and when he learns of Armando's death, we can share enough in his grief to understand how it morphs into rage. It was Armando's compassion that was truly keeping Caesar on the leash, and when that compassion is taken out of the world, Caesar is left without sympathy for the rest of humanity.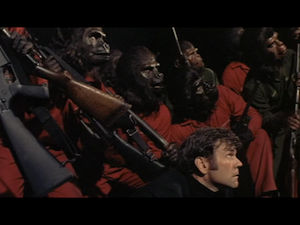 "You know what? Now that we've killed hundreds of people and burned the city down, let's just be nice."
Unfortunately, that brings me to the very end of the film, which was clumsily changed in post-production to give Caesar a sudden and inexplicable second turn where he decides apes should be compassionate, even after the wholesale slaughter he'd been engaged in up to that point. I can't stress enough how much I dislike this ending and how much I wish Fox had let Thompson and Dehn keep the ending as originally written, which had the mob killing Breck and Caesar relishing in the violent world he had created. That ending is more in line with the series up to that point, where each entry had a shocking and downbeat finale, and I'm happy it has been restored for the Blu-Ray releases of the film.
If you want to know more of my thoughts on Conquest of the Planet of the Apes, I've got a video dropping on Sunday on my YouTube channel that will go into even more detail. Sufficed to say, it's a fantastic film that, while certainly not perfect, deserves far more credit than it usually receives. Come back here next week when we'll finish off the original film series with Battle for the Planet of the Apes.

-e. magill 11/4/2021


---
SPECIAL THANKS TO MY PATRONS:



BattyBatFirebrand
Chris Connell
David Murray
Diane Magill-Davis
John Burrill
Myk OConnor
Paul Kyriazi
Sylar Magician
Warren Davis


Become a Patron today!
patreon.com/emagill
SPECIAL THANKS TO MY PATRONS:

BattyBatFirebrand
Chris Connell
David Murray
Diane Magill-Davis
John Burrill
Myk OConnor
Paul Kyriazi
Sylar Magician
Warren Davis

Become a Patron today!
patreon.com/emagill
---
PLANET OF THE APES:
Conquest of the Planet of the Apes