Son of Frankenstein - Sci-Fi Classic Film Review
[A little housekeeping before I begin. My entries have been a bit sporadic lately as a result of pandemic-related personal issues, and though I do have two books I am currently in the middle of reading, I've decided to make it easier on myself by sticking to just reviewing films for the foreseeable future. This way, I hope to give myself more breathing room and reduce any sources of stress, considering the fact that this blog is supposed to be a hobby, not work. Hopefully, as things return to some semblance of what used to be normal, I can resume my regularly scheduled reviews by the summer, as I still desperately want to get back to Asimov.]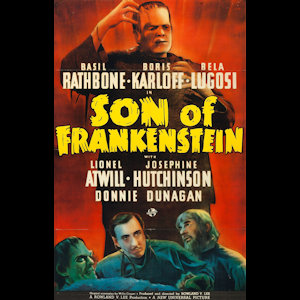 Son of Frankenstein
After Universal Studios took a short break from horror in the mid-to-late thirties, they burst back onto the scene with Son of Frankenstein, the last Frankenstein film to feature Boris Karloff. The movie was a success, ensuring that all of the Universal horror franchises would continue, and though it isn't as well-regarded as its James Whale-directed predecessors, it is still a great Frankenstein film that should be required viewing for fans.
Let's start by discussing the elephant in the room, or rather the Whale. Son of Frankenstein is directed by the Hollywood veteran Rowland V. Lee, who'd worked with several of the major studios going back to the silent era. Lee doesn't lean into the campy charm the way Whale did, but he does do a remarkable job recreating the gothic atmosphere and German expressionist look of the previous films. I'm not going to try to convince you that Lee is on the same level as Whale, but there's little fault to be found in how Son of Frankenstein is directed.
However, what truly defines this film are its characters and actors, with one rather important exception I'll get to later. Primary among these is, of course, the protagonist, the titular Baron Wolf von Frankenstein, played by Basil Rathbone. It is pretty much impossible for me to separate Rathbone from Sherlock Holmes, but the character of Wolf is interesting enough to give the actor something to work with.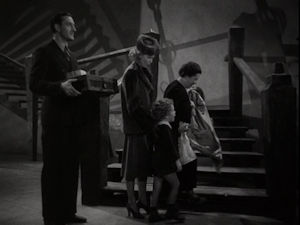 Harsh angles, extreme lighting, and Sherlock Holmes
A psychologically complex conflict lies at the heart of Wolf's story. He has come to his father's estate clinging to a firm belief that his legacy was misunderstood, that Heinrich Frankenstein was not the monster he'd been portrayed as. Wolf believes he can convince the town to see this but is quickly faced with mounting evidence that the legend of Frankenstein is more fact than fiction. After helping bring the creature back to life--which he does in order to salvage his father's reputation and make good on the promise of his work--Wolf begins to break down mentally and emotionally, spiteful and bitter at those who dare suggest he or his father were wrong to go down this path because he knows it to be true. He faces genuine fear, an emotion he refused to believe in, and he doesn't rise to meet it until the film's abrupt and admittedly unsatisfying climax.
Next comes the antagonist, who is not the creature but rather Ygor, a convicted murderer who survived hanging and now stalks the ruins of Frankenstein's laboratory, where he has befriended the creature and uses it to enact vengeance upon those who had him hanged. Played with relish by Bela Lugosi at the top of his game, Ygor upstages the creature and steals every scene he's in. Though not a terribly complex character, he is fascinating nonetheless, smiling as he easily preys on Wolf's weaknesses and remorselessly sets out to terrorize the town below.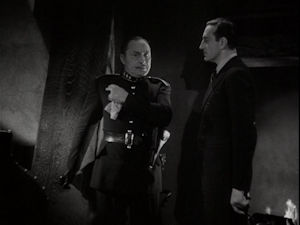 This scene, where Krogh tells Wolf how he lost his arm, is perfection
Then there's Lionel Atwill as the one-armed Inspecter Krogh, a keen and intelligent man who has every reason to despise the Frankenstein name but is duty-bound to protect law and order while seeking out the truth. His character breaks a bit at the very end when his cool demeanor cracks and he rails at the younger Frankenstein, but on the whole, Atwill is the steady heart of the film, alongside Elsa Frankenstein, played by Josephine Hutchinson. Elsa seems like a throwaway character for roughly the first half of the film, but once she confesses to Wolf that she hates the house and is aware that her husband is keeping secrets for the first time in their marriage, she becomes a much more important and interesting part of the narrative.
Alas, now we come to the exception: Boris Karloff's creature. The key feature of the creature in Whale's Frankenstein films is pathos; the creature is a tragic innocent who only becomes a monster because he is treated like one. In Son of Frankenstein, though, he is little more than a walking plot device, devoid of the nuance injected into him in the previous films. Indeed, all of his character development is wiped away. He doesn't talk or understand much of anything, only doing Ygor's bidding because that's what the plot says he should do. Granted, it's pretty terrifying when he briefly holds Wolf's son over the boiling sulfur pit, but the psychological terror within the creature is completely absent, leaving a gaping void that no amount of dramatic action can fix.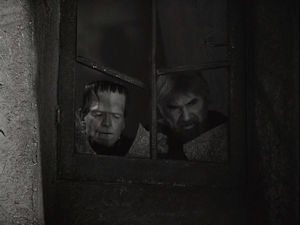 Karloff and Lugosi: need I say more?
It's easy to dismiss Karloff's performance, too. He seems to be phoning it in, only trying once or twice to give the creature some much needed character, but it's important to remember that the actor was in such intense pain throughout the entire production--due to the heavy rig he was forced to wear and the damage done to his back (allegedly) by Whale's cruel treatment of him in the original Frankenstein--that he would never agree to play the part again. Also, just going by the script, he wouldn't have had enough to work with even if he was physically able to give it his all.
In the end, I'm of two minds about Son of Frankenstein. On one hand, it is a great gothic horror film with memorable performances, complicated characters, and a haunting atmosphere. It's a rare example of a third film in a series that is almost as good as the first two, and I'd just as happily watch it as either of Whale's masterpieces. On the other hand, it seems to miss the point of those predecessors, mishandles Boris Karloff and the creature, and serves as a subtle harbinger of where Universal would eventually take the franchise in the years that followed.

-e. magill 2/18/2021


---
SPECIAL THANKS TO MY PATRONS:
Diane Magill-Davis
John Burrill
Paul Kyriazi
Warren Davis
WingIT Productions

Become a Patron today!
patreon.com/emagill
SPECIAL THANKS TO MY PATRONS:
Diane Magill-Davis
John Burrill
Paul Kyriazi
Warren Davis
WingIT Productions

Become a Patron today!
patreon.com/emagill
---