The Ghost of Frankenstein - Sci-Fi Classic Film Review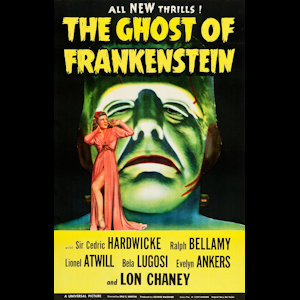 The Ghost of Frankenstein
In most film franchises, there comes a point where each entry starts yielding diminishing returns, where new stories becomes beholden to a formula with little in the way of deviation, resulting in a loss of novelty. The horror genre is particularly susceptible to this phenomenon, as any fan of eighties slasher movies can attest. This, however, is not as recent a phenomenon as one might think, as even the classic Hollywood studio system frequently fell into this trap, often wringing out every popular franchise for every last dime with movie after movie, to the point that they can't really be told apart by casual viewers.
Universal's classic horrors are no exception. Despite Son of Frankenstein being a remarkably good third entry in the Frankenstein film series, The Ghost of Frankenstein is clearly on the other side of a demarcation line, offering nothing new or particularly interesting aside from an incredibly hokey final twist. Fans can have a good time with its macabre silliness and moments of near self-parody, and there are a few good elements worth discussing. Still, this movie doesn't have the same quality or imagination of its predecessors.
The plot picks up some undefined period of time following the end of Son of Frankenstein, and it is quickly revealed that not only has Frankenstein's monster survived being dropped into a boiling sulfur pit, but the twisted Ygor has somehow survived being shot several times in the chest as well. It's as contrived as, say, Freddy Kreuger's many resurrections, but you kind of have to go along with it, given that it wouldn't be a very good Frankenstein movie without its iconic monster and it is fun to see the return of Bela Legosi's dastardly villain.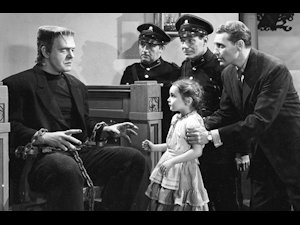 This is just ludicrous
Frankenstein's creature is played this time by Lon Cheney, Jr., and honestly, he's not terrible in the part. Still, Cheney's creature is more stilted and unemotional than Karloff's, and though the script does try to give him more humanity than in the previous film, it doesn't really work without Karloff's empathetic portrayal. (His eyes are covered too much with makeup, too, which doesn't help.) Similarly, some of the magic of Bela Legosi's Ygor has been lost as well, with the character coming across as more cartoonish and less interesting, as though Legosi was doing it solely for the paycheck. Given Legosi's finances at the time, he probably was.
It gets unbearably silly, though, when both Cheney and Legosi combine to create the hybridized monster of the final act, with Cheney's body and Legosi's voice melded into one. It's patently absurd without any of the campy winking of James Whale's Bride of Frankenstein, and any attempt to take the movie seriously becomes futile. It's disappointing that the only original idea of the film is somehow more ridiculous than anything the franchise had previously seen. (It gets even more ridiculous in future installments.)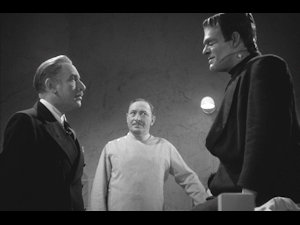 Three great actors in a ho-hum movie
Also stretching the suspension of disbelief is the existence of yet another Dr. Frankenstein, this time played by Sir Cedric Hardwicke. I wouldn't dare speak ill of Hardwicke, but his character, Ludwig Frankenstein (Wolf's heretofore unmentioned older brother), is much less relatable or likeable than previous Frankensteins, with his character seeming to be driven more by plot necessity than any real conflict of purpose. The script tries to show his inner turmoil, but it doesn't offer any glimpses of Ludwig's alleged nobility prior to the events of the film and makes him so easily manipulated by Ygor that he comes across as more villain than protagonist.
The only relatable characters are Ludwig's daughter, Elsa, and her fiancé Erik, played by Evelyn Ankers and Ralph Bellamy, respectively. Even Dr. Frankenstein's colleague, Dr. Bohmer (Lionel Atwill), who at one point refuses to work on the monster out of ethical obligation, throws his principles out the window when Ygor tempts him with power and fame in a heel-face turn so completely at odds with the skeptical, principled character previously established that it simply does not make sense.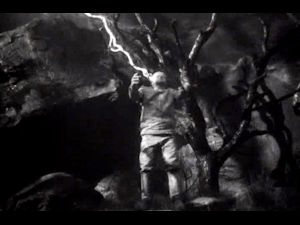 Lightning doesn't strike four times
There are several plot beats that seem to be included just because they're part of the formula, such as the townspeople forming a mob to go after Frankenstein, even though the justification this time is pretty thin at best. The sets, music, and cinematography are all pretty bland as well, lacking the gothic inspirations and atmospheric tones of the previous films. In short, it's the kind of vanilla sequel that doesn't want to push any envelopes or do anything other than replicate the success of its predecessors.
I don't want to end this review on such a sour note, though. As I said, if you go into it with the right expectations, it can definitely be a fun time, and if you compare it to some of its follow-ups, it's cinematic gold. While a film like The Ghost of Frankenstein doesn't deserve a place in the annals of cinematic history, there's no inherent sin in a movie that is trying to retell a popular story and to entertain that story's rabid fans. On sheer entertainment value, it does what it sets out to do, and that, at least, is commendable.

-e. magill 3/4/2021


---
SPECIAL THANKS TO MY PATRONS:
Diane Magill-Davis
John Burrill
Paul Kyriazi
Warren Davis
WingIT Productions

Become a Patron today!
patreon.com/emagill
SPECIAL THANKS TO MY PATRONS:
Diane Magill-Davis
John Burrill
Paul Kyriazi
Warren Davis
WingIT Productions

Become a Patron today!
patreon.com/emagill
---