War of the Worlds (2005) - Movie Review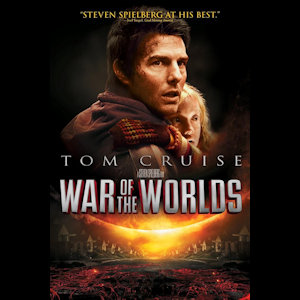 I wouldn't say it's his best
When I first saw Steven Spielberg's Twenty-First Century update to War of the Worlds in theaters back in 2005, I didn't hate it. I had some problems with it--which I'll get to--but at the time, it resonated with me as a thinly-veiled 9/11 allegory. I thought the effects spectacle was intense, and I appreciated the heavier emphasis on horror. I went so far as to buy a copy when it came out on DVD, which I probably watched once or twice, but it has been collecting dust in my collection ever since. Fast forward to this week, and when I watched it again for the first time in about fifteen years, I felt... differently about it.
Let's start with some positives. From a technical standpoint, this is a very well-made movie, a testament to Spielberg's skill and the skill of his crew. John Williams delivers a good score, though its not among his most memorable, and one cannot understate the unsung brilliance of Michael Kahn as an editor. The cinematography should also get some love, especially the clever use of long shots. I do find the washed-out white filter that permeates most of the movie really distracting and unnecessary, not nearly as effective in this film as it is in Saving Private Ryan and Minority Report. I do appreciate the contrast with the red weeds scene, but having one scene with startling color does not make up for an entire movie that makes you feel like you've been in a chlorinated pool for a couple of hours. The visual effects are great, though the heavy reliance on CG has dated the movie much quicker than George Pal's practical effects from the fifties. Probably my favorite thing here is the design and graceful movement of the tripods, which is offset by the much blander, generic design of the aliens themselves.
As for the story--written mostly by David Koepp who was tasked with reworking a script by Josh Friedman--I have a lot of issues with it. Among the few things I do like are the Hudson Ferry sequence and the various mob scenes, which are reminiscent of the memorable brother scenes from the original novel. Similarly, it's cool that they included the red weeds, which are missing in the original adaptation. It is also smart to meld the curate and artilleryman into one character (I'll discuss Tim Robbins' acting a bit later), which adds more tension to the ruined house scene. Other than that, it feels like every single choice is the wrong one.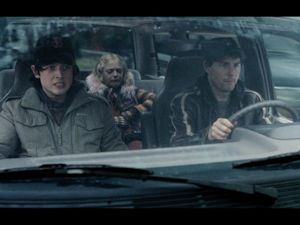 I'd rather be stuck with the aliens than in that car
My primary problem is the protagonist. Tom Cruise's Ray Ferrier is just an awful human being, and though we are meant to think by the end that he has learned the value of family through this ordeal or some such glurgy nonsense, it is hard to imagine that he'd be any less of a deadbeat after a few months. We, the audience, are supposed to be on this journey with him and are supposed to fall in love with his kids, but they are equally unpleasant: an angsty teenage boy whose only character arc involves a sudden desire to fight the machines (which can only be explained as Spielberg's desire to shoehorn a wartime analogy into the plot) and a little girl who spends most of her screentime screaming and complaining.
This trio of "heroes" is not completely unrealistic, but they are not interesting or entertaining enough to follow for two hours. They exist merely to continue Spielberg's cinematic therapy session in which he tries to deal with the divorce of his own parents, and while that dynamic works in his other alien films, Close Encounters of the Third Kind and E.T. the Extra-Terrestrial, it doesn't work here. One is left to wonder why, out of the literally billions of other people on the planet Earth this story could focus on, Spielberg has forced us to follow one emotionally cold divorcé and his two obnoxious kids.
It also feels like, as an adaptation, War of the Worlds misses the whole point. Whereas the original novel was a philosophical work full of difficult existential questions and the fifties adaptation was a clever recontextualization of those ideas for a post-nuclear world, this version treats Wells' ideas as an afterthought to be expressed in its entirety in a bookending narration while Spielberg focuses more on clunky 9/11 parallels, contrived family drama, and anti-war sentiment. If this is the movie Spielberg wanted to make, he should have used a more appropriate story, not H.G. Wells' classic.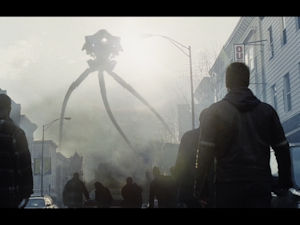 Now that's a tripod
Let's also quickly touch upon the wrinkle that the aliens don't arrive in meteoric cylinders but come down in electromagnetic storms to seed machines they hid under the ground an indeterminate number of years ago. I understand that Spielberg and Koepp were trying to avoid the cliché of ships coming down from outer space, but this change raises all kinds of questions the original story never had, like how, if the aliens had been to the Earth before, were they completely ignorant of bacteria? Why did they have to wait so long to take the Earth? If we're meant to believe the resource they are harvesting is humanity, why do they vaporize so many people? If Earth is some kind of human farm, then the aliens are terrible farmers.
The last thing I want to discuss is the acting. I usually like Tom Cruise as an actor, including in his previous collaboration with Spielberg, Minority Report. However, here, he is woefully miscast. He's great as an action hero, and he is capable of limited emotional depth here and there. However, he doesn't have the warmth necessary to endear himself to audiences as Ray Ferrier, a divorced working man who seems more interested in tinkering with car engines in his kitchen than in rebuilding his relationships with his family. He also has no hint of a New York or New Jersey accent, which the character absolutely should have (though given Cruise's track record with accents, I'm glad he didn't try for one).
Great character, silly performance
Dakota Fanning is, of course, excellent in her role, especially in the beginning of the movie, when she's not saddled with the unending trauma of being a plot device to motivate the main character. I give her character a lot of flack for being about as fun as fingernails on a chalkboard, but none of the fault for that falls on the acting. As a child actor, Fanning is something special, and if Spielberg knows nothing else about filmmaking, he certainly knows how to direct children. I am entertained by Tim Robbins' performance as the brain-addled survivalist, but his over-the-top delivery, while fun to watch, is tonally inconsistent with the rest of the film. It's impossible to watch Tim Robbins in this movie and think of him as a real person, and that hurts the film's suspension of disbelief. Unlike Fanning, I think the fault is more with Robbins than with the script.
In the final accounting, then, I have to admit 2005's War of the Worlds is not a particularly great movie. It hasn't aged well, and it remains a forgettable entry in Spielberg's filmography, notable more for the behind-the-scenes drama between Spielberg and Cruise than for the film itself. It has promise and a few good ideas, but the movie Spielberg was trying to make was too different from the source material to make a good marriage. His other alien films are better, and the George Pal film from the fifties is a better adaptation of Wells' novel. Then again, I liked Spielberg's movie back in 2005, so maybe I've just become a curmudgeon in recent years.

-e. magill 5/14/2020


---
SPECIAL THANKS TO MY PATRONS:
Diane Magill-Davis
John Burrill
Warren Davis

Become a Patron today!
patreon.com/emagill
SPECIAL THANKS TO MY PATRONS:
Diane Magill-Davis
John Burrill
Warren Davis

Become a Patron today!
patreon.com/emagill
---