The Movies of 2019 - Page 2
---
John Wick: Chapter 3 - Parabellum
May 17
John Wick: Chapter 3 - Parabellum
May 17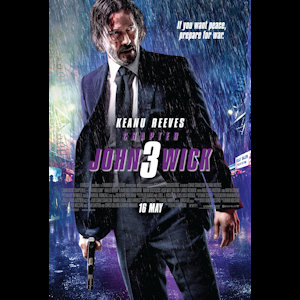 It's more John Wick. What more do you want? Okay, look, I absolutely love Keanu Reeves and the action is these films is on a whole new level. On entertainment value alone, this threequel deserves four stars, as it is stuffed with more incredibly choreographed action sequences than the first two movies combined. That said, the excessive world-building has diminishing returns and is starting to raise questions about how things worked in the first movie given all the new information we now have that seems to contradict it. The first film is a simple, adrenaline-fueled revenge tale set in a refreshingly imaginitive world, and the second film is a decent follow-up that gets a little convoluted but still works. The third film gets even more full of itself and incoherent, but everything is just so much fun, you hardly notice. I'm fully on-board for the inevitable Chapter 4, but I doubt any sequel will ever be as good or as clever as the original.
---
Godzilla: King of the Monsters
May 31
Godzilla: King of the Monsters
May 31
And here I go with another controversially negative opinion: Godzilla: King of the Monsters isn't as good as 2014's Godzilla. It isn't as well-directed, the sense of scale is inconsistent, and the plot is even more ridiculous than you'd expect from a movie about giant monsters taking over the world. The fault is in the director--Michael Dougherty is no Gareth Edwards--and in the human characters, who are somehow more cartoonish than the massive three-headed alien dragon who's been frozen in ice for millions of years. In an effort to correct for the perceived flaw of Edwards' original--that it is too slow and doesn't feature enough Godzilla action (even though the monsters have more screentime in 2014's Godzilla than in most Toho-produced Godzilla movies, believe it or not)--this movie greatly overcompensates, and though I take great joy in all the action, wall-to-wall fan service does not a compelling movie make. Make no mistakes, though: I still want more Legendary MonsterVerse.
---
The Secret Life of Pets 2
June 7
The Secret Life of Pets 2
June 7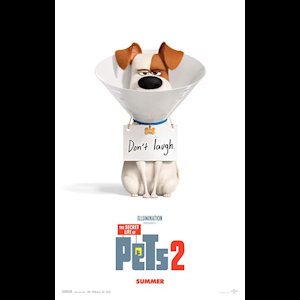 I don't know that I have much to say about this. My son is a fan, and I've only seen bits and pieces of the first movie. This was an entertaining enough children's movie, with a few disconnected storylines that only tangentially connect towards the end. The animation is serviceable to good, and the voice acting is on point. I especially like Harrison Ford as the grissled farm dog and Dana Carvey's mentoring old hound who teaches foster puppies how to poop in people's shoes. Generally inoffensive and enjoyable.
---
Toy Story 4
June 21
Toy Story 4
June 21
For a movie that has no right to exist, Toy Story 4 is fabulous. It's an organic continuation of Woody's story that has an ending that is more liable to resonate emotionally with adults than with kids, which is appropriate seeing as how the franchise itself is old enough to drink. Forky is a great new addition who manages to walk right up to that line of being obnoxiously annoying without ever actually crossing it, and it's nice to see old characters returning for one more go, even if most of the old characters are sidelined in favor of Woody's adventure. I am skeptical that a fifth entry could work, but then again, I thought the idea of a fourth one was unwise and I was clearly wrong about that.
---
Spider-Man: Far From Home
July 2
Spider-Man: Far From Home
July 2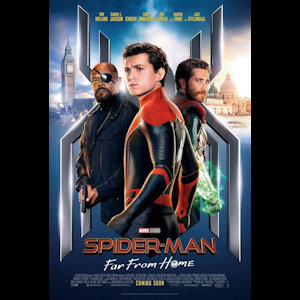 Thank God Sony and Disney worked it out. Spider-Man: Far From Home is easily my favorite MCU movie of the year, and it continues to prove that Marvel knows better than Sony how to handle the webslinger's character. Granted, he's still living in Tony's shadow and still fighting villains Iron Man created, but this movie is a big leap forward for Spidey, paving the way for his future in the MCU as his own man. Jake Gyllenhaal also absolutely kills it as Mysterio, coming really close to dethroning Michael Keaton's Vulture as one of the MCU's top five villains. I do have some minor gripes about continuity and how quickly Mysterio puts together his illusions, but that pair of ending twists earns a lot of forgiveness.

-e. magill 12/26/2019


---
SPECIAL THANKS TO MY PATRONS:
Diane Magill-Davis
John Burrill
Warren Davis

Become a Patron today!
patreon.com/emagill
SPECIAL THANKS TO MY PATRONS:
Diane Magill-Davis
John Burrill
Warren Davis

Become a Patron today!
patreon.com/emagill
---