Slasher Summer: The Hellraiser Reviews - Page 2
---
| | |
| --- | --- |
| HELLRAISER: INFERNO (2000) | |
HELLRAISER: INFERNO (2000)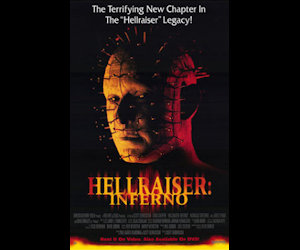 The Premise: On the track of a seemingly omnipotent killer known only as "The Engineer," a deeply troubled and morally compromised detective named Joseph Thorne finds himself embroiled in a dark world of sadism and madness.

The Verdict: The first direct-to-video entry in the Hellraiser franchise is a pretty decent bit of psychological horror, though it doesn't mesh perfectly with the films that precede it. Inferno has a low-budget film noir vibe that is endearing, and it can be compared favorably to the likes of Silent Hill. However, despite some cool new Cenobite designs, the Hellraiser elements are obviously added after the fact, taking away from any originality the story might have had on its own. The protagonist is also too unlikable, but good directing (by Scott Derrickson, who would go on to do bigger and better things), decent acting, thematic poignancy, wonderful cinematography featuring some memorably bizarre imagery, and general head-fuckery make this worth a watch. Unfortunately, the series only goes downhill from here.



---
| | |
| --- | --- |
| HELLRAISER: HELLSEEKER (2002) | |
HELLRAISER: HELLSEEKER (2002)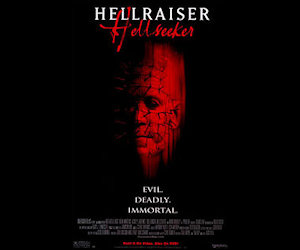 The Premise: After his wife, Kirsty (from the first two Hellraiser films), is killed in a car accident in which he suffers brain damage, Trevor struggles with amnesia, hallucinations, and a creeping suspicion that he is guilty of murder.

The Verdict: This is a disorienting film full of menace and misdirects. It tries to steer the franchise even further into psychological horror, but it lacks the flair or originality of Inferno, instead trying to be a Hellraiser-themed Jacob's Ladder. It does have some disturbing imagery and effective weirdness--and actor Dean Winters does his best to carry a film in which the audience is never able to get a foothold--but by squeezing the Hellraiser mythos into a story that doesn't naturally lend itself to the franchise, it fails to achieve much of anything besides shamelessly exploiting the fans. The conclusion leaves a lot to be desired, being neither clever nor inspiring as it turns the biggest heroine of the series into a remorseless serial killer.



---
| | |
| --- | --- |
| HELLRAISER: DEADER (2005) | |
HELLRAISER: DEADER (2005)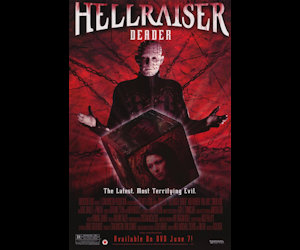 The Premise: Amy Klein, a hotshot investigative journalist, goes in search of a cult that can apparently bring the dead back to life. As she descends into a seedy underworld, she also descends into madness involving Pinhead and the Lament Configuration.

The Verdict: Much like Hellseeker before it, this is a disorienting bit of B-movie schlock masquerading as a Hellraiser film. I have a feeling this film started life as an ambitious horror story that could have been something special, but once it got repurposed into a Hellraiser film, it became direct-to-video trash. Though the idea of a suicide cult that stumbles upon a disturbing supernatural reality is interesting, the plot of the awfully-named Deader is a barely coherent mix of fake hallucinatory scare sequences, badly executed psychological horror concepts, way too much exposition, and poorly stitched together Hellraiser mythology. The acting is hammy (especially from Paul Rhys, who plays the villainous cult leader and Lamarchand descendant, Winter); the characters are inconsistent and irrationally motivated; the cinematography is distracting; and the visual effects are notably terrible. The bathroom knife scene is pretty neat, but it's ruined by Amy shouting simplistic internal monologuing over it like, "What's happening?" and "Is this a dream?" Even Pinhead's scenes are pretty lame.



---
| | |
| --- | --- |
| HELLRAISER: HELLWORLD (2005) | |
HELLRAISER: HELLWORLD (2005)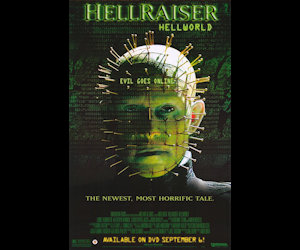 The Premise: Five young adults meet at a party celebrating an online game called "Hellworld" that is based on the Hellraiser mythos. However, the party takes a turn and things become more real than they imagined.

The Verdict: Despite a groan-worthy premise, this movie actually isn't as bad as it could be. It does go the meta route--which is something most long-running horror franchises do eventually--and it delivers the closest thing the series has to a typical slasher flick. With a group of kids getting killed off one-by-one in gory and horrible ways, there's guilty fun to be had, especially when you've got a young Henry Cavill and Khary Peyton in the mix. Top that off with a wonderfully devilish performance by B-movie horror icon Lance Henrickson, and it's an entertainingly stupid movie on its own merits. Unfortunately, it does fall apart by its shoe-horned attempts to tie itself to the franchise, and the last few minutes are entirely unnecessary. There are also some really bad visual effects. It's a bit cheesy--and a lot of the film's logic falls apart when examined too closely--but on the whole, this is one of the better Hellraiser movies spit out by Dimension (which isn't saying much).



---
| | |
| --- | --- |
| HELLRAISER: REVELATIONS (2011) | |
HELLRAISER: REVELATIONS (2011)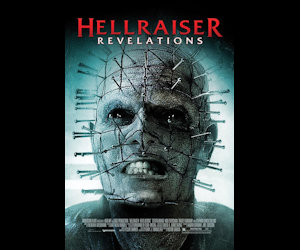 The Premise: Two young men go to Tijuana, kill a hooker, and discover the puzzle box. Some time later, one of them returns home to wreak havoc on their families.

The Verdict: Oh boy, here we go. I'll give this movie a molecule of credit for trying to honor the spirit of the original film by incorporating its themes and ideas. It fails miserably, but at least it tries. Other than that, there is nothing salvagable in this cynical piece of cinematic excrement that was so obviously made just so that the studio could keep the rights to the franchise. The acting is terrible. The cinematography is awful. The writing is horrific. The music feels like stock. The editing is amateurish. Some of the effects work is good, I guess, but nothing stands out as especially notable. Reportedly, the film cost between $300,000 and $350,000 to make, but I have a hard time understanding where even that tiny amount of money went, because Hellraiser: Revelations feels more like an undergraduate student film than a legitimate production. It makes even the worst Hellraiser films that come before it look good in comparison, and it ensures that audience expectations will remain incredibly low for any future installments in the franchise.



---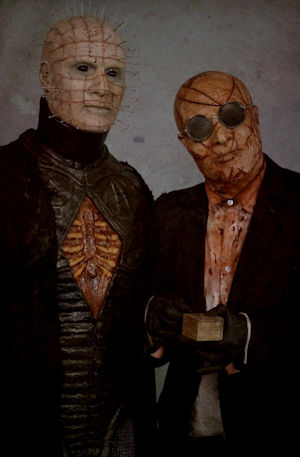 Pinhead standing next to the only thing that might be more evil than himself: an auditor




A tenth movie in the franchise, Hellraiser: Judgment, is scheduled to be released sometime this year (a specific date has not been announced since the previously announced release date of March 28 came and went). Production was reportedly finished earlier in 2017, but Dimension Films has delayed the film's distribution for undisclosed reasons. Directed by Gary J. Tunnicliffe, the creditted writer of Hellraiser: Revelations, it was built from the ground up as a Hellraiser movie, though Doug Bradley will not be reprising his role as Pinhead. Tunnicliffe talks frankly about the flaws in Revelations and begs fans to keep an open mind going into Judgment, but given Dimension's long history of disappointment, it's hard to get excited. Then again, the film does star Heather Langenkamp of A Nightmare on Elm Street fame, so that's something. [UPDATE: The film was finally released in February 2018, and I've put up a review.]

In conjunction with that, Dimension has been trying for over a decade to get a proper remake of the original film in theaters. It's been a long road--with directors signing on and dropping out, writers penning different drafts, production crews lined up only to be left waiting, etc.--that seems to reach an abrupt end between 2014 and 2015, after Clive Barker was brought back onboard to write and potentially direct a "loose" remake that would see Doug Bradley don the pins once more. Barker delivered a second completed draft, but according to him, never heard back from the studio. I really, really hope this project isn't dead, because if there's one iconic horror franchise that deserves a reboot, it's this one. Besides, if a new, modern film is crafted by the mastermind behind it all, it has to be better than the last half dozen mediocre productions.

I'm not going to do a secondary list for the Hellraiser series, because frankly, I don't think it deserves it. I do love the idea of Hellraiser, and I even like Pinhead, though I question whether the series always needs him around. However, no film after the first one ever achieved its potential or realized its ambitions. While Barker's first sequel was pushing in the right direction, everything else feels exploitative and dishonest, especially all the repurposed psychological horror. I desperately want there to be more good Hellraiser films, and maybe someday I'll get them, but for now, Pinhead remains the least effective horror icon of the summer. Besides, I don't consider the Hellraiser films to be slasher flicks, though they are often lumped in there with Halloween and Friday the 13th.

Instead, next week, we'll be wrapping up the Slasher Summer with the question that raises: what, exactly, is a slasher flick? What separates the good from the bad? What are the essential elements, and what are the tropes one can do without? Tune in next week to find out.







-e. magill 8/10/2017



THE UNAPOLOGETIC GEEK'S
SLASHER SUMMER: