Slasher Summer: The Friday the 13th Reviews - Page 2
---
| | |
| --- | --- |
| FRIDAY THE 13TH PART VI: JASON LIVES (1986) | |
FRIDAY THE 13TH PART VI: JASON LIVES (1986)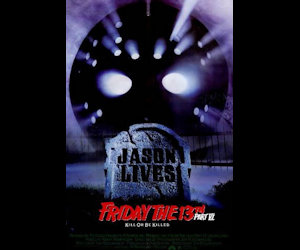 The Premise: While going to check on Jason's corpse and make sure it's dead, Tommy Jarvis unwittingly resurrects the slasher, who heads back to Camp Crystal Lake, now renamed Camp Forest Green and preparing for the arrival of its first batch of young campers.

The Verdict: This movie does some retconning right from the start to give audiences the titular villain they asked for, and then it immediately goes the silly route to reincarnate Jason through the power of conveniently timed lightning. Tommy is even super helpful enough to bring the old hockey mask along. This sets the tone for a movie that is more comedy than horror, a self-aware parody that never takes itself too seriously. It's an entertaining ride, but the lighter tone is hampered by the decision to put young children in Jason's path. Despite this--and even though it's all a bit mindless, full of extremely lazy tropes and gags, and riddled with bad filmmaking techniques like unconvincing day-for-night shots--it's a better movie than the last two, because the franchise has finally figured out what to do with itself after the original premise ran dry in Part III.




---
| | |
| --- | --- |
| FRIDAY THE 13TH PART VII: THE NEW BLOOD (1988) | |
FRIDAY THE 13TH PART VII: THE NEW BLOOD (1988)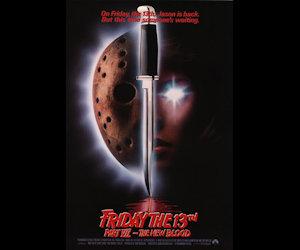 The Premise: A young psychic returns to Crystal Lake, the site of her father's death years earlier, and accidentally frees Jason from his watery prison so that he can go on another killing spree as a group of teens prepares to throw a surprise birthday party.

The Verdict: The New Blood is a painfully average entry in the franchise. On the plus side, Jason looks his absolute best, wearing a heavy chain around his neck and tattered clothes that can't hide his rotting, extra-zombified, and inexplicably larger body, all while sporting an extremely varied arsenal of weapons. There are a few fun kills, including the young woman getting deoculated by a party favor, and a few funny moments, like Jason getting headbutted by the decapitated head of one of his victims. This one also has a few memorable characters, like the uber-bitch Melissa, the good guy Nick, and the reprehensible Dr. Crews. However, the death scenes cut away conspicuously to spoil most of the fun, the ending is dumb, and the addition of a tortured telekinetic girl--which might have worked if the movie was as aware of its own cheesiness as Jason Lives--just doesn't work. It all makes for a movie that is only going through the motions and feeling a little prudish about its own identity. It's not the worst movie in the franchise, but it's pretty forgettable.




---
| | |
| --- | --- |
| FRIDAY THE 13TH PART VIII: JASON TAKES MANHATTAN (1989) | |
FRIDAY THE 13TH PART VIII: JASON TAKES MANHATTAN (1989)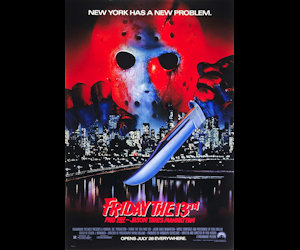 The Premise: The graduating class of Lakeview Highschool takes a boat from Crystal Lake to New York City, along with a stowaway in the form of Jason Voorhees.

The Verdict: This is, by all objective measures, a terrible film. The script is obviously hacked to pieces for budget reasons; the editing is amateurish; there's B-movie sensibilities throughout; the characters are one-dimensional at best; there are continuity errors and narrative illogic galore; the soundtrack is as generic 80's as you can get; and the acting is subpar. Worst of all, the film bills itself as Jason running amok in Manhattan, and there is very little of the movie actually set in the Big Apple. Most of it takes place on a boat, and when it finally reaches New York, there are only four or five locations--including an alleyway (in Vancouver), a nondescript subway tunnel, and a diner that's actually a soundstage--with only about two minutes of screentime dedicated to Times Square. If you can get beyond these flaws, though, Jason Takes Manhattan is wonderfully silly and endlessly entertaining. Though not as self-reflexive as Jason Lives, it still relishes in its own cheesiness by satiring and then evicerating late 80's youth culture. Jason goes to great lengths to kill his victims in ironic ways, like beating the rocker with a guitar and stabbing the coke-head with a broken mirror. I friggin love this flick, because it is unashamed of itself, it's funny, and it manages to be a great, insane ride.




---
| | |
| --- | --- |
| JASON GOES TO HELL: THE FINAL FRIDAY (1993) | |
JASON GOES TO HELL: THE FINAL FRIDAY (1993)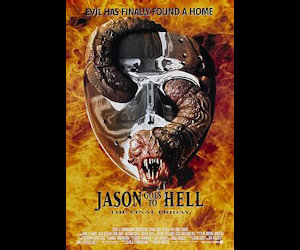 The Premise: After being literally blown up by an F.B.I. task force, Jason transfers his conciousness into a morgue technician who eats his heart and then travels back to Crystal Lake in order to reincarnate himself by force-feeding an undead demon snake to his long lost niece.

The Verdict: Whereas Jason Takes Manhattan has some goofy charm, Jason Goes to Hell buries it under a convoluted nonsense plot that strays so far from the Friday the 13th formula it can't be excavated. The narrative doesn't expand or play with the overarching series mythos so much as it is actively hostile towards it, rewriting the entire franchise, practically from scratch, as something altogether unrecognizable and uninspired. It hasn't just gone off the deep end; it's left Planet Earth, departed our local cluster of galaxies, and reached a distant plane in which the laws of physics and sanity are forfeit and the Great Green Bumblebee, Devourer of Suns, sits on her golden ukulele building celestial furniture out of the souls of the unclean. In other words, it's batshit. The music is annoying; the characters are awful; the acting is terrible. Some of the effects--like the melting man--are pretty cool, but most are flat-out embarrassing. By the end, The Final Friday fails to be scary, suspenseful, exciting, funny, or even barely entertaining. It's just bad.




---
| | |
| --- | --- |
| JASON X (2001) | |
JASON X (2001)

The Premise: After being cryogenically frozen for over four centuries, Jason is revived by a salvage crew consisting of mostly teenagers. As the crew traverses the depths of space, Jason does what he does best.

The Verdict: Jason X answers the oft-asked age-old question: what would a Friday the 13th movie be like if it were a Sci-Fi Channel Original Picture? This "movie" is even worse than its predecessor, with even worse acting, even worse writing, an even worse plot, even worse set design, even worse cinematography, and more. The music sounds like it was rejected by a twelve year old after he composed it on his Casio keyboard. The visual effects are worse than those in commercials advertizing video game school. The jokes almost never land (I'll admit I laughed at "he's screwed," but that's about it). The sci-fi ideas are as original as a bowel movement. In fact, I take it back; comparing this to a Sci-Fi Channel movie is an insult to Caved In: Prehistoric Terror.




---
FRIDAY THE 13TH (2009)
(KILLER CUT)
FRIDAY THE 13TH (2009)
(KILLER CUT)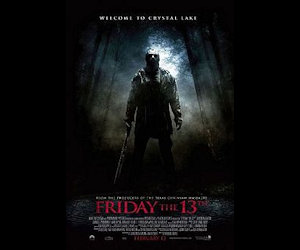 The Premise: After his sister goes missing, Clay Miller travels to Crystal Lake trying to find her, only to discover a group of teens on a weekend getaway that are being hunted by Jason Voorhees.

The Verdict: A far better remake than A Nightmare on Elm Street or Halloween, this version of Friday the 13th starts strong with intense, creative kills and an opening twenty minutes that are hard to forget. After that, the writing is a little wonky and, with the exception of Aaron Yoo's Chewie, none of the characters are particularly likable or memorable. However, the suspense is palpable throughout, and the many references to previous films are clever without the story being too dependant on its own legacy. It's a nice entry point for newcomers--with some amazing kills, great effects, and many thrilling sequences--but it does have its drawbacks. For one thing, the actors are all pretty dry and unconvincing, as they seem like late-twenty-something models rather than real teenagers. For another, Jason actually keeps a hostage this time around (along with building an underground lair and setting traps), and that might bother fans married to the more familiar interpretation of Voorhees as a mindless killing machine. The pop-music soundtrack can also get pretty obnoxious. That said, I enjoy 2009's Friday the 13th quite a bit, and I'm perplexed by the vitriolic reaction most fans have to it. It's easily the best entry in the franchise since at least Jason Lives, but perhaps it is impossible to remake such a long-standing franchise and keep the majority of fans from disowning it outright.




---

There was going to be another reboot filmed (and perhaps even released) this year, but it was cancelled around the same time as I began laying the groundwork for this summer's extravaganza. I can understand this from a business standpoint--audiences aren't exactly clamoring for a repeat of 2009--but it disappoints me nonetheless. I guess the world's just not ready to go back to Crystal Lake. Either that, or fans might have to accept the reality that Jason really is dead for good.







-e. magill 6/22/2017



THE UNAPOLOGETIC GEEK'S
SLASHER SUMMER: