Slasher Summer: Halloween's Top 10 Finest Moments - Page 2
---
#5.
THE CLOSET SEQUENCE
Halloween (1978)
#5.
THE CLOSET SEQUENCE
Halloween (1978)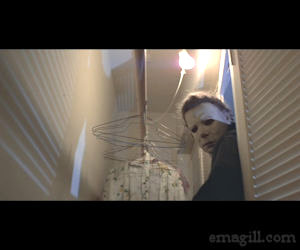 The original Halloween is a study in delayed payoff, with most of the film relying on suspense to build tension to the eventual confrontation between babysitter Laurie Strode and psychotic serial killer Michael Myers. Michael dispatches his first few victims pretty quickly through surprise and overwhelming force, so we know how outmatched young Laurie is. She manages to escape the first attack more by luck than by cunning, but despite being stabbed in the collar, Michael gets back up and comes after her again. Laurie then plays a desperate game of hide-and-seek by cowering into a small bedroom closet with the door closed, hoping the monster won't know where she is and will simply go away. He doesn't, of course, but when he proves unable to open the closet door, he breaks through its slats and leans in, slashing his enormous knife wildly in her direction while the hanging lightbulb swings back and forth. All Laurie can do is scream and fashion a makeshift weapon out of a wire hanger. This scene has it all--Hitchcockian montage work, intensity, flashing light, sound and fury--and it is followed almost immediately by the iconic moment of Myers sitting upright in the background as Laurie catches her breath.


---
#4.
SHERIFF BRACKETT FINDS HIS DAUGHTER
Halloween II (2009)
#4.
SHERIFF BRACKETT FINDS HIS DAUGHTER
Halloween II (2009)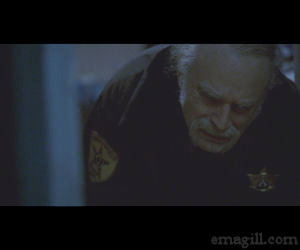 Easily the most heart-wrenching moment to be found in any of the Halloween movies comes in the 2009 sequel to the remake. The character of Annie Brackett (played by the same Danielle Harris who plays Jamie Lloyd in three of the original sequels) breaks from her original namesake by managing to survive Michael's brutal attack in the first film. However, when Michael returns a couple of years later, he doesn't go quite so easy on the young woman, and in the end, she is left alone, naked, and beyond saving in a bathroom painted in her own blood. Laurie finds her moments before she finally dies, but her father, Sheriff Lee Brackett (Brad Dourif), only arrives at the scene long after his daughter has passed. Held back by his collegues, Brackett falls to the floor screaming and moaning in a relentlessly realistic portrayal of the kind of parental grief nobody ever deserves to experience. There is something about the way the scene is shot and edited that makes it almost too effective, and it's the only scene I have difficulty watching without covering my eyes in distress.


---
#3.
FRANKENSTEIN FACES THE MONSTER
Halloween H20: Twenty Years Later
#3.
FRANKENSTEIN FACES THE MONSTER
Halloween H20: Twenty Years Later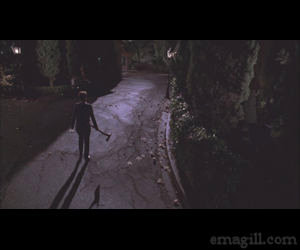 With Jamie Lee Curtis finally returning to the role that made her famous, Halloween H20 features bar-none the most awesome climax of the Halloween series. Just as in the first two films, everything builds to an ultimate confrontation between Laurie and Michael, but this time, Laurie is a grown woman struggling to live a normal life despite her inability to truly conquer her lingering demons. Michael's return represents her greatest fear, but she resists the overpowering urge to run from it. Instead, she gets her son to safety, grabs an axe, and dares her brother to come find her. What follows is fifteen minutes of intense battle, only ending when Laurie hijacks an ambulance carrying the seemingly dead body of Michael Myers, drives to a secluded spot, crashes when Michael predictably comes to life, and then, finally, chops off his head with the axe (apparently, sigh).


---
#2.
THE BIG GIVEAWAY
Halloween III: Season of the Witch
#2.
THE BIG GIVEAWAY
Halloween III: Season of the Witch

While it has nothing to do with the story of Michael Myers (and isn't even a slasher film), Halloween III: Season of the Witch contains the second-best (and ballsiest) moment of the franchise. The story is too whacked out and weird to boil down easily, but sufficed to say, as the film nears its end, Dr. Dan Challis (Tom Atkins) is the only person left who realizes that a television signal is about to trigger a series of popular Halloween masks that are specially designed to melt the heads of their wearers. He rushes to a phone and tries his best to stop the signal, but despite his urgent screams ("STOP IT! STOP IT! STOP IT!"), the movie ends with the signal going out to millions of children throughout the country. It's a stunning way to end a horror film, and it lingers in one's psyche long after the rest of the film has been forgotten.


---
#1.
MICHAEL'S POV
Halloween (1978)
#1.
MICHAEL'S POV
Halloween (1978)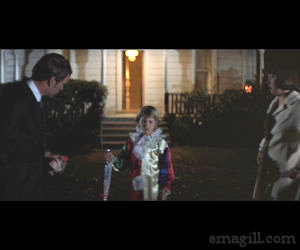 The first ten minutes of the Halloween series is never improved upon. It's an extended POV shot of someone donning a mask, stalking a typical suburban house, and murdering a nude teenage girl that ends when the killer is unmasked by his parents and revealed to be a perfectly normal-looking six-year-old kid in a Halloween costume. It's jarring and messes with your expectations, and it announces quite clearly that John Carpenter has refused to create the straight-forward horror movie for which he was commissioned. By putting audiences in Michael's shoes as he severs his connection to humanity, the movie knocks them off balance and never lets them get back on familiar footing. Without the opening, Halloween wouldn't be nearly as unsettling or upsetting as it is, and it is doubtful there'd be so many vain attempts to recapture its singular, fearsome magic.


---

We'll be moving on to a different franchise next week, but rest assured, the legacy of Michael Myers will continue to permeate. These moments will echo throughout the many slasher flicks to follow, and I promise you haven't heard the last of Halloween.







-e. magill 6/1/2017



THE UNAPOLOGETIC GEEK'S
SLASHER SUMMER: