Godzilla vs. Kong - Movie Review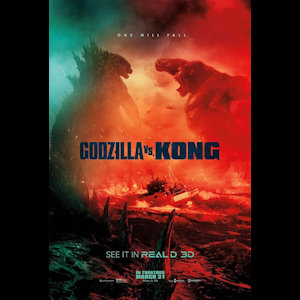 "One will fall": to be fair, they both fall down a lot
[There are minor spoilers in this review, including a late-reveal plot point most people figured out months ago.]
I am an unashamed fan of Legendary Pictures' MonsterVerse, and I have long hoped that it could be the one post-MCU cinematic universe that could actually be a success. After 2014's Godzilla kicked it off in amazing fashion, though, the subsequent entries--2017's Kong: Skull Island and 2019's Godzilla: King of the Monsters--proved to be increasingly ridiculous exercizes in fan service with terribly written human characters, John C. Reilly's time displaced Air Force Lieutenant notwithstanding. Thanks to middling box office performances, the franchise's future now rests in this year's Godzilla vs. Kong, which was thankfully already in production when the disappointing financials started coming in from King of the Monsters.
This much-anticipated main event begins by showing us why Kong was missing from the apocalyptic events of the previous film and goes a long way to restoring the world to some semblance of normal a mere three years later. We are introduced to perhaps the two best human characters in the film--indeed, two of the best human characters in the entire franchise--in Dr. Ilene Andrews (played by Rebecca Hall) and a young, deaf orphan native of Skull Island named Jia (Kayle Hottle, who really is deaf). Jia is far and away the most interesting and endearing character, and her bond with Kong makes for the franchise's best hook in regards to tying the monster action to the human story.
Then we are introduced to the clear villains of the film in the form of the Apex corporation, headed by Walter Simmons (Damián Bichir), who with the help of the goatee-sporting Ren Serizawa (son of Dr. Serizawa), is doing something shady. A conspiracy-minded podcast host, Bernie (Brian Tyree Henry), has managed to infiltrate Apex as a lowly worker and is in the process of unlocking its evil secrets when Godzilla suddenly attacks, causing death and destruction and alarming a world that was just starting to get back to normal. Millie Bobby Brown's Madison Russell (from the previous film) and her friend, Josh (Julian Dennison), then join up with Bernie in an effort to go into Apex's wreckage and learn the truth once and for all.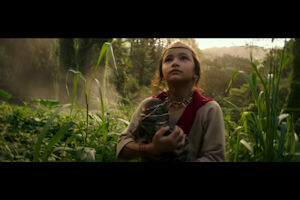 This little girl steals the movie
Meanwhile, in response to Godzilla's attack, Monarch sends a geologist, Dr. Nathan Lind (Alexander Skarsgård), to convince Dr. Andrews to use Kong to guide a team into the hollow Earth where they hope to find the source of the titans' power. Along for the ride is a nefarious Apex executive, Maia Simmons (Eiza González), who has loaned Monarch technology to make the journey possible. Of course, releasing Kong means bringing his existence to the attention of Godzilla, and that can only lead to one thing: a battle for supremacy.
While complicated on paper and on the verge of having too many characters in it, the human side of the story is tightly wound and moves mostly out of the way once the monster action gets going. While all of the characters are fairly one-dimensional, they never act out of character or go off the deep end in service to an overbaked narrative or a shoe-horned romantic subplot. The Madison/Bernie/Josh subplot doesn't take itself very seriously, encouraging the audience to let go and just enjoy the silliness that follows. The villains aren't given overly elaborate motivations, and the heroes aren't morally ambiguous. For arguably the first time in the entire MonsterVerse, the balance between human melodrama and bombastic monster fantasy is hit just right.
The other humans are acceptable
As for the monster action, it is absolutely stellar. Despite his credentials for well-crafted horror, director Adam Wingard (The Guest, You're Next) was an unknown quantity in terms of big budget special effects. Still, he manages to put together large-scale action that is comprehensible, well-edited, and surprisingly stylistic. There are also some neat visuals in the middle of the film involving a "gravity inversion," and the two main battles between the titular heavyweights are everything I could have ever hoped them to be. Granted, Kong has been scaled up, as expected, but Godzilla seems to have been scaled down as well, which is odd. Wingard also seems incapable of capturing the scale of these beasts the way Gareth Edwards does in 2014's Godzilla, and by the time the monsters are crashing into buildings during the extended climax, it does get a bit cartoonish. I mean that in the best possible way, though, as this movie feels almost identical to a Toho Godzilla movie of the Millenium Era, albeit with vastly improved visual effects.
This brings me to the minor spoiler: MechaGodzilla. Most fans had already figured out that this movie was going to end with Godzilla and Kong calling a truce and fighting together to take down MechaGodzilla, and the way this predictable-but-awesome plot reveal is handled is pretty good, bringing together all of the storylines for a satisfying final confrontation. I'm not too keen on the overall design, but it does match the aesthetic of this universe. I won't spoil it, but how the final battle plays out is just a chef's kiss of perfection.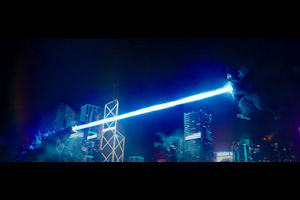 If you came for the action, you came to the right place
At the end of the day, this is a big, stupid movie that delivers exactly what it sets out to, without getting distracted by too much human melodrama or unwarranted subtextual themes. The plot is beyond ridiculous, but it sets up one of the most thrilling kaiju battles ever put to film. Though I will always have a soft spot in my heart for 2014's Godzilla and still consider it a masterclass in how to do justice to the Japanese original, Godzilla vs. Kong truly and legitimately feels like the best possible American interpretation of a Japanese Godzilla movie. If you can safely see it in theaters and there's a theater open near you, I absolutely encourage you to go see this on the big screen.
Surprisingly, despite the global pandemic wreaking havoc with the worldwide box office, Godzilla vs. Kong is doing very well, especially in China, and critics have been much warmer to it than they have the last two films in the MonsterVerse. Many films have had pretentions of being the movie to finally break Hollywood out of the coronavirus rut, but it's looking like this might actually be the movie to do it. As a result, things are looking up for the MonsterVerse, and though Legendary and Toho have been deafeningly quiet on any future plans, here's hoping we get to see more. Is it too much to ask for Anguirus and Gigan to make an appearance next time? How about Jet Jaguar?

-e. magill 4/1/2021


---
SPECIAL THANKS TO MY PATRONS:
Chris Connell
Diane Magill-Davis
John Burrill
Paul Kyriazi
Warren Davis
WingIT Productions

Become a Patron today!
patreon.com/emagill
SPECIAL THANKS TO MY PATRONS:
Chris Connell
Diane Magill-Davis
John Burrill
Paul Kyriazi
Warren Davis
WingIT Productions

Become a Patron today!
patreon.com/emagill
---