The Last Man on Earth (1964) - Movie Review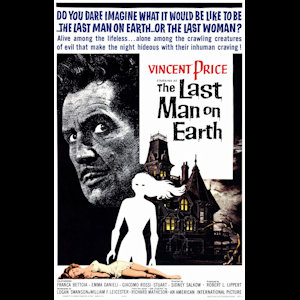 If his mustache were a bit bigger, he'd look like Dali
From a strictly plot-driven point of view, the 1964 adaptation of Richard Matheson's I am Legend, titled The Last Man on Earth and starring the incomparable Vincent Price, is easily the most faithful of the three Hollywood attempts. This is the story of a man, named Morgan instead of Neville, who finds himself alone in a world populated by the mindless vampires who came into being by a disease carried on the wind. He eeks out a survivalist existence by holing up in his suburban house at night and going out by day to slaughter the sleeping creatures and gather needed supplies. Eventually, he comes across a woman who seems to be a survivor like him, only to discover that she is a representative of a greater society of people who have learned to adapt to the virus and who see Morgan as a monster who has been killing them indiscriminately. In the end, Morgan dies a legend.
There are some significant differences to be found, such as a missing nuclear backstory, the protagonist's downplayed alcoholism, and a tightened up timeline of events, but the movie maintains a lot of the story's more difficult moments, including the flashback in which Robert watches his wife and daughter die, the endless taunting by a neighbor who used to be his friend, and the fact that these are basically vampires, replete with an aversion to garlic, crosses, and mirrors. For these reasons alone, The Last Man on Earth deserves some credit.
Unfortunately, it's also a pretty terrible film by most objective standards. The directing is awful; the music is overbearing; the acting (outside of Price) is laughably bad; the day-for-night and poor ADR syncing highlight its low budget and poor quality; and some of the excisions ruin what makes Matheson's I am Legend so special. I am aware that this is a controversial opinion by some who hold this movie in a weirdly high regard (it has an 80% on Rotten Tomatoes?!), but I can't put my blinders on and tell you I am anything but bored and disappointed when I watch this.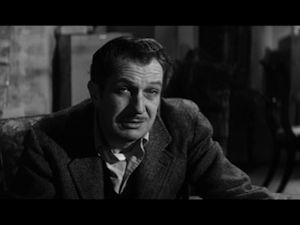 Price himself thought this was one of his best performances
The only enjoyable thing about the movie, to be honest, is Vincent Price, despite him being a terrible choice to play Matheson's character. This version, Robert Morgan, doesn't have more than a passing resemblance to Robert Neville, but Price is his usual mesmerizing self, delivering what should be a grating voice-over narration in such a way that it keeps you engaged. However, his character does have some odd moments that never quite fit what is established, especially his final "You're all freaks" speech.
It's not too much of a stretch for the movie to turn his character into a scientist, but all of the curiosity displayed by Neville in the book is lost on Morgan, who spends very little time, if any, studying the vampires after they've taken over the world. This takes away what is probably the book's greatest strength, and it makes Morgan seem even more unrelentingly dour than Neville, even though he seems to have a more even emotional keel, all things considered.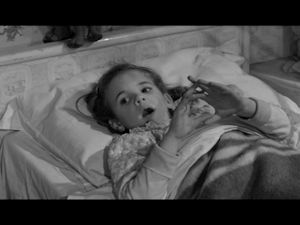 This little girl's performance is abyssmal, but it's the second best in the film
There's also no real discussion within the film about how the disease works, with it sometimes refered to as a virus and sometimes a "bacillus," as though the movie can't be bothered to understand the difference or come up with a consistent explanation beyond there being a disease that turns people into vampires. The movie doesn't even try to explain why the inflicted shy away from mirrors and crosses.
Arguably the biggest deviation comes near the end, which I'm honestly a little conflicted about. Ruth comes along to secure Morgan for a few hours so that her cohorts can arrange a seige of his house that night, instead of just being there to gather information for a potential seige months in the future. Then, Morgan gives the vampire Ruth a blood transfusion, which somehow cures her and proves that he carries the solution to the disease in his veins, rather than the two falling into something resembling love.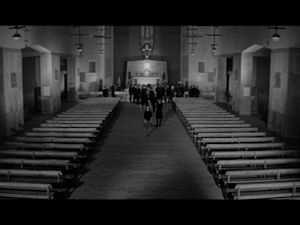 If you think the visual symbolism is heavy-handed in this ending, just wait until next week
On one hand, this doesn't make scientific sense (nor does it make narrative sense--why would they need to send a woman to keep Morgan in place when he obviously isn't leaving his house in the middle of the night?) and it threatens to miss the whole point about how this new society isn't interested in a cure. On the other hand, the love angle wouldn't have worked under the time constraints of the film and the fact that Morgan is still killed by the mob kind of makes the ending even more bleak and impactful, which in my mind makes for better horror. Alas, while the blood cure is used well in this movie's climax, its existence lays the groundwork for the two subsequent film adaptations to totally botch their endings, but I get ahead of myself.
I genuinely want to like this movie--because I appreciate how faithful it tries to be to the plot of the novel and because I love Vincent Price in almost anything--but I just can't forgive its lower-than-B-movie quality. I've seen a lot of cheesy genre flicks from the fifties and sixties, and I can find things to love in even some of the most terrible, but The Last Man on Earth sits right in that unfortunate middle ground, where it's bad enough to not be enjoyable on its own merits, but not so incompetently-made that you can have fun laughing at it. Matheson was right to pull his name from the credits.

-e. magill 9/3/2020


---
SPECIAL THANKS TO MY PATRONS:
Diane Magill-Davis
John Burrill
Warren Davis

Become a Patron today!
patreon.com/emagill
SPECIAL THANKS TO MY PATRONS:
Diane Magill-Davis
John Burrill
Warren Davis

Become a Patron today!
patreon.com/emagill
---