Somewhere in Time - Sci-Fi Classic Film Review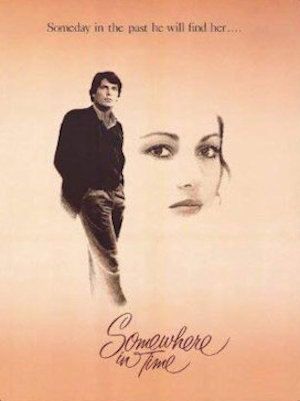 Somewhere in Time
One of the reasons Richard Matheson novels make for such good films is that Matheson, who usually wrote his own screenplay adaptations, understood how the needs of film are different from those of novels. Somewhere in Time is an excellent example of this, because Matheson's screenplay deviates in a few significant ways from the source material but still makes for a brilliant adaptation.
To be completely upfront with you, dear reader, I am irrevocably biased in my opinion of this Jeannot Szwarc film. My father, who passed away almost ten years ago, was an unabashed fan, not just of the movie, but also of its soundtrack. An avid piano player, he taught himself to play John Barry's main theme, and it was his go-to music whenever he felt the need to sit at the ivories and unwind, which was often. As such, Somewhere in Time saturated my being down to the bone--where it still resides today--and it is utterly impossible for me to watch the film and not be thinking of my father the entire time.
That disclosed, when I write about a sci-fi classic film like this, my primary goal is to discuss the adaptation itself. I'm sure there are purists out there who will always believe the novel is better--this is true of every book-to-movie adaptation--but for me, this is one of those rare instances where I don't think it's even much of a contest: the movie is absolutely better than the book.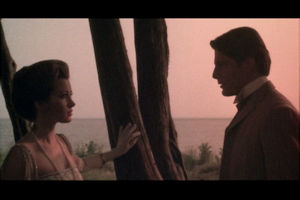 Fun fact: Jane Seymour had to redub the line, "Is it you?", because during filming, it sounded more like, "Is a Jew?"
And I make that argument not just because of the changes, although that is the first thing you should consider when examining an adaptation. As I wrote last week, the novel is great on its own merits--and at one point in my youth it was even my favorite novel of all time--and some of the things that make it great are downplayed or missing entirely from the film based upon it. For example, the brain tumor is completely removed from the plot, which changes the protagonist's motives, the story's subtextual underpinnings, and the meaning of its ending. This is not necessarily a bad thing.
Some changes are genuine improvements, though. I do like how the movie more clearly telegraphs the fateful penny, and I also feel that removing McKenna's mother from the plot is a good bit of streamlining. The pocket watch is a neat little addition, too, and I absolutely love how we get to see the elderly McKenna meet and even interact with the younger Collier rather than just have them exchange a glance in Collier's foggy memory. It also makes slightly more sense to have Collier be a playwright rather than a television screenwriter.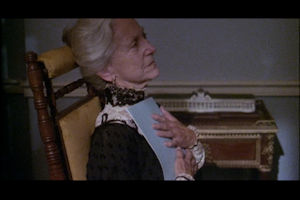 My wife never holds my books like that
Even without these changes, the story just works better as a film than it does a novel, which is true of a couple of different Matheson stories which I'm sure we'll get to in the future. The romantic ideals Matheson reaches for are heightened by a more visual approach, as well as by the aforementioned score by John Barry. Certainly, had the movie been made poorly, I might be making an altogether different argument, but because of the skill involved and the confluence of events that resulted in the film's production (which I outline in my video review), it's easy to see how Collier's story resonates more through the emotionally manipulative nature of film than it does through the more intellectual written word.
Not that I have anything against the written word, mind you. I mean none of this as a knock against Matheson as a writer. His style is endearing and his skill in unquestionable. While I do have some nitpicks about his stylistic choices for Somewhere in Time (the novel), those nitpicks aren't enough for me to declare that Matheson, as a writer, should have stuck to screenplays. Just so we're absolutely clear, I'll give you a contrary example: I consider I Am Legend to be an excellent book that has never made for a great film adaptation, despite three different Hollywood attempts.
If your eyes aren't at least a little damp by this scene, you're a sociopath
Make no mistakes, though: Somewhere in Time is not the kind of movie people study in film school. It's unafraid to be direct and simple in its approach, and its manipulative tricks are painfully transparent, designed like stage magic to work only on willing participants. Whether it's the use of a dreamlike filter to accentuate Collier and McKenna's romantic afternoon by the water, the increasingly zoomed-in close ups of McKenna and Collier during the actress' absurd improvisational soliloquy, or the shots of Collier in the future framed against overflowing trashcans that reinforce how defeated he's become, this film announces its goals and methods for all to see, and you either let them affect you or you walk away a cynical critic.
There is very little subtext, and the narrative theme is a very watered-down version of what it is in the novel. This is one way I'll admit the book is probably better, but it's not enough to tip the scales. That's because this is the right choice for what Matheson and Szwarc wanted to accomplish. Sure, Matheson could have written a screenplay that dove deeper into themes of mortality, nostalgia, and the identity of historical locations, and sure, Szwarc could have been more subtle and nuanced in his approach. They could have turned the novel into the kind of movie that would have been critically lauded and earned awards, but that movie wouldn't have had the long-term cultural resonance the film they actually made has had. As a film nerd of the highest order, I absolutely adore challenging, artitic films, but Somewhere in Time doesn't lend itself to such an approach. It is, instead, an in-your-face romantic fairy tale built on an imaginative premise that tugs at your heartstrings with all its might. And that's what it should be in any medium.

-e. magill 2/20/2020


---
SPECIAL THANKS TO MY PATRONS:
Diane Magill-Davis
John Burrill
Warren Davis

Become a Patron today!
patreon.com/emagill
SPECIAL THANKS TO MY PATRONS:
Diane Magill-Davis
John Burrill
Warren Davis

Become a Patron today!
patreon.com/emagill
---