18 Things I Learned in 2018 - Page 2
Fair warning: on this page, we'll be talking politics. I used to write an awful lot about politics, and I'd be lying if I said I wasn't paying attention to such things anymore. That said, I have moved a pretty significant distance from the political scene in the last two years, and writing about it causes me more headaches than joy these days. I still have opinions, of course, and I'm putting six of them here for your perusal, even though it risks alienating those who don't share my political perspective on things. If you can take these opinions for what they are--just opinions, not reflections of my character--then feel free to read them. Otherwise, I won't hold it against you if you skip ahead to the last page, where we'll talk about less divisive things, like Star Wars.


---
| | |
| --- | --- |
| #7. Politicians will Sacrifice Core American Principles over a Grudge | |
#7. Politicians will Sacrifice Core American Principles over a Grudge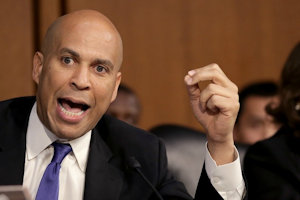 I've grown more and more cynical about politics in the last few years, especially after the madness that was the 2016 election cycle, and I'm finding it nearly impossible to believe that any politician actually believes in anything other than winning. No doubt the biggest political circus of the year was the Kavanagh fight, in which Democratic leaders were willing to abuse the good will built up by a positive social movement (#MeToo, which I applauded at length last year on this very site) in order to prevent a conservative judge from being accepted to the Supreme Court. With no concrete evidence of any kind and using tactics I'd call transparently dishonest if prominent Democrats hadn't already announced they were going to use them before Kavanagh was even named, they tried to railroad a man who was, by all other accounts, a decent and honorable judge, all because he had the gall to be a constitutional literalist and to--try to hold in your gasps of shock--drink too much alcohol whilst in college. When some, like myself, expressed concern about what this means for the principle of presumed innocence--a bedrock of American culture--we were told under no uncertain terms that the idea only applies in a court of law. If that doesn't horrify you, then you scare me.


---
| | |
| --- | --- |
| | #8. Almost Nobody Wants an Impartial Supreme Court Anymore |
#8. Almost Nobody Wants an Impartial Supreme Court Anymore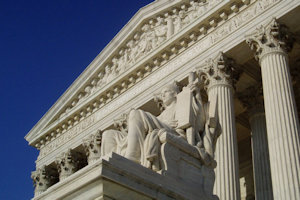 I understand why Democrats were so mad over Kavanagh, and it goes back to the slimy way Republicans treated Merrick Garland, the last Obama nominee to the Supreme Court. Go back more, and you can trace the modern, partisan vitriole over these nominations to the Robert Bork hearings back in the eighties. No matter how you explain its existence, though, it's absolutely shameful. Both parties have worked very hard to erode any and all non-partisan motives behind the approval of Supreme Court nominees, all the while claiming that it's the other party that's responsible for doing it. The approval of a nominee used to be a simple matter of competency, and justices would almost unanimously get approved by both parties merely for being good judges, irrespective of their "judicial philosophies" or the party affiliation of the president who nominated them. Now, I think it has everything to do with their personal opinions and partisan leanings, and practically no one in the entire Congress cares about whether the nominee is a competent judge. It's all about counting red and blue jersies and saying your team has a judicial advantage, even though the Judicial Branch was, once, the branch we were supposed to keep free from partisan politics.


---
| | |
| --- | --- |
| #9. The "Libertarian Moment" is Over | |
#9. The "Libertarian Moment" is Over

Before 2016, there was a lot of talk about how the Republican Party was leaning more and more towards libertarianism, and as a registered Libertarian myself, I was eager to see it happen. Alas, Republican primary voters rejected the more libertarian voices of 2016 in favor of naked populism, and the party hasn't turned back. In 2018, I got to watch how the Republican Party leadership treats genuine libertarians who dare to enter Republican elections in my home state of Missouri. Just as Austin Petersen, one-time Libertarian Party darling who nearly became a presidential candidate, was surging in state-wide polls as a Republican primary contender to fight Democrat Senator Claire McCaskill, the state GOP leadership voted to suspend a long-standing rule that would forbid the national RNC from sinking a ton of money into his primary opponent, Josh Hawley (who is about as far from a libertarian as you can get), all but ensuring that Petersen would lose, which of course, he did. Republicans are legally free to do this, of course, but I genuinely feel like it is a subversion of the democratic process. I now understand how Bernie Sanders supporters felt when the DNC pulled the same trick with Hillary Clinton a few years ago.


---
| | |
| --- | --- |
| | #10. The Tea Party is Also Over |
#10. The Tea Party is Also Over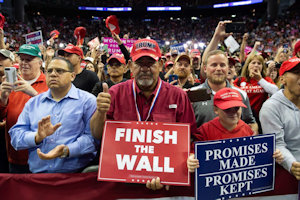 Maybe it was naïve of me to think the Tea Party movement of a few years back actually stood for something. I looked at it as the conservative version of the Occupy movement, where grassroots activists came together in one voice and said they'd had enough of being ignored. On some issues, the two movements were remarkably similar; for example, they both loudly decried federal bailouts of various industries, be they banks or major car manufacturers. But if you had to nail down one issue that seemed to really get the Tea Party riled up, it was government spending (primarily over healthcare). Republican Congressional leaders seemed to listen back then, too, and they proved they were willing to let the federal government shut down if it meant they could make even a tiny dent in future spending increases. Alas, now, they're shutting down the government because it's not spending enough (even though spending has remained extremely high, even growing when compared to the last years of the Obama administration), and they've all but forgotten about trying to figure out a small-government solution to healthcare.


---
| | |
| --- | --- |
| #11. The Narrative Overrides Reality, Every Time | |
#11. The Narrative Overrides Reality, Every Time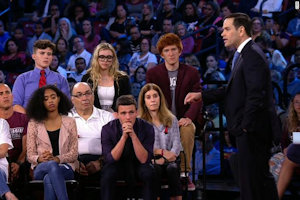 Let's talk about the horrifying school shooting at Stoneman Douglas High, shall we? Going by the national debate that raged for months in the aftermath, you'd think the only factor involved is gun control, about whether more policies restricting guns would have helped or about whether the authorities with guns failed to protect those under their charge (or, for the real crazies out there, it's all about the government trying to steal your guns). These debates aren't meaningless, but they're all part of a pre-existing narrative that does nothing but contribute to a louder and louder circular argument that has defined left-right gun politics for over a decade, if not a couple of centuries. Throw in debates about gun violence statistics, too, because let's face it, both sides have their chosen statistics and both sides have merit--along with heaping helpings of intellectual dishonesty--to share. Why aren't we talking about specifics? Why aren't we discussing the well-intentioned policy in that school district to curb suspensions that may have had the unintended consequence of letting a future school shooter slip through the cracks? Why aren't we coming up with legitimate ways (not just throwaway talking points) to approach mental healthcare for troubled kids? I'll tell you why: because the narrative and the ensuing outrage are all politicians and newscasters care about. Reasonable solutions--those that address concrete problems and would work to actually curb similar school violence in the future--involve compromise and a keen attention to nuance, neither of which are terribly popular these days.


---
| | |
| --- | --- |
| | #12. It's Better to Avoid the Outrage Machine |
#12. It's Better to Avoid the Outrage Machine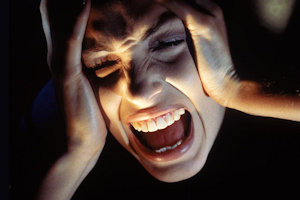 Take all of the above with a big grain of salt, because honestly, I'm not as worked up about politics nowadays as it may sound. When you see a headline on your social media feed or, God help you, watch somebody get animated on cable news, ask yourself if this is really something worthy of your energy. In case you haven't noticed, we live in an age of outrage, where we have specially tailored our media consumption toward reinforcing our own perspective and condemning those who don't share it. People get outraged now that other people are getting outraged because of an outrage over plastic straws, for crying out loud. It's beyond parody. I genuinely believe if you stop to think about whether or not today's outrage actually affects your life in any significant or meaningful way, you'll find that it rarely ever does, that it's actually pretty damn silly when looked at objectively. I've learned to ignore clickbait, even clickbait from people and sources I like and trust, because it allows me to devote my energy to more peaceful and rewarding activities. I highly recommend you do the same, as long as you still click on my super-controversial reviews of science-fiction, of course. (I jest, but you'd be surprised how worked up people got when I recently tried to defend 2007's The Invasion.)


---

-e. magill 1/3/2019



MORE LIKE THIS:
The Movies of 2018
The Geek reviews a ton of movies this year, including Black Panther, Ready Player One, A Quiet Place, Hereditary, The Predator, Venom, and Aquaman. [12/27/2018]
17 Things I Learned in 2017
From politics to the personal, here are seventeen things the Geek has taken from the previous year. [1/11/2018]