Nemesis - Summer of Asimov II
---
Welcome to the second Summer of Asimov, where we'll be examining the third of the so-called Big Three Golden Age Science-Fiction authors. We've already covered the technologist Arthur C. Clarke and the political futurist Robert A. Heinlein, so now we get to the philosophical fantasist, Isaac Asimov. Covering Asimov adequately over one summer proved to be a daunting task, especially with the pandemic, so I've had to split it into two. This year, we'll mostly be covering the Foundation series, in anticipation of the hopefully-as-good-as-it-looks television series coming out later in the year (which I will of course be reviewing). So sit back, relax, and enjoy some vintage, epic science-fiction from one of the grandmasters of the genre.
---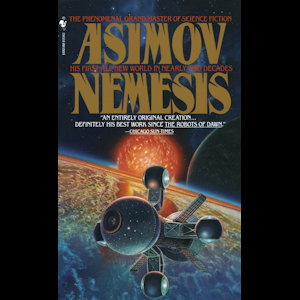 This cover has Nemesis, Erythro, Megas, and Rotor all in frame
As a kid, I was kind of obsessed with the Nemesis hypothesis, the notion that a celestial body (usually a small, dark star) is in an extremely lopsided orbit around the sun and, every few million years, its orbit takes it through the Oort cloud at the outer fringes of the solar system, scattering a bunch of comets like so many deadly bullets, explaining the seemingly regular cycle of mass extinction events in Earth's past. While it is less and less likely to be true with each passing year, rendering the hypothesis even more fringe today than it was when it was first proposed in 1984, it still has its handful of adherents and fans, and to be honest, I still like thinking about it as a good science-fiction thought experiment. You can imagine my disappointment, then, when I started reading Isaac Asimov's Nemesis only to discover that, despite being a name-dropped inspiration, the Nemesis hypothesis isn't the focus of the novel.
Rather, Nemesis is about a human race attempting to branch out from the confines of a crowded solar system through the discovery of hyperspace (and eventually superluminal space travel), about a teenage girl with an extraordinary gift for reading people, about her father who is desperate to be reunited with her after a separation of two light years when she was still an infant, about a planet with an alien consciousness that seems to permeate every kilometer of its surface, and, of course, about a dwarf star hurtling in the Earth's direction. There's a lot going on, in other words, and as an adult, I can more readily appreciate why Asimov didn't want to handcuff himself to a speculative hypothesis that was never particularly likely to become a scientific reality.
Unfortunately, though, while Nemesis is an entertaining read driven by a lot of good mystery and memorable characters, I don't think it's one of Asimov's better novels. It relies on some pretty wild ideas like intelligent thought patterns being detectable through astronomical distance as electromagnetic disturbances and the aforementioned teenager, Marlene, being able to basically (and perfectly accurately) read minds based on nothing more than microexpressions and body language. Most of the protagonist characters are pretty dislikable as well, including the downright creepy Siever Genarr--who all too easily expresses love for a girl a third his age after only knowing her for a few days--and Marlene's mother, Eugenia Insigna, whose role is to become an increasingly helpless harpy throughout the book.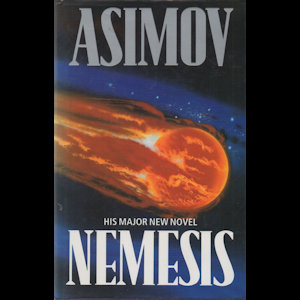 It gets the point across, but that's not how it looks in the novel
One of the plot's biggest problems is the fact that the otherwise supernaturally intelligent Marlene is saddled with a motivation to go directly into harm's way that she doesn't understand and cannot explain. Her mother can't stop her, and though she expresses her frustration, it doesn't feel like she tries very hard either. Sure, there's a half-hearted, in-canon explanation for this, but it strains suspension of disbelief for over half the novel--and it's not a short novel, by the way--that this teenage girl is going to put herself in grave danger for no good reason she can explain and that nobody is even going to try to stop her. Worse, some characters, like Genarr, are totally okay with it, arguing that the girl is so perceptive that she must be right to say she's not in danger even though she can't explain why, that there's no point in even trying to do anything about it. This reeks of plot convenience, and it forces the characters to act in ways that don't make a lot of sense, especially a mother who has to act in defiance of her own maternal instincts.
Worse than that are the mysteries, which are honestly weak, lacking in any sense of surprise by the time Asimov finally gets around to revealing them. A lot of this has to do with how long the novel is and with how different characters pretty much hand the solutions to the reader as random bits of speculation long before the end. On one hand, one can make the case that having the actual solution thrown in with other speculations that aren't true is clever, in that it makes it less likely for readers to be able to solve the mystery by noticing what the characters aren't speculating. On the other, though, the solutions are so painfully obvious and the readers are given so much time to meditate on them that they feel deeply anti-climactic.
The ending also feels far too neat and rushed, which is odd given how meanderingly slow the rest of the novel is. All the mysteries are neatly tied up without any real surprises, and the one character who has been built up as the primary antagonist--the abrasive and megalomaniacal Janus Pitt--winds up having no role to play whatsoever in the final act. Even though it feels like Asimov spends most of the novel forcing his characters to go where he needs them to for plot purposes, when they all reach their final destination, it feels like Asimov doesn't really know what to do with them. It all just fizzles out with a sudden sputter and leaves a bad final impression.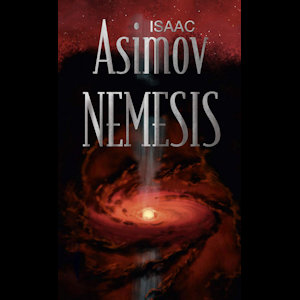 I believe this is a French cover
That's not to say this is a bad book. It is a deeply flawed one, to be sure, but even a deeply flawed Asimov book is better than ninety percent of the sci-fi classics I cover. Perhaps I'm being hard on it because I am frustrated by the style of Asimov's later years. In his early days, Asimov was a pithy writer capable of writing jaunty adventures that concealed deep and innovative ideas capable of pushing the entire genre of science-fiction forward. However, he got really long-winded in his old age, sacrificing the speed and fun of his early work in favor of methodical, wordy works that reveal a subtle loss of insight. Granted, there are certainly exceptions--for example, I still consider Forward the Foundation, his final novel, to be one of his all-time greatest works and I'm kicking myself for not making that the last novel of the summer--but Nemesis, unfortunately, is not one of them.
And that's the end of the summer, but I'm not done with Asimov. I still want to cover The End of Eternity, and Foundation, the series, which I'm sure to have thoughts on, begins tomorrow. I can now say with conviction, after devoting so much time on all of the Big Three, that Asimov is probably my favorite. As a writer, I think I have always been more inspired by Clarke, and my respect for Heinlein has only grown. However, Asimov is the easiest to read and enjoy, with a friendly tone that doesn't ask you to take him too seriously while simultaneously being incredibly careful with the details and ramifications of his scientific explorations. He is truly a master of science-fiction, and arguably the greatest science-fiction author who has ever lived.
Now then, on to some housekeeping. With Autumn officially upon us as of yesterday, it should be clear that this "summer" of Asimov has taken longer than expected, and for that, I can only beg forgiveness. Time has certainly gotten the better of me as of late, and going forward, I am going to try to lighten the load on myself. I still want to keep to a weekly schedule, despite my failure to do so throughout the summer, but I just don't have enough spare time to read a novel every week. Therefore, I'm going to put my focus more on films and short stories from now on, though there will still be novels from time to time. I hope you don't mind.

-e. magill 9/23/2021


---
SPECIAL THANKS TO MY PATRONS:



BattyBatFirebrand
Chris Connell
David Murray
Diane Magill-Davis
John Burrill
Myk OConnor
Paul Kyriazi
Rich Osborne
Sylar Magician
Warren Davis


Become a Patron today!
patreon.com/emagill
SPECIAL THANKS TO MY PATRONS:

BattyBatFirebrand
Chris Connell
David Murray
Diane Magill-Davis
John Burrill
Myk OConnor
Paul Kyriazi
Rich Osborne
Sylar Magician
Warren Davis

Become a Patron today!
patreon.com/emagill
---
THE SUMMER OF
ISAAC ASIMOV, PART II: