Robert Wise: The Motion Pictures by J.R. Jordan - Book Review
Robert Wise: The Motion Pictures
Run Silent Run Deep, The Sound of Music, The Andromeda Strain, The Haunting, West Side Story, Star Trek: The Motion Picture: if you had asked me a couple of years ago what all of these films have in common, aside from them being classics, I wouldn't have been able to tell you. However, two years ago, when I set out to make my first ever video review on YouTube (go subscribe!) for The Day the Earth Stood Still, I looked at the IMDb page of Robert Wise, the man who directed them all, as well as plenty of other great films too numerous to list here.
Fast forward to about a month ago, when I received an email from J.R. Jordan asking if I'd be interested in reviewing his book on the films of Robert Wise. I enthusiastically agreed, as I've been wanting to learn more about Wise ever since I saw that list, and so here we are. Robert Wise: The Motion Pictures is not a biography, at least not in the traditional sense. This is a book divided into forty small chapters, each one dedicated to a single entry in Wise's complete litany of movies, going back to his early RKO days--after he graduated from the young editor of Citizen Kane to a director of his own--and finishing with his poignant made-for-television Showtime/Hallmark movie A Storm in Summer.
Wise with Steve McQueen on the set of The Sand Pebbles
Each chapter follows the same basic formula--one fans of my YouTube series should instantly recognize--Jordan introduces the background behind the film's creation, offers a brief synopsis of the plot, and then does a deep analysis of the film, mostly from a narrative perspective. Finally, he ends with a series of quotes from interviews he's conducted with various cast or crew, nearly all of them having fond memories of working on set with Wise.
It is from these that we can gather a general understanding of Wise's overall demeanor. From these interviews, we learn that Wise was a soft-spoken but hard-working man who was loyal and friendly to even the most unimportant people on set. He was also a very honorable gentleman. There's one story, for example, of Wise discretely saving a young actress from the clutches of potential sexual disadvantage at the hands of an infamous, though unnamed, Hollywood producer.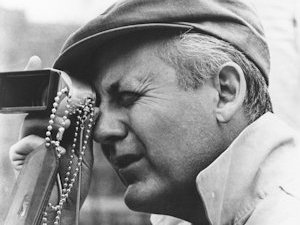 He had an eye for cinema
These discussions of Wise also make abundantly clear his filmmaking ethos. He was the kind of director who relied very heavily on storyboards and who believed that casting was perhaps the most important part of the entire production process. He put a lot of trust in the script, tweaking his film to match its needs rather than trying to alter the writer's intentions to suit his own personal preferences. This is probably why he is much more of a workhorse than a showhorse; why his style is so invisible. He was a genre chameleon, as comfortable working on a big budget musical as he was a character-driven horror film.
This is not to say he didn't have personal beliefs that guided his choices. He was well-known and respected enough throughout Hollywood to pick and choose his projects, and he often chose scripts that aligned with his perspective on the world. His anti-war, pro-humanist, dabbling-in-the-spiritual attitudes, though not visible by any outspoken interviews, are easy to discern from the pattern that emerges from his random-seeming filmography.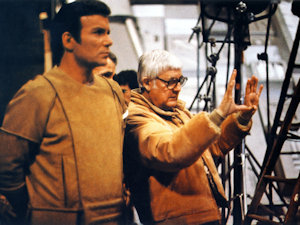 On the set of Star Trek: The Motion Picture
Jordan writes well, and his analysis of even Wise's most obscure works is interesting. That said, the chapters covering films you've seen are a bit easier and more enjoyable than chapters about ones you've never even heard of. Jordan can occasionally get slightly convoluted when describing complex plots and referencing multiple characters and the actors who play them, and it certainly helps to have some familiarity with the subject in order to follow along. I will admit that, even though I diligently read every chapter, I may have skimmed over the analysis sections on a few of them.
Any fan of classic film who enjoys any of Wise's movies should check out Jordan's book, available on Amazon or through its publisher. Robert Wise is not as flashy or famous as Orson Welles, Alfred Hitchcock, or Steven Spielberg, but he is no less an auteur, and his personality, as attested by those who knew him even tangentially, is a rare case of Hollywood humility and grace. I have learned far more about Wise than I knew before, and now I have a nice, long list of films I'm eager to check out.

-e. magill 2/25/2021


---
SPECIAL THANKS TO MY PATRONS:
Diane Magill-Davis
John Burrill
Paul Kyriazi
Warren Davis
WingIT Productions

Become a Patron today!
patreon.com/emagill
SPECIAL THANKS TO MY PATRONS:
Diane Magill-Davis
John Burrill
Paul Kyriazi
Warren Davis
WingIT Productions

Become a Patron today!
patreon.com/emagill
---