The Invisible Man's Revenge - Sci-Fi Classic Film Review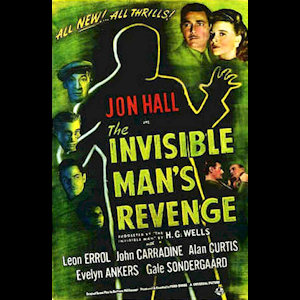 The Invisible Man's Revenge
Robert Griffin, left for dead in the African jungle over eight years ago, has returned to his former colleagues, Sir Jasper and Lady Irene Herrick, hoping to secure his promised half of the fortune accrued during their African adventure. When he is refused, he insists on taking the Herricks for everything they own, including their daughter, Julie. However, Lady Irene drugs Griffin, steals the proof of his claim, and leaves him passed out by the riverside. As he is chased out of town, he seeks shelter from the reclusive Dr. Drury, who sees in Griffin the perfect opportunity to test his invisibility serum.
This is The Invisible Man's Revenge, essentially a reboot of the franchise. Universal originally hoped to secure Claude Raines to reprise his famous role, but the studio settled on Invisible Agent's Jon Hall instead. To be fair, Jon Hall does a much better job in this film than he did in the previous one, portraying a mentally unbalanced villain with layers of motivation that aren't watered down by any talk of the serum having side effects.
This is also one of this film's big strengths, discarding the crutch of the invisibility formula's mental manipulations (which are not present in the original novel, either) and focusing on an invisible man who was already pretty twisted and disturbed prior to the start of the film. He is established in the opening sequence as being someone who murdered his way out of a mental institution, and any backstory he tells later in the film is called into question as he is clearly an unreliable source of information. This set up could have easily brought back the horror that had been missing from the franchise for quite a while, and Hall plays a better madman than he does a spy.
Ironically, despite being a sociopath, this guy would make a better spy than the Invisible Agent
The other bright spot is Dr. Drury, as played by John Carradine. Both the writing and the acting turn what could have easily been a stereotypical mad scientist into a compassionate, though unscrupulous, man of science, who is driven by ego but not so blinded by it that he is willing to cross the line into outright murder. Carradine plays him smoothly, and if I have a complaint about his performance, it is that he doesn't have nearly enough time on screen.
All that said, the movie as a whole is kind of a mess. Despite a promising premise, a good title character, and an attempt to refresh the franchise, the film feels rote and uninspired. It goes through the motions, but it never really delivers on its potential for a return to horror. There is a hero--Alan Curtis' Mark Foster, a reporter who is engaged to Julie Herrick--but he's never given enough to do. In the climax, he might have been able to best Griffin in a battle of wits, but instead, he is made a victim requiring rescue by the police at the last possible moment.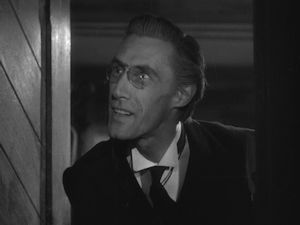 Carradine is more subtle and nuanced than the rest of the picture
The stakes never feel particularly high, with the Herricks not evoking much sympathy, the daughter given a scant five minutes of screen time (maybe less), and the erstwhile hero only stumbling into the climax by no agency of his own, outside of abject stupidity. The story could have gone in multiple interesting directions, but instead, it takes a predictable and ultimately boring tack, only salvaged by a few admittedly entertaining invisibility gags, such as a fun scene involving a game of darts.
Speaking of which, the effects are also a mixed bag. The compositing isn't great, but there are some ambitious ideas--such as Griffin juggling a knife--that look really good. Also noteworthy is the fact that, in multiple scenes, his invisibility is in a half-formed state, where he is translucent rather than transparent, and the effect is fairly convincing for the era. On the other hand, there are more visible wires and other obvious artifacts that make many of the effects sequences feel cheap and lazy.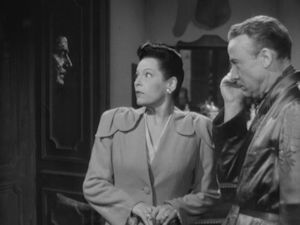 There are some good invisibility gags
Ultimately, that is exactly the lingering impression I have of the movie after watching it: it is cheap and lazy. It has a fantastic set-up, and I'm glad the franchise was trying to return to its roots in a novel way. However, the script is poorly written, the plot goes nowhere, and the only highlights are too brief to save the film. It's not a terrible movie, but it's easily my least favorite in the series thus far.
I'm probably going to stick with the Universal classic monster movies for a while--it's relatively easy on me during my continued lockdown existence--but that's hardly a bad thing. Worry not, however; this blog will eventually get back to reviewing literature at some point in the near future, and I still plan on continuing my Summer of Asimov in a couple of months. Be sure to check back next week!

-e. magill 3/18/2021


---
SPECIAL THANKS TO MY PATRONS:
Chris Connell
Diane Magill-Davis
John Burrill
Paul Kyriazi
Warren Davis
WingIT Productions

Become a Patron today!
patreon.com/emagill
SPECIAL THANKS TO MY PATRONS:
Chris Connell
Diane Magill-Davis
John Burrill
Paul Kyriazi
Warren Davis
WingIT Productions

Become a Patron today!
patreon.com/emagill
---