7 Overactors Who Saved Otherwise Mediocre Films
Sometimes, a great actor will look at a script for a movie he or she is about to star in, and will know the movie is going to be less than stellar. Rather than sigh and phone in the performance as most actors do in such situations, the great actor will smile with glee, knowing that this is the perfect excuse to go over the top and overact like a drunken high school drama student trying to emote hard enough to make Shylock a relatable character instead of an offensive Jewish stereotype. Some movies succeed despite terrible scripts because of these hammy performances, and these are seven of my favorite examples (in no particular order).


---
#1
Johnny Depp
Pirates of the Caribbean: The Curse of the Black Pearl
#1
Johnny Depp
Pirates of the Caribbean: The Curse of the Black Pearl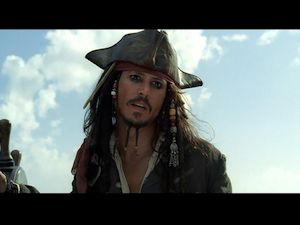 This is probably the most obvious example, so let's get it out of the way first. A couple of decades ago, Johnny Depp had the talent to be an incredible, versatile actor. Unfortunately, after years of tutelage under the wacky likes of Tim Burton and Terry Gilliam, Depp forgot almost everything he learned about genuine dramatic acting in favor of acting ever more eccentric and weird. Right before his complete descent into self-parody (see his performance in The Lone Ranger), Depp struck gold in the character of Captain Jack Sparrow, a potentially interesting secondary character in a ludicrously cliché pirate yarn featuring dozens of one-dimensional archetypes and less originality than a group of 18-year-old film students training under Quentin Tarantino can muster. Don't get me wrong, I love the movie, but if you had handed me the script before I had seen the final product, I wouldn't have wanted to wipe my ass with it for fear I might contract some inspiration-sapping infection deep in my bowels. Depp almost single-handedly saved this movie (with some help from Geoffrey Rush, whose own overacting seems tame by comparison) by not even trying to take the role seriously. It's a shame that he has let the role define him, because now his overacting is ruining movies instead of saving them.


---
#2
Gary Oldman
The Professional
#2
Gary Oldman
The Professional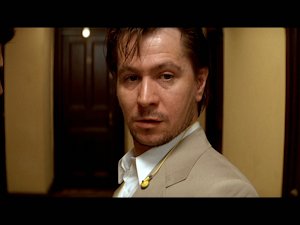 Oldman is--and remains--an amazing actor who can do just about anything he wants. He can seemlessly transform himself from a real-life drug-addled punk-rocker in Sid & Nancy to the notoriously belligerent classical composer Beethoven in Immortal Beloved to the shapeshifting wizard who serves as Harry Potter's surrogate father with ease, and then go on to earn dozens of serious acting awards for films like Tinker Tailor Soldier Spy and The Dark Knight. Still, he's an actor who isn't afraid to push through the envelope and go crazy. Examples of this are legion--The Fifth Element, Air Force One, Bram Stoker's Dracula, True Romance, Lost in Space--but the one that stands heads and tails above the others is his role as preposterously corrupt DEA Agent Norman Stansfield in The Professional. Luc Besson movies are all flawed guilty pleasures, but without Gary Oldman's insane performance, The Professional would be an uncomfortable and morally bankrupt film about a deadly assassin's creepy relationship with a little girl. Oldman cuts through the abhorrent subject matter and lets audiences know that it's okay to have fun with it, to laugh instead of gasp when he pops some pills and dances through a low-income apartment with a shotgun, casually killing an entire family. That's no small achievement.


---
#3
Al Pacino
Devil's Advocate
#3
Al Pacino
Devil's Advocate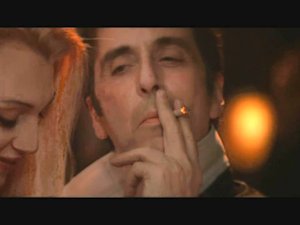 Somewhere along the way, Al Pacino fell into the same trap as Johnny Depp, apparently losing a wealth of acting talent to the siren song of overacting. Every once in a while, he pulls out a good performance that reminds us of his glory days, but usually, Al Pacino is something of a joke, a one-note loudmouth who hoots his way through every role so that he can feast on the scenery. This is why, if there were an Oscar for Greatest and Ballsiest Casting Choice, Mary Colquhoun and Nancy Klopper should have shared one for casting Al Pacino as the antagonist in Devil's Advocate, a patently silly movie about a lawyer who literally works for the Devil. Pacino out-Pacinos himself in the role, playing Satan as a coked-out one-percenter who relishes just being himself. If there is a checklist of things actors should never do, Pacino's performance would probably check off every single item, and yet, somehow, it works. He makes you love the father of lies, and his climactic monologue against God is, all by itself, worth the price of admission.


---
#4
Whoopi Goldberg
Ghost
#4
Whoopi Goldberg
Ghost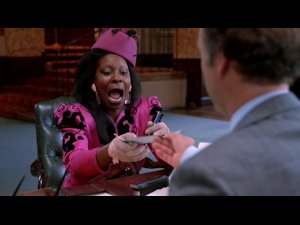 Ghost is a stupid movie. There, I said it. I don't think it's stupid just because it's a chick flick that stars Demi Moore and Patrick Swayze, but also because it's a movie about a goddamn ghost who misses making ceramics and listening to the Righteous Brothers with his woman. Reading the script gives you terminal brain cancer. Having said that, I adore Whoopi Goldberg's performance as Oda Mae Brown, a remorseless conwoman whose fake psychic abilities suddenly work. She is so entertaining and so... Whoopi Goldberg that you can't help but fall in love with her, despite the awful movie she finds herself in. I dare posit that Ghost would not be remembered or beloved today if it weren't for Whoopi.


---
#5
Raul Julia
Street Fighter
#5
Raul Julia
Street Fighter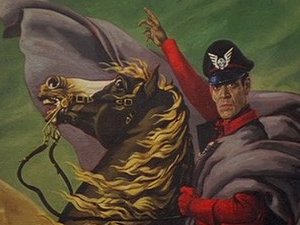 Still, there are scripts even worse than Ghost. Take, for example, Street Fighter, a movie so bad it sours the reputation of other movies based on video games. It takes a special kind of suck to make Super Mario Brothers and Mortal Kombat look good, but that's where we are. It's an incomprehensible movie starring Jean-Claude Van Damme and, uh, Kylie Minogue, and it's based on a fighting game with a plot no more complex than "a bunch of totally random characters fight each other in a bunch of totally random locales." The only notable thing about this abomination of celluloid is that it's the last movie in which the late, gifted actor Raul Julia starred in. He agreed to do it for his kids, but he never agreed to take it seriously. Indeed, to say he overacts is to undersell it, because Raul Julia breaks all the records for overacting that exist. No one will ever be able to go any further over the top than Raul Julia uttering the following dialogue: "For you, the day Bison graced your village was the most important day of your life, but for me, it was Tuesday."


---
#6
Alan Rickman
Robin Hood: Prince of Thieves
#6
Alan Rickman
Robin Hood: Prince of Thieves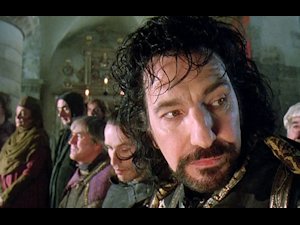 In its day, Robin Hood: Prince of Thieves was a decent movie, as Robin Hood movies go. It introduced Morgan Freeman to a wider audience, made Bryan Adams ridiculously popular amongst middle-aged mothers for a few months, and almost convinced the world that a mulletted Kevin Costner and Christian Slater could be related. Unfortunately, it has aged about as well as room-temperature lowfat yogurt. If you have fond memories of it from a couple of decades ago, do yourself a favor and never watch it again, unless you just watch YouTube snippets of Alan Rickman's Sheriff of Nottingham. Rickman builds off of his great hammy acting job in Die Hard and creates a villain who is so cartoonishly loathesome you can't help but smile when he insists on cancelling Christmas or cutting hearts out with spoons.


---
#7
Jack Nicholson
As Good As It Gets
#7
Jack Nicholson
As Good As It Gets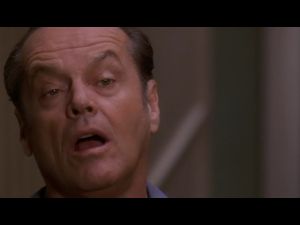 The script for As Good As It Gets calls for a neurotic, bigoted, homophobic, cynical, racist asshole who is somehow redeemed by his romantic feelings for an eternally patient waitress. This movie simply should not work, because it depends on audiences liking the protagonist despite him being the least likable human being in existence. 90% of his dialogue is patently offensive and, on its own, the opposite of funny, but the script is written as a romantic comedy. It makes no sense, until you give this impossible role to Jack Nicholson, who is somehow loveable when he says things like, "I've got Jews at my table," or "Oh, you were talking about your dog. I thought you were referring to that colored man inside your apartment." Nicholson magically makes his character fun by making him even worse than the script calls for, and yet, that's exactly what is needed. That's a sure sign of a talented actor: the ability to know when to overdo it.


---

I would be remiss if I didn't mention the enormous assistance of my friend, David Caron, who helped me compile this list. He is no doubt wondering why I left off Carol Kane from Scrooged and Jeremy Irons from Dungeons & Dragons, but to that all I can say is, this is still my list.




-e. magill 1/27/2015