Top 5 Favorite Robin Williams Performances
Actor and comedian Robin Williams' death yesterday is a pretty big blow, but rather than wallowing in the sadness that such a sudden death brings, the Internet is flooded today with tributes and happy memories. The following five screen performances are my personal favorites, either because they make me laugh or they make me think (or, more likely, both). There are at least a dozen other performances worth mentioning (Hook, What Dreams May Come, Insomnia, Toys, Mrs. Doubtfire, Mork & Mindy, Bicentennial Man, Good Morning, Vietnam, Good Will Hunting, etc., etc.), but I'm going to keep my list as short and simple as I can.


---
#5
Rainbow Randolph
Death to Smoochy
#5
Rainbow Randolph
Death to Smoochy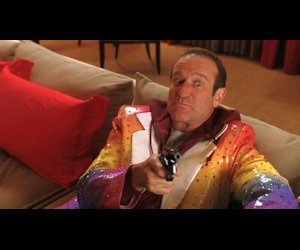 The early part of the 21st Century saw Williams fully embracing his dramatic side and branching out into darker, more serious material. His one and only comedic film of that half-decade was Death to Smoochy, a movie about a disgraced and bitter toddler's television show actor (Randolph) taking his revenge on his genuinely innocent and idealistic replacement, Smoochy the Rhino. Though this movie--and Williams' performance especially--is extremely fully, it is just as dark as the more serious movies Williams was making at the time.





---
#4
Armand Goldman
The Birdcage
#4
Armand Goldman
The Birdcage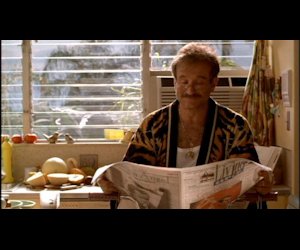 Aside from featuring a brilliant Nathan Lane and Hank Azaria as well as Gene Hackman in drag, the 1996 remake of La Cage aux Follies, The Birdcage, also has Robin Williams at the top of his game. Williams plays a gay night club owner who is tasked with playing it straight and reigning in his flamboyant partner while meeting the ultra-conservative parents of his son's fiancée, but things go predictably and hysterically awry. According to popular lore, the heterosexual Williams had to coach the homosexual Lane in how to "act gay," which adds multiple layers of irony to the scenes in which Williams' character is coaching Lane's character in how to "act straight."





---
#3
Dr. Malcolm Sayer
Awakenings
#3
Dr. Malcolm Sayer
Awakenings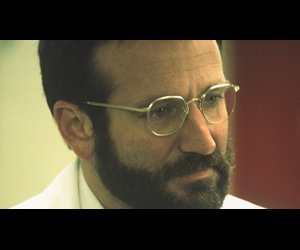 One of Williams' earliest serious roles is also one of his best. In Awakenings, he plays socially awkward neurologist Malcolm Sayer (loosely based on the famous Oliver Sacks, who wrote the memoir upon which the movie is based), who finds himself taking care of persistently catatonic and seemingly hopeless patients. He administers dangerous doses of an untested drug and discovers that he can bring the patients back to consciousness for brief periods of time. Williams' performance helped me at a younger age to cope and overcome my own social anxieties, demonstrating very effectively that, when we let our own quirks and awkwardness define us, we might as well be asleep.





---
#2
Genie
Aladdin
#2
Genie
Aladdin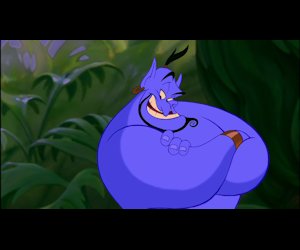 Let me voice a potentially controversial opinion: if it weren't for Robin Williams, Aladdin would be a dumb movie, one of Disney's worst animated films. Williams, however, went full-throttle into his role as Genie, injecting his rapid-fire, pop-culture-laden improv into his every scene. This elevated an otherwise substandard Disney flick into wonderful, anachronistic fun.





---
#1
John Keating
Dead Poets Society
#1
John Keating
Dead Poets Society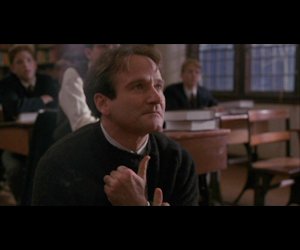 I've had a lot of English teachers and professors over the years, and although I can credit a few of them with inspiring and intructing me, no teacher spoke to me more than the fictional John Keating of Dead Poets Society. He didn't just teach me how to appreciate and enjoy literature and Shakespeare, but he helped me learn how to apply what I learn to my life and the importance of living it.







-e. magill 8/12/2014