Book Review: Carmilla by Sheridan Le Fanu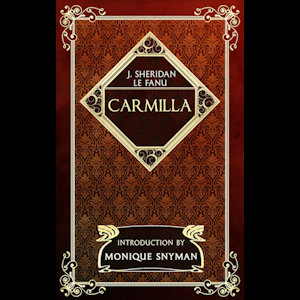 All gothic novels should have covers that look like the back of an upscale poker card
A quarter of a century before Bram Stoker's Dracula, Stoker's fellow countryman, the Victorian horror novelist Sheridan Le Fanu, published Carmilla. I'm not going to pretend to be any kind of expert on vampire literature, but I do know that Carmilla is generally considered to be the first "modern" vampire story, containing many of the hallmarks of the subgenre that would later be found in Stoker's more famous work. I've long had a curiosity about Carmilla, having encountered the academic belief that it is a subtextual work about homosexuality and the sexual repression of the Victorian Era that went on to inspire a whole class of vampire fiction with homoerotic elements, including Anne Rice's The Vampire Chronicles. More than that, though, I wanted to read it simply because it set the stage for the vampire story as we know it today, and I was curious about how much of its DNA resonates in the modern age.
The story follows a nineteen year old woman named Laura, living alone with her father and governesses in an isolated castle deep in the European wilderness. Through a bizarre series of events, the castle then becomes host to another woman who appears to be around Laura's age, the titular Carmilla. Laura, thrilled to finally have a peer to call a friend, is immediately entranced by the beautiful and mysterious visitor, and the two grow deeply intimate in a very short amount of time. However, there's a plague running through the neighboring area, and before long, Laura herself appears to be succumbing to it as she has vivid nightmares, a slowly overwhelming physical and mental weakness, and a stubborn refusal to accept that the cause might just be her beloved Carmilla.
The first thing I'll say is the academics are absolutely wrong about this book. There's no lesbian subtext. In actuality, it's fully textual, with Le Fanu only barely stopping short of describing actual sex between the two young women. (I say "young" as a shorthand, by the way; if you haven't guessed, Carmilla is a several centuries-old vampire.) There are several passages within the novella where Laura describes being both aroused and repulsed, infatuated and guilty about it. I can only comment on it as a straight male, but I am in awe of Le Fanu for being able to so convincingly write a lesbian love affair, especially considering the time and place in which he was writing it.
"Oh, geez, I'm sorry. Am I interrupting?"
It goes even further than that, too. The male characters are ineffectual to the point of being unnecessary until the end, while the women are more influential, more important, and more fully explored as characters. It's not a full on male-hating feminist fairy tale or anything like that, but the themes of paternalistic sexual repression run through every sentence of the narrative. I had to double check that Sheridan Le Fanu was in fact a man and not the pseudonym of some clever woman trying to subvert the system.
But these sociopolitical aspects of the story, which you can't dismiss when talking about Carmilla, are just the icing on the bloody vampire cake. Le Fanu is a master of tone, and the story is filled with enough dread and gothic mystery to make you forget that you, a reader a hundred and fifty years in the future, know exactly what the big reveal is going to be. I never forgot it was a vampire story, but with the tale being so tightly sewed to Laura's perspective, I was able to appreciate how foreign and terrifying the idea of a vampire could be. I should note the word "vampire" doesn't even appear until the last couple of chapters.
While it is still written in that needlessly wordy baroque style of Victorian literature, which I admit I'm not a fan of, I find Le Fanu's writing more engaging than, say, Bram Stoker's, and on balance, though Carmilla is far from a perfect story, I think I enjoy reading it more than I do Dracula. To be honest, Dracula can be a bit of a chore to get through. The length helps, too, given that Le Fanu's novella is about a quarter of the length of Stoker's epic.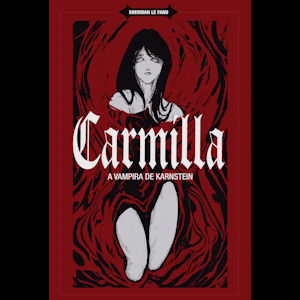 Did I forget to mention that her coffin is filled with blood?
Like I said, though, it's not perfect. The final few chapters are very sloppy, with much of the exposition taking place in hushed whispers between the men, out of hearing of Laura and thus given to us only in fragments. The resolution also happens entirely off-stage, so to speak, as Laura is busy recuperating in the castle while the men take care of the sleeping Carmilla a few miles away. It's also a very tough sell that, even after hearing in great detail about Carmilla's previous victim, Laura fails to understand the nature of the threat and is desperately trying to reunite with her toxic love.
And I guess that brings me back to the lesbian angle of the story, because in some respects, you might expect it to be a little problematic in the end. Carmilla, despite being given a pretty deep and interesting character, is drawn as a pure villain who has been slaughtering innocents for hundreds of years, and thus, you don't have to squint too hard to think the lesbian relationship between her and Laura should be seen as an unnatural, blasphemous love forced upon Laura by an inhuman abomination. However, Le Fanu is very careful to never make Laura appear to be under the influence of any kind of vampire magic. Indeed, there are numerous times where even the existence of such supernatural influence is dismissed out of hand. Instead, Laura's sexual awakening feels genuine and true, and it isn't even implied that her sexuality is unnatural.
I can't stress enough how incredible it is that Carmilla was written in Nineteenth Century Victorian Ireland, because the sexual themes are as deep and provocative as anything written in Twenty-First Century America. I might even dare to say it is more nuanced. I can see why Carmilla, as a character, has gone on to be an icon of the LGB community, and how her story has been influential in far more subtle and pervasive ways than the relatively bombastic Dracula. She is evil beyond redemption, to be sure, but you can't help but find her irresistable.

-e. magill 09/03/2023


---
SPECIAL THANKS TO MY PATRONS:



BattyBatFirebrand
Chris Connell
Chuck Poore
Diane Magill-Davis
Janne Wass
John Burrill
Joseph Osborn
JW Orchard
Keith E
Myk OConnor
Numinous2019
Robert Pontz
Scott Jahner
Sean Vale
Spotes
Sylar Magician
Tibi Šrámek
Warren Davis


Become a Patron today!
patreon.com/emagill
SPECIAL THANKS TO MY PATRONS:

BattyBatFirebrand
Chris Connell
Chuck Poore
Diane Magill-Davis
Janne Wass
John Burrill
Joseph Osborn
JW Orchard
Keith E
Myk OConnor
Numinous2019
Robert Pontz
Scott Jahner
Sean Vale
Spotes
Sylar Magician
Tibi Šrámek
Warren Davis

Become a Patron today!
patreon.com/emagill
---