The Midnight Sky - Movie Review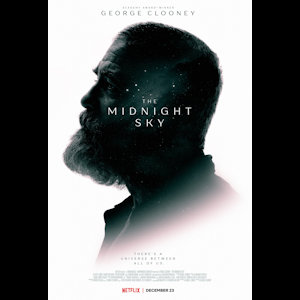 Clooney rocking the old Russell Crowe look
***This review contains minor spoilers.***
The world has been overwhelmed by a sudden and profound cataclysm, and while the rest of humanity flees, one man stays behind. Dr. Augustine Lofthouse is the scientist responsible for discovering Jupiter's previously unknown moon, K-23, which has the potential to be habitable for life. However, the Aether, a state-of-the-art spaceship sent to K-23 to confirm that potential, has been in radio blackout with the Earth for so long that they have no idea the world they left behind has become inhospitable. Dr. Lofthouse must find a way to get a signal to the Aether and give them a chance to survive.
This is The Midnight Sky, George Clooney's film adaptation of Lily Brooks-Dalton's Good Morning, Midnight. It had a very limited theatrical run late last year and then dropped on Netflix a few weeks later. In the interests of full disclosure, I have not read Brooks-Dalton's novel and knew nothing about the movie's existence until yesterday. Therefore, I went into this one with absolutely no idea what kind of movie it would be, aside from the very basic description given by Netflix.
In terms of raw filmmaking, there's a lot to appreciate here. The set design is thoughtful and interesting; the acting is incredible; and the effects--which include some complicated space sequences--are handled really well, some teflon blood drops notwithstanding. It also has a stark, distinctive emotional tone, along with a poignant conclusion that manages to do a lot with a relatively simple and partially predictable plot turn. However, the story does take some cheap shortcuts to raise the tension while failing to fill the runtime with enough drama or action to justify its two hour runtime.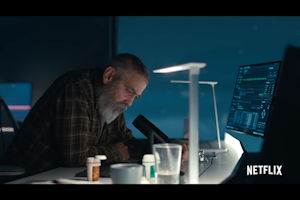 This gritty reboot of Santa Claus is pretty grim
Let's start with the actors. Clooney, who does triple duty as director and producer, plays Dr. Lofthouse, an elderly man who, it is established right at the start, is barely clinging to life through hemodialysis and heavy pharmaceuticals. Lofthouse has decided to stay behind, knowing he will die anyway, and to try to use the last life he has left to contact the Aether. Clooney does a lot of heavy lifting in the role, but he manages to do it through understatement and reserve.
There are multiple flashbacks with a younger Dr. Lofthouse, physically played by Star Trek: Discovery's Ethan Peck, and though these flashbacks are essential to understanding the film's final moments, there is the bizarre and distracting choice to dub over Peck's lines with a doctored version of George Clooney's voice. I honestly had a hard time thinking about anything else during these scenes.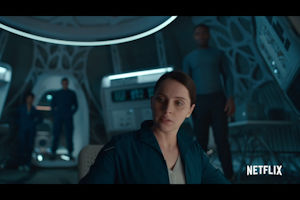 The crew of the Aether
Also notable is Felicity Jones as the astronaut, Dr. Sully. Jones was pregnant during filming, and her pregnancy was written into the script, though frankly it fits the themes and tone of the story so well that it's shocking it wasn't part of the plot all along. She also delivers a good performance, helped along by a supporting cast of players who are all putting in the work, including David Oyelowo as the Captain Adewole, Kyle Chandler as the pilot Mitchell, Tiffany Boone as the flight engineer Maya, and Demián Bichir as the co-pilot Sanchez. All of these actors play well off of each other and give the crew a nice sense of comraderie and the kind of lax professionalism that comes from a crew working together for so long.
Plenty of thought was given to the sets and props, with a lot of neat near-future technology that synchs up nicely between the two main settings. None of the tech requires explanation, as it is shown sufficiently in action to demonstrate how it all works. This efficiency in storytelling, while excellent for this purpose, extends a bit too far into the narrative itself, however.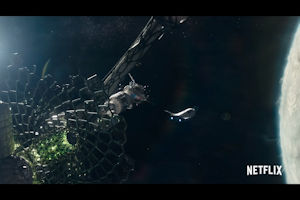 It's much better than The Cloverfield Paradox at least
I'm fine with the obscuring of certain details, like the nature of the cataclysm or the disease that is slowly killing Dr. Lofthouse, which don't ultimately require any sort of explanation to make the story work. Where it gets frustrating, though, is when certain things happen for the sake of the plot without any obvious logic behind them. For example, early in the story, the Aether suddenly veers off course and has to readjust its heading into unmapped space. Why does it veer off course? No reason is ever given aside from the obvious need for there to be drama in the film.
Unfortunately, despite these contrivances and the admittedly exciting action scenes that result, there still isn't enough going on, leading to the movie feeling unnecessarily long and tedious. Combined with its funereal atmosphere and the fact that the story begins with the devastation of the entire planet, this makes for a difficult watch at times, offset by its jarringly out-of-place action. Not only does the plot itself divide itself in two--following both Dr. Lofthouse and the crew of the Aether--but the movie can't decide if it wants to be an action-centric sci-fi adventure or a more methodical work of artistic expression. The Midnight Sky is very well-made and certainly worth a watch, but it's held back by a few unfortunate choices, or maybe a lack thereof.

-e. magill 1/14/2020


---
SPECIAL THANKS TO MY PATRONS:
Diane Magill-Davis
John Burrill
Paul Kyriazi
Warren Davis
WingIT Productions

Become a Patron today!
patreon.com/emagill
SPECIAL THANKS TO MY PATRONS:
Diane Magill-Davis
John Burrill
Paul Kyriazi
Warren Davis
WingIT Productions

Become a Patron today!
patreon.com/emagill
---