The Island of Dr. Moreau (1996) - Movie Review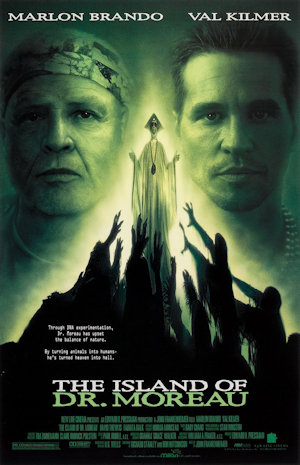 Poor Thewlis isn't even on the poster




1996 saw the release of the third--and the most baffling--big budget Hollywood attempt to adapt H.G. Wells' novel, The Island of Dr. Moreau. Considering the ludicrous behind the scenes shenanigans surrounding the production, it's remarkable that the film was released at all. Indeed, once you know the story behind the film's troubled creation, a lot of the film's flaws begin to make sense. I don't have enough space to do the story justice here, but if you want to know all the insane details, check out the documentary Lost Soul: The Doomed Journey of Richard Stanley's Island of Dr. Moreau.

The film that eventually hit theaters is, to be blunt, an almost incoherent movie cobbled together from diverging visions for what the film should be, highlighted by weird performances from a few actors who were fed up with the production and were determined to sabotage it. It delivers information in a haphazard way, feels like it's missing several key scenes, and doesn't always make a lot of sense. The film stock itself looks weather-damaged in places, the few shots of mid-90's CGI are embarrassing at best, and all of the human characters feel inconsistent, if not totally off their rockers. That said, all this gives the film a fever-dream-like quality that actually works. I don't think it is anything like what anybody envisioned for the film, but all the unbelievable goings on behind the scenes contributed to something that actually stands on its own as an emergent work of entertaining, disturbing, and oddly poignant madness.

Don't get me wrong. It's not a David Lynch film or Godzilla vs. Hedorah or anything like that. It's still coherent enough for your average audience, and it still retains the structure of a typical Hollywood blockbuster. Though it does update the film to modern times and leans more heavily on themes of insanity, it is actually pretty true to Wells' story, capturing most of Wells' ideas about medical ethics, man's inherent nature, and more. Moreau is still a fairly straight-forward villain the way he is in Island of Lost Souls, but there are shades of the tragic figure Wells created who is clearly trying to do good despite his lack of ethics but who has let his role as island deity get to his head in the worst kind of way.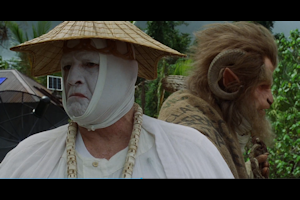 Have I mentioned that this movie is kind of weird?




The character of Montgomery is also a bit closer to Wells' novel, a drunken fatalist whose time with Moreau has turned him bitter and separated him from his humanity. Unlike the Montgomery of Island of Lost Souls, there is no redemption for this Montgomery, who is unhinged even further after the loss of Moreau and is eventually killed by the mob. Where this version takes the most inspiration from the 1932 classic film is in the character of Aissa, who not only shares plenty of character traits with the Panther Woman Lota but also has a few identical lines of dialogue. She is also crucial in Moreau's ultimate plan, which again includes combining the protagonist's DNA with hers.

From a strictly narrative standpoint, then, this would be perhaps the best version of the story. If I have any complaints, it would be in the lackluster use of the Sayer of the Law and in a protagonist who is never properly developed. Other than that, this splices together many of the best qualities of both Wells' novel and the 1932 classic adaptation of it, creating something more modern, with a few clever twists that only serve to highlight its brutal theme of man's capacity to be beastly and immoral.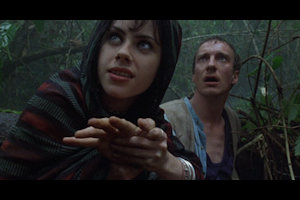 There's a lot to dissect




Unfortunately, as I've already mentioned, the film is a mess. It feels over-edited and uneven, lacking any consistent sense of time or place. As for the acting, it's downright bizarre. You've got Marlon Brando as Moreau sticking an ice bucket on his head (yes, this was his choice) and acting like a dottering old lady half the time, only seeming to put serious effort into a single scene (his death scene). You've got David Thewlis, long before he'd be instantly recognizable as Harry Potter's Professor Lupin, as the protagonist, Edward, trying his best to salvage a character whose motivations are never more elaborate than being stressed, confused, and frightened, but in certain scenes, you can actually see him trying to contain his laughter, like you're watching an outtake. You've got the beautiful Fairuza Balk, who has some excellent moments as her character begins to de-evolve, but whose lack of enthusiasm (after the original director was fired and walked into the woods for a few months) is all too evident on screen.

As for the human-animal hybrid characters, they are the most consistently well-acted characters, helped along by some truly amazing make-up and puppetry work by Stan Winston Studio. Ron Perlman doesn't get much screentime as the Sayer of the Law, but he does well with what he's given and gets a chance to deliver the best line in the film: "To go on two legs is hard. Perhaps four is better, anyway." The virtually unknown actors behind the make-up for major characters like the antagonist Hyena-Swine (Daniel Rigney) and the loyal-dog-turned-traitor Azazello (Temuera Morrison, who would later become famous as Jango Fett) give it their all and deserve far more recognition than the big name actors hamming it up alongside them.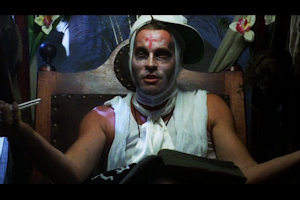 He's having fun at least




And then there's Val Kilmer, in perhaps his most confusing film performance of all time as Montgomery. He seems to be pulling from multiple past roles like Jim Morrison (The Doors) and Chris Knight (Real Genius) and throwing them together as a gun-toting, drug-addled former scientist who has utterly lost the plot and walks through scenes being weird for weirdness' sake, passing ecstacy pills to cow-women with his tongue and giving intravenous shrooms to a naked Mini-Me while dodging every question Edward asks him with bizarre ticks and an admittedly wonderful Brando impersonation. He is the Id of the film, and this was around the time the actor's star began falling from the sky and landing in the bargain bin at your local video store.

Kilmer is a joy to watch, to be sure, but his performance is much like the film itself, so full of unusual choices and wild swings of tone that you can never properly suspend disbelief and instead just feel bewildered and a little drugged watching it. Make no mistake: I consider this a bad film, but I also adore it for its brazen oddity. It tries to put madness itself on screen while still sticking to a Hollywood formula, and though the resulting mess isn't something I'd study in film school, it's fascinating and entertaining just the same.

In my next article, we cover the 1977 version, starring Burt Lancaster and Michael York. Check it out!




-e. magill 5/2/2019


---
SPECIAL THANKS TO MY PATRONS:
Diane Magill-Davis
John Burrill
Warren Davis

Become a Patron today!
patreon.com/emagill
SPECIAL THANKS TO MY PATRONS:
Diane Magill-Davis
John Burrill
Warren Davis

Become a Patron today!
patreon.com/emagill
---