Top 5 Best and Worst Things about AMC's The Walking Dead - Page 2
The midseason finale for the seventh season of AMC's enormously successful zombie show, The Walking Dead, arrives this coming Sunday, promising to not only tie together several disparate storylines but to also boost the show's sagging ratings. As a mild fan, I've been both fascinated and frustrated by the series for a number of reasons, and now seems as good a time as any to lay them out for my dear readers.
---
THE BEST
3. There are So Many Microcosms
THE BEST
3. There are So Many Microcosms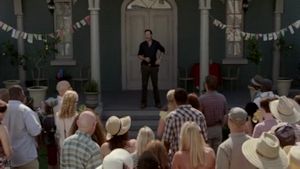 We all know that George Romero used zombies to spoof rampant consumerism and capitalism, and for the most part, it's pretty obvious that zombies are a useful stand-in for any number of socio-political ideas. With The Walking Dead, there's so much more going on than that. Sure, the zombies are occasionally used as metaphors, but there's also a very detailed meditation on the nature of government and civilization going on in the subtext of the show. Every new location is a new way of thinking, and each new character offers a fresh perspective on life, conscience, responsibility, and society. I'm certain you could design a dozen different college-level courses on literary interpretation and narrative art using The Walking Dead, and I can think of no other television series that lends itself to so much intensive and extensive analysis.


---
THE WORST
2. There's No End in Sight
THE WORST
2. There's No End in Sight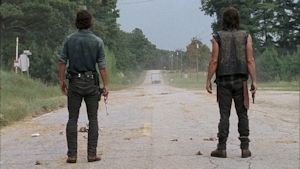 According to Robert Kirkman, writer of the comic books, he has a definite end-point in mind, but it has continued to drift further and further into the distance. At one point, he thought the series would only last 100 issues, and he has refined that to over 200, which certainly seems likely now that we're at Issue 161. Meanwhile, the guys in charge over at AMC, while they slowly get closer and closer to catching up to the comics, approach the series as though there is no ending, at least as long as it continues to pull in sizable ratings and ad revenue. This is great if you want to tune in week after week until the end of time--like you're watching a soap opera--but from a storytelling perspective, it seriously limits the show's creative options and opens it up to the very real possibility of getting repetitive and dull.


---
THE BEST
2. It Has Great Characters and Actors to Play Them
THE BEST
2. It Has Great Characters and Actors to Play Them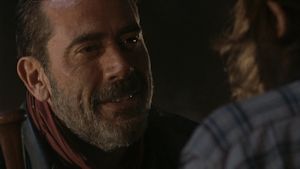 Unlike the characters in pretty much every other zombie story ever told, the characters in The Walking Dead are multi-dimensional, dynamic, and interesting. The antagonists are fascinating; the heroes are deeply flawed; the plot is moved by the characters instead of the other way around; events have real weight and consequences for people; and everybody reacts differently to the trauma of everyday life in a zombie apocalypse. Of course, all of that would be for naught were the actors not up to the challenge. Thankfully, though, the actors are very well-cast and develop alongside their characters, constantly pushing their boundaries into startling new directions. The actors never let their characters fall into stereotypes or archetypes, and for that reason, they are always relatable and intriguing. Without them, there would be little reason to watch the show.


---
THE WORST
1. It's Slow as Molasses
THE WORST
1. It's Slow as Molasses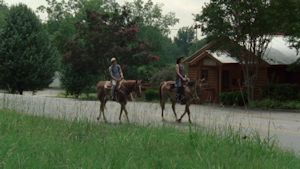 I don't mean to overgeneralize, because there are a handful of cool hardcore fans out there (shout out to Trev), but for the most part, I've discovered that most so-called fans of The Walking Dead don't even appear to like the show. I was a Lost fanboy back in the day, and I don't remember fans of that show--even on the Internet--being so negative and bitter all the time; most of us waited until the show was over to get so jaded. TWD fans, though, do nothing but complain, whether it's about an actor they've decided to universally hate (and it always seems to be a lady actor for some reason), deviations the show makes from its comic source material, a character death (or non-death) that pisses them off, how no episode ever seems to live up to their own hype, the show's popularity among lesser folk, or the writers' refusal to jump far ahead into the story and give them their favorite bit which they will be predictably disappointed by anyway. I'm reluctant to call myself a fan, for fear I'll be lumped in with these assholes.

---
THE BEST
1. The Writing and Filmmaking are Incredible
THE BEST
1. The Writing and Filmmaking are Incredible

While a casual viewer might watch a single episode and think there's not much to it, a deep dive can reveal a densely packed hour of meaning, symbolism, thematic exploration, poetry, mise-en-scene, and much, much more. The Walking Dead could easily be a frivolous genre show and still be popular, but the writers, directors, set designers, visual effects crews, editors, cinematographers, make-up and costume designers, and showrunners go the extra light year to turn every episode into a work of art. If you don't believe me, watch any of the analysis videos by one of my favorite YouTube channels, The New Rockstars, and realize that even they are only scratching the surface. As a writer and liberal arts junkie, overanalysis is the blood I need to survive, and The Walking Dead gives me enough for several lifetimes.







-e. magill 12/8/2016