Top 5 Cyborgs in Film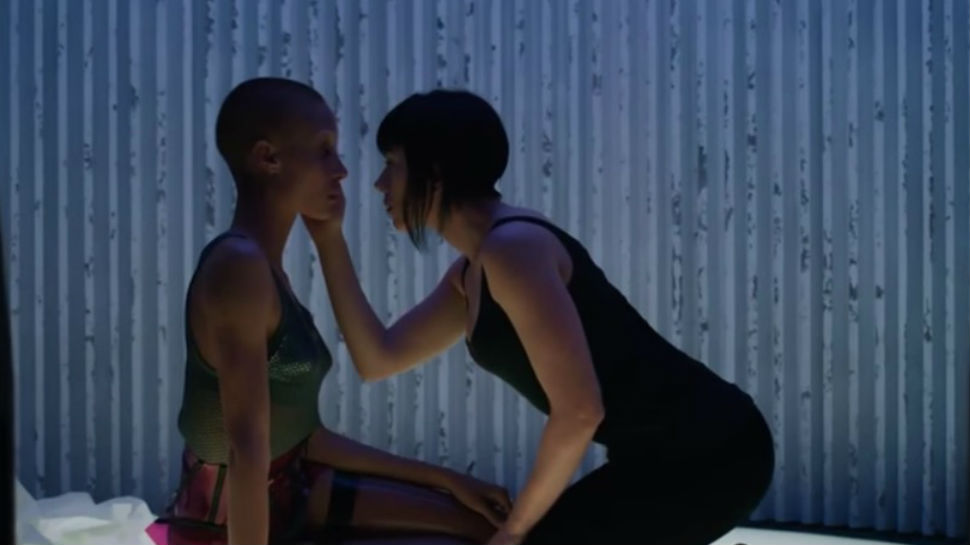 Yes, I know ScarJo isn't Asian, but no, I don't care




With the live-action Ghost in the Shell film nearly upon us--along with the characters of Cyborg in Justice League, Cable in Deadpool 2, and Adam Jensen in the Deus Ex adaptation--man/machine hybrids are pretty visible these days. Of course, the idea of a technologically augmented human is nothing new to the world of science-fiction movies, and before a new generation of enhanced badasses threatens to dethrone the existing champions of film cybernetics, let's take a look at the five best examples in cinema thus far.

A few ground rules first. A cyborg, for the purposes of this article, is a human being who has been physically altered by advanced mechanical implants or body part replacements. We will not be talking about machines that have organic material added to them (thus eliminating the Terminator from contention), as those technically qualify as androids, which have been given a separate list. For the sake of clarity, for a character to qualify as a cyborg, the augmentations have to be relatively permanent and internal, which means a character like Tony Stark wouldn't qualify as he can easily step out of his technological suit (and even has his miniature arc reactor yanked out in Iron Man 3). I'm also discounting animated films for the time being, as the laundry list of excellent anime cyborgs would unfairly crowd out everybody else. Perhaps they'll get their own list some day. With these disclaimers made, let's get to it.


---
#5
Del Spooner
I, Robot
#5
Del Spooner
I, Robot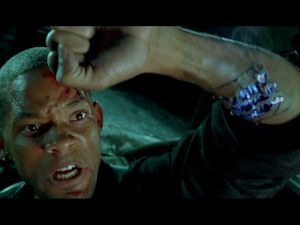 One of the best twists in I, Robot, which I've probably just spoiled for someone, is that the robo-racist main character is, in fact, a cyborg. The apparent contradiction is what largely defines his character: he sees robots as untrustworthy and inhuman, and yet he owes his life to robotic technology. He has a ass-kicking cybernetic arm, along with an articial lung, some ribs, and a shoulder, which he uses throughout the film for some pretty cool action beats. What puts Detective Spooner on this list, however, is the psychological effect his cybernetic enhancements have on him. It's more subtle and nuanced than the other characters on this list, but that's what makes it feel more genuine and intriguing.


---
#4
Doctor Octopus
Spider-Man 2
#4
Doctor Octopus
Spider-Man 2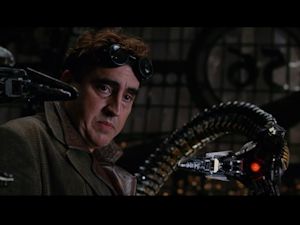 Though he isn't Spider-Man's most well-known nemesis, Doc Ock has always been a major thorn in the webslinger's side. His character isn't terribly complex in the comics--it's just a guy wearing four mechanical arms on his back--but in Sam Raimi's Spider-Man 2, Doc Ock is a tortured soul who is driven psychotic by the nanotech imbedded in a wildly impractical tool he designed to assist him in creating fusion energy. The mechanical arms fuse with his body and mind, and in the end, it is impossible to tease apart which of them is in control. It makes for a more fascinating villain, and raises the film to its inarguable place at the pinnacle of Spider-Man films (at least for now).


---
#3
The Borg Queen
Star Trek: First Contact
#3
The Borg Queen
Star Trek: First Contact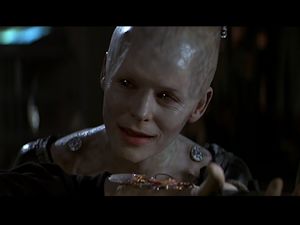 While the godlike Q is clearly the main antagonist of the Enterprise-D in Star Trek: The Next Generation, he is noticeably absent during Picard and crew's adventures on the big screen. In those films, the single best villain is the Borg from Star Trek: First Contact, who have as its figurehead the enigmatic Borg Queen. Whether it's her sensual seduction of Data or her bitter interactions with Captain Picard, she reveals herself to be a fully fleshed out baddie (pun intended) with deep motives, strong convictions, powerful emotions, and relentless ambition. Deep down, despite being the culmination of an entire race of hive-minded cyborgs, she seeks a companion to help end her profound loneliness, revealing that there are no implants or nanobots that can replace simple human contact. (It's a running theme in the movie, in case the title didn't tip you off.)


---
#2
Robocop
Robocop
#2
Robocop
Robocop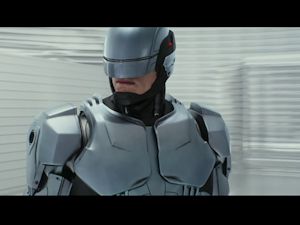 Whether we're talking about Paul Veerhoven's savage satire of corporate greed run amok or José Padhila's more philosophically grounded refresh of the character, Robocop is a bonafide cyborg icon. He has the beating heart of a man, but the cold ruthlessness of a robot. Both iterations of the character are constantly struggling to define themselves as more than just a sum of calculations and directives, and both prove the simultaneous danger and awesomeness that can result from turning a Detroit cop into a literal killing machine.


---
#1
Darth Vader
The Star Wars Franchise
#1
Darth Vader
The Star Wars Franchise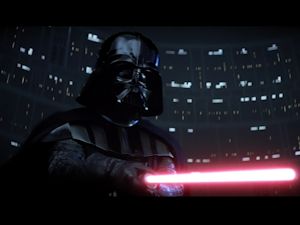 Twist! Our list is actually inspired by this month's release of Star Wars: Rogue One, in which we will see the (hopefully) triumphant return of cinema's most recognizable cyborg: Darth Vader. Forget Anakin Skywalker whining about sand, because this relentless monstrosity is somebody to be feared, respected, and avoided at all costs. He is a Sith legend, made all the more terrifying by his impenetrable armor, artificial limbs, and mastery of the force choke technique. The only thing that can stop this BAMF is his own conscience, because not even the Emperor himself could truly defeat him. He's got the tortured soul of every other abomination on this list, but he lets his inner turmoil be his dark strength rather than let it hold him back from being the most powerful thing technology and life can create together. Clearly, no other cyborg can match Darth Vader.


---

Perhaps this list will go through some drastic changes in the near future, but for now, is there anybody missing on this list? Perhaps you think Jean-Claude Van Damme's Cyborg belongs here, even though that's just silly. Either way, let me know in the comments below.




-e. magill 12/1/2016