Top 10 James Bond Theme Songs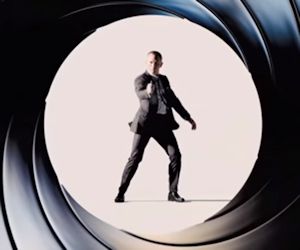 Duddah duh duuum, duduh dummmm doesn't count




We're kicking off James Bond month here on emagill.com, in anticipation of Spectre being released on DVD and Blu-Ray in February. Check back for the Top 5 Best & Worst James Bond Villains, the Top 5 Bond Girls & Henchmen, and lastly, a review of every Bond film. This week, I'm listing what I consider to be the top ten title songs from James Bond's rich history. It's amazing how intimitely tied these themes have become to their respective movies, and I can think of no other successful film series that does it. Still, not every song is great--some are downright bad (ahem, Quantum of Solace)--but almost all of us can agree that a handful of them deserve recognition for being exceptionally awesome.

Music is a more subjective artform than most, so let me disclaim that this is my list. I tried to keep my biases and tastes out of the equation and recognize greatness where I wouldn't normally hear it, and I tried to keep an open mind for every distinct style being used. I didn't include any of the instrumental themes, like the ones from Dr. No or On Her Majesty's Secret Service, and when I write that these songs were "by" certain artists, I only mean that those artists performed the songs, because the vast majority of Bond theme songs are written collaboratively with the composer of the film and others. If you disagree with my list (and I know you will), sound off in the comments at the end!


---



#10. "Goldeneye" by Tina Turner



A funky rock beat and great orchestral stab highlight a song that cleverly recalls Bond's most iconic themes in order to announce to the world that Bond is back after a much-too-long hiatus. On the other hand, it's a bit too slow and downbeat, forcing Tina Turner into doing her best Shirley Bassey imitation instead of her own thing. That's why, while it is still a smart and memorable track, it's not higher up on this list.


---



#9. "The World is Not Enough" by Garbage



No band but Garbage could so effortlessly meld electronica with an orchestral theme, and nobody but Shirley Manson could turn the Bond family motto into melodic vocals. The lyrics are clever, and the sound is lush and exciting. It doesn't quite make up its mind to be a full-on Bond ballad like so many other songs on this list, but it still manages to capture the late-nineties vibe of the Pierce Brosnan era. It does play it a bit too safe, though, eschewing Garbage's more experimental sound in favor of an almost generic retread of stereotypical Bond flavors, though it's certainly not as guilty of that sin as "Goldeneye."


---



#8. "You Only Live Twice" by Nancy Sinatra



This haunting theme with obvious Asian influences, lyrics that poetically play off of the title, and Nancy Sinatra's crystalline voice is a nice accompaniment to the movie itself. Like the movie, it's a bit clunky, but works in spite of its flaws to create a template that is used again and again. It's also one of the best non-instrumental uses of John Barry's signature strings, deployed with masterful timing to add a dreamy air. Alas, it doesn't fully capture the James Bond feel, and it comes across as a little underproduced.


---



#7. "You Know My Name" by Chris Cornell (from Casino Royale)



Legitimate Rock God Chris Cornell turns this theme into the most rocked-out and exciting song to ever appear at the start of a James Bond movie. It checks off all the boxes for a good Bond theme, but the chorus isn't as memorable as the others on this list. It deserves recognition, though, because it perfectly matches its movie, the serious, action-centric reboot that refuses to pull its punches or apologize. It's difficult, in retrospect, to imagine anybody other than Cornell pulling this off so damn well.


---



#6. "The Living Daylights" by A-Ha



Despite its popularity when first released, "The Living Daylights" has not aged well. It does a lot of things right by changing up its mood and trying to do something unique (few songs outside of Jethro Tull use flutes so effectively), and it does have a very catchy chorus. I happen to like it, and it's still got a cult following, especially in Norway, where the band still tours, featuring the song prominently in their set lists. Still, the xylophone and the synth work are almost embarrasing by 21st Century standards (though some of these problems aren't as pronounced in A-Ha's album version), which prevent the song from cracking the top five.







-e. magill 1/21/2016