Movie Review: The Avengers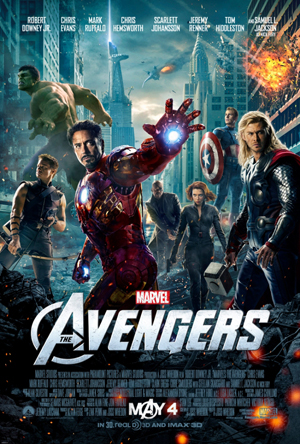 Geeks everywhere should have an extra pair of shorts on hand




Four years ago, I was sitting in the movie theater with my cadre of geek friends as the credits to Iron Man rolled. One of my friends turned to me and asked whether we'd just seen the greatest comic book movie ever (this was, I should point out, a couple of months before The Dark Knight was released) and another of my friends--who happened to work at the theater at the time--popped his head out and said simply, "Don't leave." We dutifully complied and saw, as the credits came to a close, an eye-patched Samuel Jackson approach Tony Stark about "The Avengers Initiative." For geeks like us, nothing would ever be the same again.

I'll freely admit my skepticism. I loved Iron Man (and would later come to love The Incredible Hulk, Iron Man 2, and Thor), but I had a hard time believing a film version of The Avengers could work. First of all, you have all these egos--not just the characters, but the actors too--and it would be difficult to put them all in the same movie, give them each adequate screen time, and make it good enough to make the fanboys happy. Secondly, putting the likes of Iron Man and the Hulk in a semi-realistic universe is one thing, but putting any Avengers plotline on the silver screen would require a completely different level of suspension of disbelief. When I eventually learned that the main baddies of the film are the Chitauri, a shapeshifting race of terrorist aliens from the lower fourth dimension, I couldn't imagine how The Avengers would be anything but ridiculous.

Despite my cynicism, I allowed myself to get swept up in the hype. Marvel had amazing success with their various franchises (with Captain America: The First Avenger being the sole exception, in my opinion), so maybe they deserved the benefit of my doubt. I wanted to be fair and I wanted to be excited, so I went into The Avengers (aka Avengers Assemble in the UK) with high hopes, buoyed by all the early, gushingly positive reviews.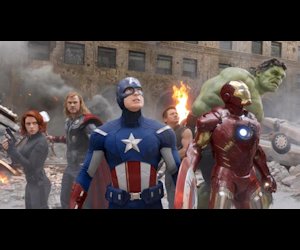 I'm pretty sure it was in Whedon's contract to include at least one shot like this one




The opening scene of the film lets you know, right away, how it's going to approach the more ludicrous aspects of its story. You meet the Chitauri before you meet the Avengers themselves, and the tone is serious without failing to acknowledge its own absurdity. Whereas a dark, gritty, and severe tone works for Batman, writer/director Joss Whedon wisely takes this film in a different direction. The movie doesn't take itself too seriously, and even manages to have some great laugh-out-loud moments. As such, it invites viewers to sit back and just have fun, which is ultimately what it's all about. Whedon doesn't get caught up in semi-relavent subtexts or heavy-handed moralizing; he simply plays with the characters and the universe in a way that can't help but be entertaining. There are one or two scenes that get carried away into silly land, such as the reveal of the flying, cloaking aircraft carrier, but they aren't nearly as frequent as one might expect.

This is not to say Whedon isn't careful. Instead of just throwing the Avengers together and unleashing them, the story introduces them methodically, one at a time. There is time to see where each character is and how he or she interacts with the other superheroes before they are tasked with working together. Without spoiling too much, there are even a few fights between them that will satisfy geeks who frequently ask the good old "who would win" questions. Instead of making you believe that these characters would unite in the face of adversity, their idiosyncratic differences and inability to work together are put front and center as the driving force of the narrative. The story's central problem is how you can possibly get such over-the-top egos to cooperate, and the film solves it perfectly.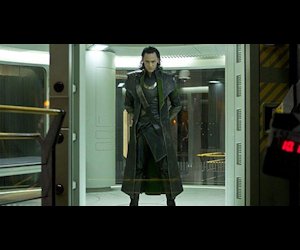 Loki is just as awesome as our heroes




More than that, Whedon does the impossible by giving each main character a logical, story-driven reason for being on the team and giving each one a relatively equal amount of deserved screentime. You get the sense that you are in the middle of each character's individual arc--Stark is working on expanding his arc reactor energy, Thor is still pining over Jane, and Captain America is still trying to adjust to the modern world--and there is development that should have lasting impact into future movie installments. The film also does plenty to keep each character feeling unique, by including musical themes from their various franchises and subtle references to individual storylines both past and future.

The dialogue between the characters is delightfully clever, with Whedon-esque banter that helps sell the various personalities without resorting to tired clichés or hand-holding exposition. Tony Stark comes across as the volatile playboy who doesn't "work well with others," Captain America comes across as the honorable, out-of-time patriot who puts the mission first, and Thor displays his newfound respect for humanity even as he shows his physical superiority. Though there are no real references to The Incredible Hulk (and Edward Norton has been replaced by Mark Ruffalo, who does well playing Bruce Banner his own way), the Hulk still manages to shine as well. He even steals the show a couple of times, which bodes well for fans hoping to see The Incredible Hulk 2 (Marvel Studios has gone on record saying that its plans for the Hulk depend on audience reaction to The Avengers).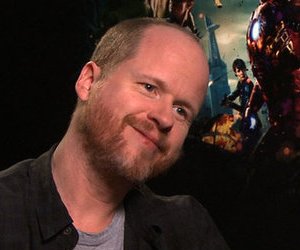 Even though he's got a face that you just can't help but want to punch, I can't imagine any director doing a better job with this property than Joss Whedon--maybe it's time I finally forgive him for Alien: Resurrection




Of course, I should also mention Loki, the primary antagonist. Tom Hiddleson takes his reprised role very seriously and puts out a marvelous performance. Though his motivation is pretty standard supervillainy, Loki manages to come across as devious and unpredictable, at times frighteningly intelligent and at others blindly arrogant. I can't stress enough how perfect a villain he is, and it will be interesting to see how events from The Avengers play into the upcoming Thor 2.

But since this is a Joss Whedon movie, there has to be an ass-kicking hot chick, which is where Black Widow comes in. Black Widow and Hawkeye, the two Avengers who don't yet have their own film franchises, are by far the most Whedon-esque characters in the movie, coming across as a doll from Dollhouse and Malcolm Reynolds from Firefly, respectively. This isn't a bad thing. Both have their share of good scenes; one of the best scenes in the entire movie involves an exchange between Loki and Black Widow, and Jeremy Renner injects just enough nuance into Hawkeye to keep him interesting.

The effects are also incredibly well-done. The climactic orgy of comic book violence wouldn't work otherwise, and so the film never fails to deliver on spectacle. There is plenty of build-up to the ultimate battle, not just in this movie but in all of Marvel's previous installments since Iron Man, and the result does not disappoint. Somehow, against all odds, Marvel Studios pulled it off. I couldn't be happier to be proved wrong.



FINAL SCORE:







You'll never have a better time at the theater than the time you'll have with The Avengers. Go see it.

-e. magill 5/8/2012