Top 10 On-Screen Vampires - Page 2
It was announced today that Warner Bros. Pictures is producing a new adaptation of Bram Stoker's Dracula, although this adaptation will be an odd reimagining in which Jonathan Harker is a detective with Scotland Yard. Add that to other projects being developed in Hollywood right now, including a remake of Buffy the Vampire Slayer and an adaptation of Elizabeth Kostova's masterful The Historian (a novel I cannot recommend highly enough), along with the Twilight movies and television shows such as True Blood and Being Human, and you can see that vampires are as popular as ever on screens both big and small. With that in mind, here are the top ten on-screen vampires, as decided by yours truly.
---
#5
KIEFER SUTHERLAND
The Lost Boys
#5
KIEFER SUTHERLAND
The Lost Boys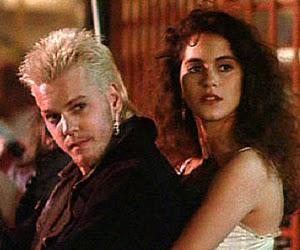 The definitive eighties vampire flick is unquestionably The Lost Boys. When a single parent family moves to the fictional city of Santa Carla, murder capital of the world, the two teenage boys discover a gang of young vampires seemingly run by David (Kiefer Sutherland). Sutherland plays this vampire with unbridled relish as a teenage reject giving the middle finger to the world. His seduction of the elder brother, Michael, is one of the most memorable scenes in the entire canon of vampire cinema, as he uses mind games and vampire powers to trick Michael into becoming one of his brood. Kiefer does it so well probably because he is playing a character not too far removed from Kiefer himself. I'm not saying the actor is actually a vampire, because Kiefer doesn't really play David as one. David is so terrifying and memorable probably because Kiefer humanizes his character as a partier and a rebel who delights in his own bad behavior. In other words, David is such a great vampire because Kiefer imbued him with large aspects of himself.


---
#4
TOM CRUISE
Interview with the Vampire
#4
TOM CRUISE
Interview with the Vampire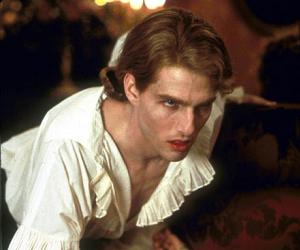 While the majority of Tom Cruise's acting portfolio is made up of snarky but charming pretty boys, he does occasionally get the chance to prove his worth as an actual actor. Granted, before Interview with the Vampire, few people took him seriously. It was so seemingly outrageous at the time to think he could bring nuance and skill to a performance that Anne Rice herself came out and denounced the adaptation of her own novel before the film even entered principle photography, all because Cruise was cast as the story's charismatic antagonist, Lestat. Indeed, Tom Cruise is one of the last people you imagine if you read Rice's loving descriptions of him before seeing the film. Cruise, however, nailed the role and did such an amazing job that Anne Rice put a personal apology in front of the film for its first home video and DVD releases, not to mention the full page ad she bought in the friggin New York Times the day the movie hit theaters. Cruise deserves to be on this list, not just for making a believer out of Anne Rice but also for the way he delivers some of the best and most quotable gothic dialogue of any vampire flick.


---
#3
GARY OLDMAN
Bram Stoker's Dracula
#3
GARY OLDMAN
Bram Stoker's Dracula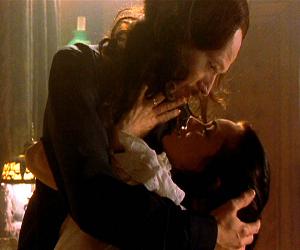 For his 1992 adaptation, Bram Stoker's Dracula, Francis Ford Coppola cast a relatively obscure actor named Gary Oldman to play the title character. It would prove to be Oldman's breakout performance and the jumpstart of a wildly successful film career that continues to this day. Oldman did the virtually impossible by borrowing from both the original novel and the various iconic performances of the past while simultaneously crafting a version of Dracula that had never been seen before. Oldman slips into Dracula's various incarnations with ease, from the ridiculously old nobleman that keeps Jonathan Harker in his castle to the young, seductive foreigner who captures the eye of Mina Harker. He is able to do this because his Dracula is a fully fleshed-out, three dimensional character with deep strains of humanity that have all been twisted into something terrible. In modern interpretations of Dracula, more actors borrow from Oldman's performance than any other, and that's a high compliment considering the wide range of past performances to choose from.


---
#2
MAX SCHRECK
Nosferatu, a Symphony of Horror
#2
MAX SCHRECK
Nosferatu, a Symphony of Horror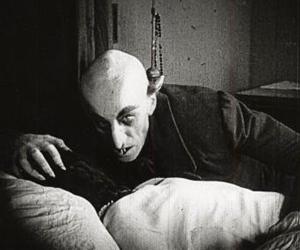 Max Schreck will always haunt my nightmares. Roger Ebert once wrote, "It is easier for me to believe Schreck was a vampire than he was an actor." While every other person on this list was tasked with reinterpreting how a vampire should appear on film, Schreck had to invent it in F.W. Murnau's famous Nosferatu, a Symphony of Horror. However, nobody since has succeeded in recreating Schreck's blood-chilling performance. There is simply no other actor on this list or any other vampire in the history of film or television who is as scary as Max Schreck's Count Orlok. While Schreck was certainly helped by the mood-setting aspects of German expressionism in the silent era, it is still his visceral, animalistic performance that steals the movie. They say that audiences back then had a harder time deciphering the difference between reality and film, in which case I can't imagine why people weren't running the streets in panic or dying of fright when this movie was being played in cinemas. When I first saw it, I couldn't sleep for days.


---
#1
BELA LUGOSI
Dracula (1931)
#1
BELA LUGOSI
Dracula (1931)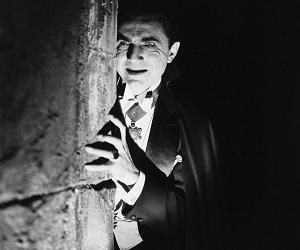 Though Schreck was the first actor to successfully play a vampire on film (and easily the scariest), Bela Lugosi is the man who created the template against which all other performances are compared. Lugosi is not just the quintessential Dracula, but he is the ultimate onscreen vampire as well. He does it all, from the mesmerizing smoothness to the sudden and shocking acts of violence, and as a result, his performance as Dracula is the first thing most of us picture when we think "vampire." His Dracula is beyond just iconic; it is archetypal. He created a melodic Romanian accent that, despite its inaccuracy, remains the eternal voice of Dracula. He crafted the charmingly arrogant smile that is both warm and cold and was convincing enough as a character to ensure that vampires would retain a rich and colorful place in cinema for decades--even centuries--to come. All the other performances on this list are liable to be forgotten by time, but Lugosi's will live on as long as there are vampires in popular culture and actors to portray them.







-e. magill 2/8/2011