On Gun Control
Unlike most discussions of gun control, this one isnít going to include a laundry list of numbers or statistics. I might list one or two to illustrate my points, but Iím making a conscious effort to avoid listing any more than that, as I think the gun debate has become far too mired in statistical analysis. Letís face it; statistics are misleading by their very nature. As my old dive instructor used to say, theyíre like bikinis: what they reveal is interesting, but what they hide is essential.


This is like a bikini?!




Over the last week, as Iíve perused a wide range of opinions and articles on the issue of guns, my head has spun from all the numbers. Whatís worse is that the numbers vary by wide margins, so it seems like I have to average them out and parse them through statistical equations to figure out what these disparate numbers show. Therefore, since it is apparent to me that guns are the leading cause of statistics, this is going to be a rant focusing on the core ideas of gun control rather than on the numbers. If youíre interested in comparing numbersófor instance the amount of gun-related violence in America versus the amount of gun-related violence in a country where guns are illegalóthere are plenty of other places to look. And, luckily, you donít have to let your opinion be altered, as there are numbers biased in either direction to help reassure you that your thoughts on gun control are accurate.

As for me, I do not own a gun, nor do I ever intend to purchase one. I have fired many different types of guns in my youth (I am an Eagle Scout, after all), and I do not question my own responsibility in keeping a gun, but unless my wife and I move to the poorest neighborhood in Detroit or we start keeping large stacks of hundred dollar bills in our living room, I simply donít see why I should have a gun around the house. Donít be misled, however; this does not mean I am a supporter of gun control laws any more than my disgust at the practice of abortion means I am pro-life.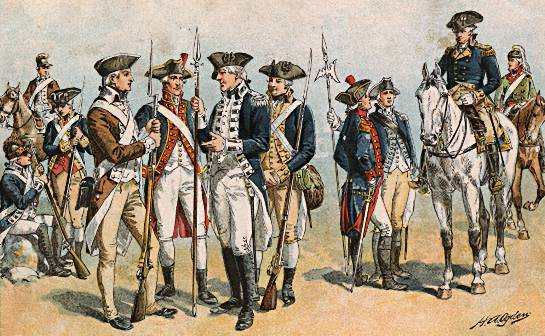 The American Revolution would have failed without guns




Gun control advocates will try to convince you that owning a gun is not a basic human right, despite the fact that the Bill of Rights lists it as one. They argue that the Second Amendment, which states that ďthe right of the People to keep and bear arms should not be infringed,Ē was written for different times, times in which the violent overthrow of the government might have not only been possible but necessary had tyranny reared its head. This was shortly after the Revolutionary War, after all, when everyday people with guns went up against British armies. (I'm not going to get into the "well-regulated Militia" business; a simple understanding of archaic grammar can elucidate anyone confused on the wording of the amendment.)

Personally, though, I find that the times havenít changed as much as the gun control advocates argue. If our government went tyrannical, I think a large enough segment of the population, if armed, could still overthrow it. Additionally, I think itís still perfectly plausible that our governmentówith its ever-increasing size, scope, and reachócould slowly become a government worth overthrowing. Iím not that concerned, obviously, since Iím not yet running for the gun store.

Keep in mind that the first thing any tyrannical government prohibits (or greatly restricts) nowadays is usually guns in the hands of its citizenry. Therefore, when any politician starts talking about newer and more restrictive gun laws, I get wary of that politician.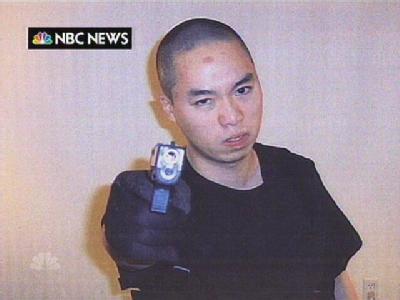 Virginia Tech was a gun-free zone




And gun laws, by and large, have proven to be ineffectual at reducing the amount of gun-related violence in this country. Take so-called gun free zones, for instance. Certain areas greatly restrict the influx of guns, under the theory that, if no guns are allowed in, no gun violence can occur. The reality, though, is that gun-free zones become a seductive target for crazed people intent on causing violent crime, since nobody in a gun-free zone will retaliate with a gun. Virginia Tech and Columbine were both gun-free zones when the tragedies took place there. The U.S. Post Office, a place of relatively frequent gun violence, is a gun-free zone. And thatís just for starters.

If the number of guns in an area were an effective measure of how likely gun violence will occur, all gun shows would be bloodbaths and nobody would be able to keep a job at a gun store. The simple fact is that this is not reality; in reality, places with restrictive gun laws in this country tend to have higher rates of gun-related violent crime than places where guns are everywhere. The best way to avoid gun-related violent crime, in fact, is to be in a place with concealed carry permits, lots of legally obtainable guns, and no gun-free zones.

It seems counter-intuitive, but itís not. Criminals who like guns arenít going to change their behavior based on new laws, as they already donít obey the law. Therefore, when a new gun law is passed, there are fewer guns in the hands of law-abiding citizens, making them easier targets for gun-wielding criminals, who have just as many guns as they did before the new law was passed. By simple logic, if there are more good people than bad people and everybody is allowed to carry a gun, the balance of power swings to the good people.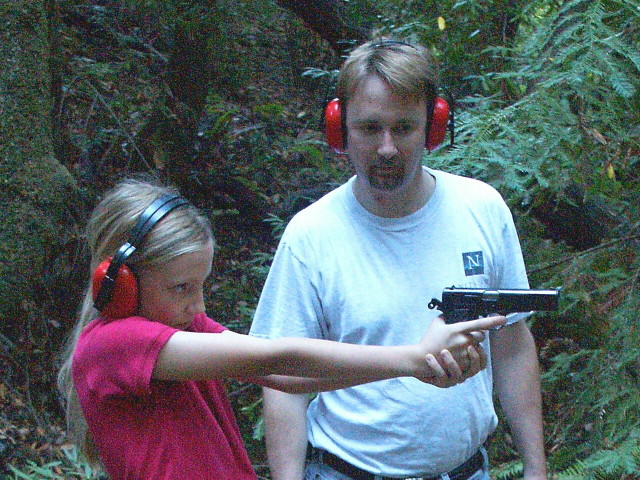 If you own a gun and have children, it is your responsibility to teach gun safety




Granted, this equation changes as you increase the deadliness of the gun. Iím not going to get into the debate about where to draw the line between legal and illegal arms, but I will say Iím not a proponent of everybody getting their own personal nuclear warhead.

However, this is not the only aspect of gun control worth debating. The most common plea made by the gun control advocates is an emotional one. They pull out the statistics of gun-related deaths in this country and point out that upwards of 2,000 deaths a year or more occur in the 0-17 age group. They talk about curious children who find loaded guns and accidentally off their siblings or themselves. They talk about depressed teenagers who use daddyís gun to commit suicide.

Each instance is tragic, and I do not wish to downplay the grief and horror that these families undergo. Avoiding such tragedy is one of the main reasons Iím not interested in owning a gun, but I think itís a far cry from letting the government take guns away from all people.

Those statistics are, like all statistics, misleading. Yes, you are nearly fifty times more likely to kill a loved one than an intruder with your gun, but that statistic says absolutely nothing about how many intruders have been deterred or even shot in the kneecap. Yes, lots of people die or are injured in gun-related accidents, but just because something is dangerous does not mean it should be illegal.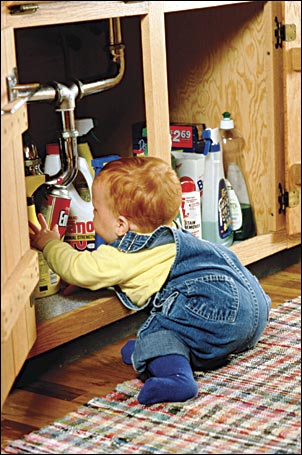 Dangerous household chemicals kill more children every year than guns do




If you want to talk statistics, letís talk about how many children die in accidents involving motor vehicles versus how many die from accidents involving guns. I promised not to throw too many numbers at you, but letís just say a whole heck of a lot more kids are killed by cars than by guns. And yet, are politicians out there trying to ban cars? Are they even trying to make owning a car more restrictive? This is just one example of the many things out there that kill people accidentally, and if you try to legislate away everything in this world that could be dangerous, you might as well live in a bubble.

Besides, to paraphrase what one of our forefathers said, if you trade even the smallest bit of freedom for a large amount of security, you will ultimately loose both.

So no matter what they try to tell you, the option to own a gun is a basic human right. It is the right that protects all the other ones, in fact, not only from a tyrannical government but from the punk across the street who is eyeing your car stereo. You donít have to own a gun to believe in the freedom to do so; itís simply a question of free choice, a question of liberty.




-e. magill 04/28/2008