Metroid: Samus Returns

Metroid II: Return of Samus is one of the most overlooked and underappreciated entries in Nintendo's Metroid franchise. Released way back in 1991 for the original Game Boy, it manages to build on the ideas of the classic Metroid, despite the limitations of the handheld's hardware. It also lays the groundwork for arguably the greatest game in the entire canon (and one of the greatest video games ever made): Super Metroid. As a result, it is overshadowed by both its predecessor and its successor. Thankfully, Nintendo hasn't forsaken this gem, and last year, after seven years of silence on the subject of Samus Aran, Nintendo announced an official remake called Metroid: Samus Returns for the 3DS console.

While not the new, main series game fans have been begging for, Samus Returns is nonetheless a welcome hit of Metroid goodness. It brings a nearly forgotten game to fans who either missed out on or are too young to remember the Game Boy, but it also updates it and tweaks the Metroid formula in interesting ways. While we wait for any news of Metroid Prime 4 (which, as of this writing, consists of nothing more than a logo and a promise that it's in development for the Switch) and dream of the possibility that Nintendo will one day release an official Metroid 5, Metroid: Samus Returns is a wonderful way to pass the time and a fresh reminder of why this oft-neglected series belongs in the same limelight as Mario and Zelda.


---
STORY
She's here to chew bubblegum and kill metroids, but bubblegum was outlawed by the Galactic Federation in 20X1




The story of Metroid II is the simplest in the entire series: Samus is sent to the home planet of the metroids, SR-388, to find every last one of the energy-sucking monsters and end their bloodline forever. As she gets deeper and deeper beneath the surface of the planet, she finds metroids in various stages of development, leading to a final confrontation with the massive queen. There is a slight twist at the end that all fans are aware of, but otherwise, there's nothing unique going on here.

Metroid: Samus Returns is still telling this fairly basic story, but it subtly incorporates lore that didn't exist until 2002's Metroid: Fusion recontextualized the backstory of SR-388, along with an easter egg for completionists that hints at even more. There's one or two surprises in store--including a clever pseudo-explanation for the acid pools that served as a simple gameplay gimmick in the original game--but this remake doesn't reinvent the narrative in any radical ways. It's still fairly straightforward, and not even an opening cutscene to set the stage really changes the dearth of plot to be found in this chapter of Samus' life.



[Story: 8 - The remake does its best to add more intrigue and nuance to the original's simple tale, but this is still not a particularly compelling or interesting plot]



---
GAMEPLAY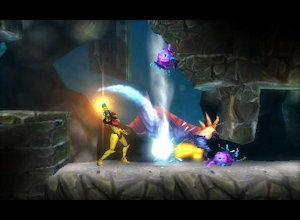 Samus has learned to smack things that get too close




You'd be forgiven for thinking there's no room for a 2D Metroid game to innovate in this day and age, but you'd be wrong. Metroid: Samus Returns isn't satisfied to just ape the familiar formula of Super Metroid. Instead, it puts a slightly greater emphasis on action through the addition of a one-button counter-attack system. It's a perfectly intuitive mechanic that adds rather than subtracts from the running, gunning, and gymnastic platforming Samus is known for, and there's no reason for it to go away in future installments. It is especially satisfying in boss fights, where it offers brief, cinematic opportunities to inflict heavy damage without being necessary.

However, not all additions are as successful (and some changes, such as a nerfed ice beam, are downright bad). In order to incentivize counter-attacks, for example, Samus Returns introduces the "Aeion Gauge," a yellow energy bar similar to a stamina or magic meter that is filled faster by counters than regular attacks. This "Aeion" is used for a few of Samus' many toys, including a scan pulse and a slow-mo mode (called "Phase Drift") that respectively serve as this game's answer to the x-ray scanner and speed booster from other Metroid titles. The scan pulse is pretty overpowered, revealing not only the surrounding map but also any and all hidden upgrades in the area along with any breakable blocks, which takes away a lot of joy and reward from exploration, and the Phase Drift isn't bad, but it's not as satisfying as the speed booster. The Aeion tool I take the greatest issue with is the "Beam Burst," which is a rapid-fire mode that depletes the Aeion Gauge incredibly fast. Its use in regular gameplay is relegated to incredibly annoying enemies that are inexplicably immune to all other forms of attack, and I'd gladly sacrifice the beam burst if it meant these frustrating enemies would go away.







-e. magill 4/19/2018