Super Mario Odyssey Review

Giving a glowing review to a core Mario title isn't the most daring or unpredictable thing a man can do, because Nintendo has mastered the platformer with such alacrity that they are incapable of creating a bad one. That said, some Mario games are more forgettable than others, and the last installment, Super Mario 3D World, is about as forgettable as they get, despite being a great game on its own merits. With Nintendo riding high on the early success of the Switch, they've released their latest Mario game, Super Mario Odyssey, just in time for the holidays. The question isn't whether you should buy it for yourself and your loved ones as gifts--because of course you should--but rather, is it good enough to surpass its predecessors?


---
STORY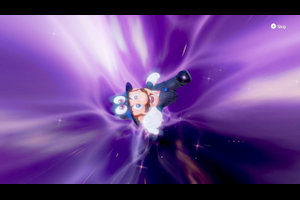 It gets a little trippy




You know the drill: Bowser has kidnapped Princess Peach, and you are an oddly acceptable Italian stereotype named Mario, tasked with traversing various worlds to rescue her. However, this time, you wind up in a place called Cap Kingdom, where a piece of sentient habidashery named Cappy agrees to assist Mario on his journey in order to save his own lady friend. You take possession of a hat-shaped vehicle called the Odyssey, which runs on Power Moons Mario must acquire along his journey. This vehicle goes from place to place (each a different themed "Kingdom"), but requires a certain number of Power Moons from each location before having enough energy to go to the next. Mario is chasing Bowser across the planet as the brutish beast steals various wedding-themed treasures in preparation for his forced betrothal to Peach, but Mario is frequently held back by Bowser's new minions, strange rabbit-like creatures called the Broodals (not to be confused with the Rabbids).

It's hard to fault a Mario game for having a weak plot, as story has never been a primary focus of the series and inexplicable weirdness has always been rampant, but a lot of things are glossed over, like where the Broodals came from, why the Odyssey needs specific Power Moons from specific locations in order to progress (aside from the obvious gameplay reasons), and how a civilization built on hats has gone unnoticed for so long in Mario's world. Granted, there are some nice call-backs to previous games--like the inclusion of Pauline, a long absent member of Mario lore--and the final moments of the story contain a tiny bit of interesting character development, if you can call it that. Also, it's important to note that trying to tell a provocative story in a Mario game would do a disservice to the kind of light experience it wants to be. Unfortunately, this just isn't a compelling narrative or a particularly memorable one, and as a writer, I simply can't overlook that.



[Story: 9 - It's a Mario game, with all that entails. It's formulaic and shallow but still manages to honor its long history.]



---
GAMEPLAY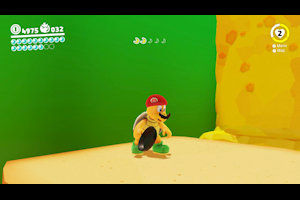 If you've ever wondered what it's like to be a Hammer Bro, you're in luck




Nintendo has spent decades perfecting 3D Mario platforming, and it shows. All the standard moves are still there--the triple-jump, the ground pound, etc.--and all the basic mechanics remain unchanged--hit blocks to get coins or power-ups, jump on Goombas, collect things from different areas, swim occasionally--but a new, multifaceted layer has been built on top through the use of Cappy. Now Mario can throw his hat around, complementing his jumping skills and offering him a new mode of attack. Moreover, Cappy can allow Mario to inhabit various enemies or characters in the environment, allowing him to briefly become a Goomba or a Hammer Bro. This is a surprisingly well-done mechanic--to the point that it could have easily been the launching point for an entirely different franchise--and the developers are constantly opening up new and amazing ways to use it creatively, all the way up to and including the very last level.

But Nintendo didn't even stop there. There are dozens of different things going on here, from the occasional pixelated, two-dimensional platforming area to the handful of minigames that open up late in the story. You can buy new outfits for Mario with two different types of currency; you can get hints using coins (or with the assistance of amiibo) to help sniff out those hard-to-find Power Moons; you can find secret passages between kingdoms; you can take snapshots of the world using a variety of filters; you can collect trophies and deck out your Odyssey with swag to the point that Mario starts to look like a hoarder; and much, much more. Each kingdom is vastly different from the last, and the gameplay is frequently being tweaked, messed with, and expanded in new and interesting ways. This is a master class in design, but it never stops to rest on its own laurels before launching into something completely different just around the corner.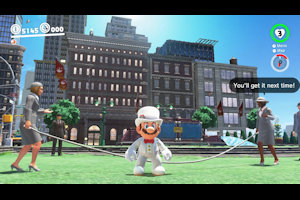 Not even once




If I must find a flaw, I could nitpick the motion controls. With the controllers detached, you have the ability to control Cappy a little better and perform a few nifty moves you wouldn't otherwise be able to pull off. However, the waggle doesn't always work the way you intend; you can find yourself accidentally leaping off a cliff if you happen to scratch your nose in the middle of a jump; aiming segments are frustratingly difficult to control; and worst of all, there are a couple of items you cannot collect without the motion controls. It's a shame that motion controls are built into the game's DNA, because that discourages playing the game in handheld format or with a master controller, going against the core concept of the Switch console. (Also, screw the jump rope and volleyball Power Moons. If you've tried to get them, you know what I'm talking about.)

Those nitpicks aren't serious enough to undermine what is otherwise Nintendo at the top of its game, delivering pitch-perfect Mario-style platforming, great new mechanics that are leaps and bounds more impressive and rewarding than Cat Mario from the previous entry, and a startlingly deep experience that is as easy to play as it is fun to master.



[Gameplay: 10 - Despite some issues with the motion controls, this is gameplay so advanced and perfected it puts all other platformers to shame.]



---
PRESENTATION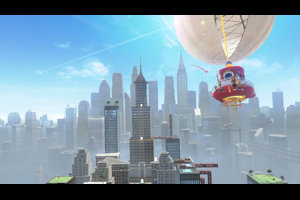 They still celebrate that time Donkey Kong kidnapped the mayor, for some reason




Nintendo doesn't skimp on the presentation, and Super Mario Odyssey is no exception. What could have easily been lazily rendered cartoonishness is fully realized in crisp, colorful detail. The music is orchestral and varied. The draw distance is nearly infinite. The various kingdoms are awash with unique sights and sounds. Load times are practically nonexistent. Granted, Nintendo still refuses to use voice acting, but it would probably be too distracting in a Mario game to have Bowser speak in a human voice or to have Princess Peach say anything but the occasional "Mario!"

There is also a simplicity to the interface that is easy to overlook. While there are menus--a map and an "Action Guide" most importantly--they are streamlined to be as easy to use and understand as possible. The game does remind you of things a little too often--Cappy's frequent, unskippable refreshers for special moves gets tiring real fast as you traverse between kingdoms--but it wants even the youngest players to be able to master its deceptively deep gameplay.



[Presentation: 10 - Nintendo has topped itself yet again, and that's saying something given what else they've done this year.]



---
CONCLUSIONS
Just wait till you see who "the Lord of Lightning" is...




At the end of the day, the best thing that can be said about Super Mario Odyssey is that it is endlessly entertaining. The gamer in me is wowed by the astounding variety on offer, and the father in me is amazed at how easily both kids and adults can pick it up. Games like this are nearly impossible to imagine, much less create, much less perfect. It's a platformer so good, so intelligent, and so versatile that no other game developer in their right mind would even try to match it. It may not have a deep story, and it may be a little too saccharine for the most hardcore gamers, but Super Mario Odyssey is nevertheless an exceptional game that is a serious contender for Game of the Year.


---
FINAL TALLY
STORY: 9
GAMEPLAY: 10
PRESENTATION: 10
SOLO GAME SCORE: 10

TOTAL SCORE: 9.8

Core Mario titles are always excellent, but this stands out as one of the best.

-e. magill 11/16/2017