Top 20 SNES Games - Page 2
---
#5.
MARIO PAINT
#5.
MARIO PAINT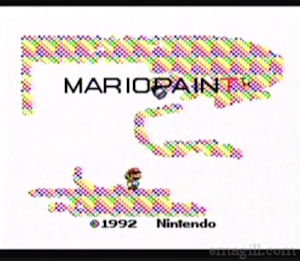 One of Nintendo's wildest gambles in the SNES days was Mario Paint, a "game" so ahead of its time we wouldn't see anything resembling a follow-up until Super Mario Maker was released on the Wii-U twenty-three years later. Mario Paint is more creative software than video game, requiring a separate mouse and mousepad peripheral. Players can use these tools to write deceptively simple music, create incredible pixel art, develop rudimentary animations, and participate in one of Nintendo's first genuine mini-games. I have a VHS tape to this day filled with hours of my own Mario Paint productions (which I should probably digitize before the tape deteriorates, now that I think about it), which should help you understand the creative hole Mario Paint filled for me. Though it would take Nintendo several years to grasp the lessons this game had to offer, nothing in the SNES library is as telling for what the future of the company would hold.


---
#4.
FINAL FANTASY VI
(a.k.a. FINAL FANTASY III)
#4.
FINAL FANTASY VI
(a.k.a. FINAL FANTASY III)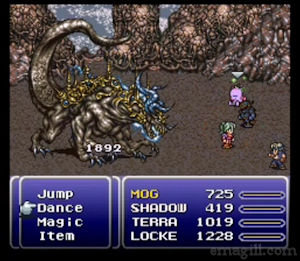 One of the most important revolutions in the JRPG genre, if not the whole of gaming itself, was the release of Final Fantasy VII for the Sony Playstation. However, while Final Fantasy VII cannot be underappreciated for its important place in gaming history, it unfairly overshadows the greatness of the game that preceded it, Final Fantasy VI, released in North America as Final Fantasy III for the SNES. The last core game in the series to rely on 2-D sprites and in-engine cutscenes, Final Fantasy VI takes everything the franchise's creators had learned and turns it into a magnum opus of awesomeness. Before I played this game on my SNES, I never knew video games were capable of such thematic density and narrative complexity. Video game characters had never before felt so real and relatable; video game music had never felt so emotional; video game universes had never felt so alive; video game ideas had never felt so provocative and intriguing. This game was so influential for me, in fact, that I have to make a conscious effort not to copy it whenever I write fiction. Words cannot express exactly what happened to my young mind when I first experienced Final Fantasy VI's midgame twist, but sufficed to say, when the entire world was destroyed, entire worlds were created in me. I am willing to have a debate about which Final Fantasy game is the most important for gaming (it's VII) or which is the best overall (it's IX, but I haven't played XV yet), but no game in the series is as important to me, personally, as Final Fantasy VI.


---
#3.
SUPER MARIO WORLD
#3.
SUPER MARIO WORLD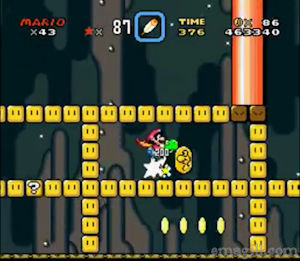 While Super Mario World isn't a very big step up, innovation-wise, from Super Mario 3, it is the perfection of the original, 2-D platformer that made Mario a household name. Playing it today sends me back to my childhood faster than any other game on this list. Whether it's because of Yoshi, secret switches, keys, and levels, the whimsical sound design, or the vibrant, colorful palette with which it's painted, Super Mario World does the impossible and improves upon its predecessors in every possible way with a unique charm all its own. After its release, the franchise would go through a major and groundbreaking upheaval with Super Mario 64, but despite his continued excellence and relevance to the galaxy of gaming today, for my money, Mario will always belong in Super Mario World.


---
#2.
THE LEGEND OF ZELDA: A LINK TO THE PAST
#2.
THE LEGEND OF ZELDA: A LINK TO THE PAST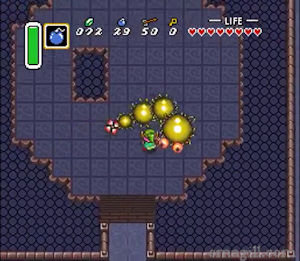 It's not a secret to everyone that the Zelda franchise is my favorite gaming brand. Among fanatics like myself, there has been an unending flame war going on between those who think Ocarina of Time is the greatest game of the series and those who think the same of the SNES' The Legend of Zelda: A Link to the Past. Though I am firmly in the former camp, don't assume it means I think the SNES classic is anything but incredible. With A Link to the Past, Nintendo took the young series--which up until that point, consisted of one excellent but relatively simplistic nonlinear adventure game and one quirky RPG that has always been divisive--and created a new formula that would be replicated for several console generations. Without A Link to the Past, Zelda wouldn't be what it is today, and the SNES wouldn't be as fondly remembered as it is today. That said, I am forced to admit there is one SNES game that belongs even higher on this list.


---
#1.
SUPER METROID
(a.k.a. METROID 3)
#5.
SUPER METROID
(a.k.a. METROID 3)

As a game that charted new realms of what is possible in console gaming, Super Metroid is the pinnacle of the SNES. Not only did it demonstrate new and effective ways of setting tone and telling a story, it also accomplished it with polish and flair. It's exciting, easy to play without being simplistic, has a perfect balance between difficulty and fun, encourages exploration and experimentation, is loaded with secrets and surprises, contains one of the most evocative soundtracks the SNES has to offer, has aged without losing a drop of magic, and is a nigh seamless blend of action, adventure, and proto-survival-horror. Metroid is one of Nintendo's premiere franchises with several amazing games to offer, but it's hard to deny that Super Metroid is the series' high watermark.


---

The legacy of the Super Nintendo Entertainment System is hard to overstate, but it would be meaningless if it weren't for these games. The early nineties were a Renaissance for video games, and all of these games deserve a place in any modern gamer's library. Even if you don't own an SNES (I sold mine long ago), there are still plenty of ways to experience these games for yourself. If you missed any of them, I urge you to play them today. Not only are they important landmarks, but they are still a heck of a lot of fun.

If this list isn't good enough for you, feel free to sound off in the comments below, and don't forget to check out my friend David's Top 20 SNES Games for a slightly different--but no less valid--perspective.







-e. magill 4/20/2017