Resident Evil VII: Biohazard

If there's one thing Capcom has been able to prove with its flagship franchise, Resident Evil, it's the ability to adapt to a changing market. The original game was a surprise hit for its time, building on some of the previous ideas of Sweet Home to create a whole new genre of gaming. Its sequels, including Resident Evil 2, Resident Evil 3: Nemesis, and Resident Evil: Code Veronica squeezed all they could out of the original formula until it stopped meeting expectations. With the brand slipping into obsolescence and a series of increasingly ridiculous spin-offs weighing it down, the masterful Resident Evil 4 burst onto the scene with new gameplay mechanics and a heavier emphasis on action. That led to a whole new generation of Resident Evil games that dominated Capcom's sales charts, even as successive sequels turned the franchise into an incoherently silly third-person action shooter that had very little to do with the original survival horror. Despite the profits, it seemed as though the series was once again becoming extinct. Even this writer foolishly wrote off Resident Evil at one point, believing that the days of survival horror were dead and molded.


I see your shadow puppet puzzle and I raise you a G17 handgun




Enter Resident Evil VII: Biohazard, which scrapes off that mold and boils it down to the essence of what made the original game so successful: the white-knuckle dread and anxiety of true survival horror. Using a first-person perspective for the first time in series history (not counting the shooter-style offshoots), it's hard not to compare this game to the aborted Silent Hills and it's P.T. demo, which made such an enormous impact upon release. However, Capcom insists that Resident Evil VII: Biohazard was in production well before P.T. was released, and though it does share some similarities, the full game certainly feels more attuned to the Resident Evil style than Silent Hill. Perhaps the first-person perspective is the natural evolution of the horror genre, and it's just coincidence that the two long-competing franchises hit upon it at roughly the same time.

That said, the questions remain. Is Resident Evil VII: Biohazard as revolutionary as Resident Evil 4 was? Is it survival horror as advertised, or has Capcom merely put a new glob of black paint over its penchant for ridiculous storytelling and over-the-top action? Does it truly forsake fans of either the old or the new versions of Resident Evil, or does it achieve a masterful balance between the two in order to bring the series into a new generation of gaming? Does it even deserve to be called Resident Evil?


---
STORY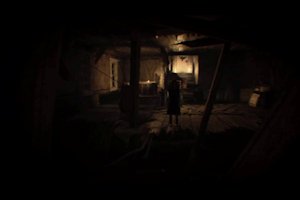 It's Japanese, alright




Ethan Winters is not your typical Resident Evil protagonist. He is not a trained soldier, a master of lockpicking, or a sexy spy unperturbed by giant, pulsating monsters. He's not even all that good with a gun. He's painfully average, and he finds himself in a semi-flooded and forgotten corner of rural Louisiana in search of his wife, Mia, who went missing three years earlier during an unremarkable babysitting job. After a jaw-dropping opening act I refuse to spoil, he is trapped in a dilapidated mansion filled with mold and housing a twisted family of violent, cannibalistic hillbillies--the Bakers--who appear to have supernatural healing abilities. As he desperately tries to escape, he receives help from a mysterious woman named Zoe and must face off against the Bakers one at a time in order to figure out what is going on and what he must do to save Mia.

There are plenty of well-worn horror tropes here--the Bakers are ripped almost directly from The Texas Chainsaw Massacre; there's a spooky young girl with long, black hair like in nearly every Japanese horror game or movie you've ever seen; and cheap jump scares are abundant--but it all works in the Resident Evil context. After all, Resident Evil has never been accused of being terribly original. Still, the writers go to great care to craft their confined world and the half-dozen characters you encounter, all of whom feel surprisingly genuine, despite their clichés. The story does take a few unexpected twists and turns near the end, culminating in a finale that ties the narrative to the rest of the series.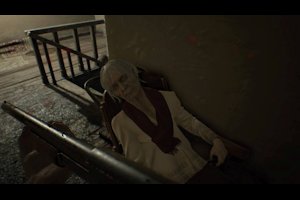 This old woman is creepy as hell




But those plot connections to the greater Resident Evil universe are very loose, and one need not have any knowledge of the previous games to understand the core narrative. (In fact, the final bombshell is a little confounding, even for fans well-versed in the lore.) The story stands alone, with only a few harmless winks here and there for long-time fans, and that's possibly the game's greatest achievement. It is a true sequel, but it resists the temptation to saturate players with convoluted subplots and returning characters.

As its own story, it does a good job keeping you guessing, and it certainly toys with your expectations. As the mystery unravels in the final act, it all makes sense and wraps up quite neatly with very few loose ends or lingering questions, aside from the aforementioned WTF bombshell at the last moment. It's perfect horror fodder, crafting a unique story out of a classic horror toolkit that fits in perfectly with the Resident Evil style.



[Story: 9 - It relies on far too many tropes and clichés, but it still manages to feel fresh and intriguing, even as it remains faithful to the rules of the greater Resident Evil universe.]



---
GAMEPLAY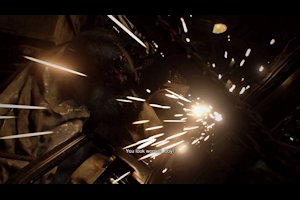 The boss fights are intense




The first person perspective is a revelation for the franchise, pure and simple. Far from feeling untrue to classic Resident Evil, it feels more true to the claustrophobic, dreadful atmosphere of the original game. Instead of being arbitrarily blinded by wonky static camera angles, you are more logically restricted by your own field of view, never really knowing if there's something or somebody creeping up behind you or on the ceiling above. It lends itself to more unease than the third-person over-the-shoulder camera of more recent entries in the series, and it of course makes the game perfect for VR gamers. Indeed, Resident Evil VII: Biohazard is made for VR, with several moments obviously maximized for such an in-your-face experience. This reviewer has not yet played it with a VR headset, but I can imagine how much more effective and terrifying the game would be.

Aside from the new perspective, everything about the game feels remarkably familiar to long-time fans of Resident Evil. You search drawers for hidden ammo, come across infuriatingly-placed maps usually after you've already mapped out the area for yourself, combine magical green herbs to make first-aid medicine that can cure even chainsaw wounds, try to find weird keys to open themed doors, manage a painfully small inventory space with the help of a physics-defying item box, save only where the game lets you (although the number of saves is blessedly unlimited), solve weirdly-placed puzzles, shoot zombie-like creatures in the head while hoping you don't run out of bullets, and never really know if the next room is hiding a brutal boss fight. Resident Evil VII: Biohazard does do a few things that the original's successors innovated--like the quick 180-degree turn--but in terms of sheer gameplay, this game feels more like the first Resident Evil than any of its other sequels or offshoots.







-e. magill 1/30/2017