The Future of Zelda
It hasn't even been two years since The Legend of Zelda: Twilight Princess was released for the Nintendo Wii, but gossip is already rampant that a new non-handheld core Zelda game will be announced next month at E3. Though I am highly skeptical of this rumor, I am always ready for wild fanboy speculation when it comes to the Zelda series.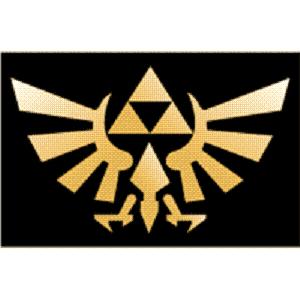 Note the dark upsidedown triforce in the center




Eiji Aonuma was given the reigns of Zelda by Shigeru Miyamoto over five years ago. In interviews, Aonuma is constantly talking about paradigm shifts and new ways of thinking, embodied in an enigmatic Japanese saying, me kara uroko, that roughly translates to 'fish scales fall from your eyes.' He has teased on multiple occasions that the next Zelda title, which is already in production, will be something entirely new.

And that's a good thing, as the primary complaint against Twilight Princess is that it feels like more of the same from the franchise. I'm going to spend a lot of time in this blog talking smack about Twilight Princess, but I want to make sure the record is straight before I get into it: Twilight Princess is an awesome game. It is one of the best-selling games on the Wii thus far (beaten only by Wii Sports, which comes packaged with the console, and Wii Play, which comes bundled with an extra Wii remote), and deservedly so. Though the game was originally envisioned as a Gamecube title and only uses the Wii's motion sensing capabilities to minimal effect, it is still a masterful game that deserves utmost respect. It is one of only two or three Wii games I've played through more than once, and before I get into my complaints with it, I have to say I absolutely love Twilight Princess.

Having said that, the game is deeply flawed. While there are a few new mechanics introduced in the gameplay—namely Link's wolf form and a handful of fresh items—the game copies the formula of A Link to the Past and Ocarina of Time. In many game franchises, such blatant formula rip-offs is not only forgivable but commonplace (see Halo, Final Fantasy, Grand Theft Auto, etc.), but Zelda games usually strive to be completely different from game to game. In fact, if you look at the first two Zelda titles, you'll note that, aside from Link being the protagonist and using similar items, the games are so radically different they might as well belong to separate franchises. There are also games like Majora's Mask and Windwaker that change up the formula—both in gameplay and in story—to mixed results.


"We can still be friends, though, right?"




But aside from the fact that Twilight Princess seems to copy A Link to the Past and Ocarina of Time in many ways, there are a few trends in the Zelda series that stretch too far.

Take money, for example. In the original The Legend of Zelda, collecting rupees is practically essential to completing the game. Rupees buy you dozens of items you can't collect by other means, are required every time you wish to fire an arrow, and allow you to purchase hints, bribe moblins, and gamble. Additionally, there are no treasure chests in the game with rupees in them, meaning that the only way to collect rupees is by killing enemies (there are some secret rupees in the game, but I was instructed not to tell anybody).

In Twilight Princess, rupees are fairly pointless. There are very few items in the game that can only be acquired through money, and none of them are essential to beating the game. Additionally, there are rupees everywhere. Not only can you collect them by beating enemies, but they are found by cutting down foliage and in the literally hundreds of rupee-filled treasure chests throughout the game (there are other ways, too, but you get the point). The number of rupees you can carry is impossibly limited as well, so that you'll probably fill your wallet before you even defeat your first dungeon boss. This gets frustrating for completionists, as you cannot take rupees out of treasure chests with a full wallet (a mechanic I would like a whole lot more if money were actually valuable). Late in the game, you can acquire magic armor that uses rupees instead of health, but it burns through the rupees so fast that you feel like you should save it for intense boss battles.

Which brings me to my second major complaint with the game: the difficulty. Zelda games, ever since Zelda II, have been getting progressively easier. Twilight Princess is almost laughably easy to play through. The first time I played the game, I made it all the way to the end without dying—or even needing a fairy in a bottle—once. I'd like to say this is because of my grand master skill in video gaming, but the game is almost universally panned as easy. Boss battles that should be intense are simplistic affairs of finding weak-spots, predictably using the item you acquired in the boss's dungeon, and taking minimal damage, even in the final four-stage confrontation with Ganon. Compare that to titles like the modern-day Ninja Gaiden or even Metroid Prime games, and you'll see the night-and-day difference.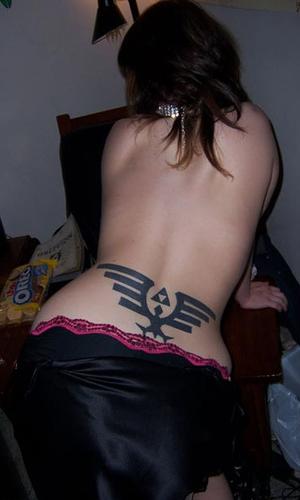 I include this picture just because it's hot




The final complaint I want to bring up is linearity. With the possible exception of Windwaker, Zelda games have gotten progressively more and more linear. The original Zelda game is incredibly non-linear. Though the levels are numbered, you can tackle them in any order, and you can even get to Ganon, the final boss of the game, without retrieving a sword! However, starting with A Link to the Past, players are required to earn the item from the previous dungeon before tackling the next one. In Twilight Princess, the entire game—not just the dungeons—plays out this way, forcing you to go in an unbreakable sequence from point A to B to C and so on.

I bring all this up not just to display my negative opinions of Twilight Princess or the direction Zelda seems to be going in, but in order to demonstrate that there is a real need for change. I also highlight these particular complaints so that I may humbly suggest the direction such change could go in. I'll disclaim, though, that these suggestions are just the playful rantings of a fanboy. I suspect Aonuma, Miyamoto, and Nintendo have their own ideas and will put out a fantastic game that will no doubt use none of these.

Hopefully, fans and game journalists have not misinterpreted Aonuma's implications when he talks about the next Zelda game, because a drastic change in the formula would be welcome. Granted, with a franchise as old as Zelda, drastic changes are usually met with some ire, but I believe that more of the same would be met with far more ambivalence.

A new Zelda game should be a different experience. More nonlinearity and difficulty would help, as would a change in the monetary dynamics and gameplay. If I were to design this new experience, here is the game I would create:

The overall story of Zelda is a convoluted one, and piecing together the timeline is a laborious and almost fruitless endeavor. (If you're interested, Gametrailers did a fantastic job in part six of their Zelda retrospective.) Therefore, rather than create a game around the timeline, which Aonuma insists can be put together logically, I'd make the game the way Aonuma would, making the mythology secondary to the game itself.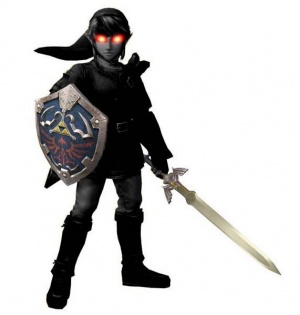 What if Link becomes Dark Link?




I think it would be interesting to start the game with at least eight hearts (preferably more), and I'll explain why shortly. This would work if the game is placed immediately following the events of a previous Zelda game, the way Zelda II immediately followed Zelda, but this time, Link arrives in the game fully loaded with all of his hearts and items. Of course, then you'd have to deal with the problem of Link losing all of his items in order to regain them again throughout the game, a common enough problem in video game franchises like Metroid and The Legacy of Kain.

The reason for the large amount of initial hearts is nonlinearity. I propose that the story could revolve around Link collecting pieces of a heretofore unknown dark triforce, the upsidedown black space that can be found in the middle of the three known triforces. Each time Link collects a piece of the dark triforce, rather than gaining a heart container the way he would in any other Zelda game, he actually loses one. This way, if all of the dungeons are created to be relatively the same difficulty, they will still get progressively harder as Link goes on, no matter what order they are tackled in, as Link will have fewer and fewer hearts as the game progresses.

This could also extend to Link's items. If each dungeon requires Link to sacrifice an item, he could still start the game with a full complement of grappling hooks, boomerangs, and the like. This would turn relatively standard adventure game mechanics on their head, and does it in such a way that the game can be incredibly nonlinear and yet still have a growing difficulty curve. Game design would be very tricky, since puzzles would have to have multiple solutions depending on what item combinations Link could have. Ultimately, if a dungeon ends with the sacrifice of a specific item, that dungeon could revolve around puzzles that could all be solved with that particular item. As a result, the dungeon would not be able to be replayed late in the game, meaning that, if the player misses a treasure chest or two, he or she can never go back for it. I do not consider this a bad thing, as it increases the difficulty level a little bit more.

Heart containers and heart container pieces could still be a part of the game, hidden throughout the overworld. However, there would need to be fewer of them than in recent games, as the decreasing amount of health is critical to the nonlinear aspects of the game.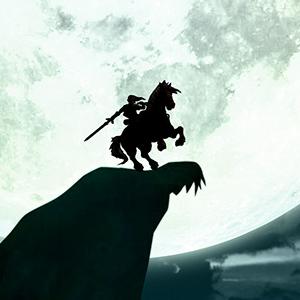 What does the future hold for Link?




Still, towards the end of the game, Link is weakened and stripped of many of his toys by the dark triforce. He is sacrificing himself for some greater good, of course, but in an equally predictable turn-around, the whole thing has been a trick by Ganon to weaken his primary opponent. Link then has to fight Ganon with almost no health or weapons, relying instead on his wits and ingenuity to win the game.

Even if this idea is completely bonkers, I still propose that the next Zelda game should address the problem of money and be built, from the ground up, to use new Wii-centric gameplay. I have no real ideas when it comes to the gameplay, but I think the rupee problem is easily reparable.

Do away with enemy drops altogether. I know it seems crazy, but if the adventurer is forced to rely on nothing but treasure chests and secrets to collect his or her rupees, money is much more rewarding. Additionally, if enemies aren't resupplying Link's bombs and arrows, Link would actually have to find them or, even better, buy them, something he hasn't had to do since the original Zelda. Everything then becomes more valuable, and the shield-eating Like Likes can once again frustrate players of all ages.

In the end, though, as I've already said, these are just the rantings of a fanboy. I like speculating on this subject and welcome the input of fellow Zelda geeks. Tell me what you think of my crazy ideas in the comments below.



-e. magill, 06/09/2008